The Brook Hill School is unlike any other day and boarding school because it is home to The American Freedom Museum. Located in Founder's Hall, the museum boasts over 650 artifacts from our nation's history.
The American Freedom Museum illuminates the American experience during crucial moments in our nation's history. From the hills and valleys of the American Revolution to the sands of Iraq and Afghanistan, you will step into history and discover the journey of those in our nation's military who have courageously and heroically sacrificed to ensure the many freedoms that we enjoy today. Our mission is to Honor American veteran's and military personnel for the sacrifices they have made for our freedoms; Educate this and future generations about our rich heritage; and Inspire others to achieve greatness. This is America's story.
news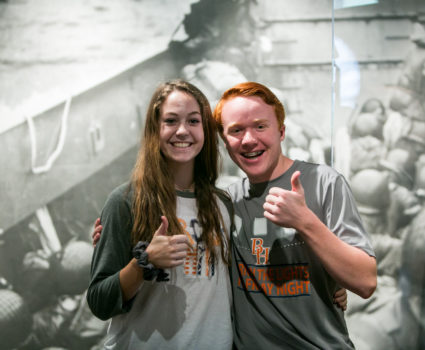 February 20,
Mr. English's 9th Grade Humanities classes made a visit to the American Freedom Museum.  They were learning some of the history surrounding D-Day during WWII.  They will be taking the facts they learned about D-Day/WWII and comparing those to what they've learned about the Trojan War through their reading of the Iliad.