WHY do you play the game?
The Brook Hill basketball program plays to win, but there is a lot more to it than that.
Players play to honor God with their talents. Coaches teach discipline, hard work, teamwork, how to succeed and how to deal with failure. All of which players will need to become Christ-like men. The Guard basketball program has seen a lot of success appearing in the playoffs every year since 2006 and in the Final Four in 2009, 2010 and 2014. After falling one game short of the Final Four in 2016, Coach Agnew will look to take the Guard to even higher heights this year.
2016-17 brook hill guard
1 JARED JOHNSON
2 JERMIAH MCGOWEN
3 ALEC KITT
4 HOOD TAYLOR
5 BLAKE BENNETT
10 CAMPBELL FLETCHER
11 PARKER GALBRAITH
13 DAVID CHAMBLESS
14 JACOB YEAGER
15 CAMPBELL FLETCHER
20 REID HILL
23 CONNOR LIVESAY
30 JOHN DIXON
33 BROOKS PARHAM
35 JORDAN DAY
44 MIGUEL VEGA
news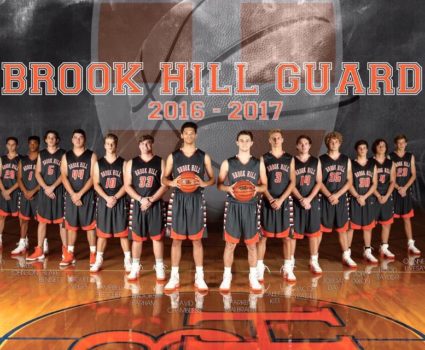 April 10,
Several Brook Hill Guard players were chosen for the TAPPS 3-5A All-District team. They are:   ALEC KITT, senior, first team PARKER GALBRAITH, senior, first team REID HILL, junior, first team MIGUEL VEGA, junior, second team CAMPBELL FLETCHER, junior, honorable mention JARED JOHNSON, sophomore, honorable mention   Brook Hill's ALEC KITT and PARKER GALBRAITH were […]
Coaching Staff