Brook Hill Lady Guard delivers successful volleyball season
Brook Hill received five kills and two blocks from Morgan Carpenter and a combined 28 digs from seniors Brianna Young and Kay Kay Smith, but it was not enough to get past Dallas Christian Thursday in their opening-round TAPPS 5A playoff match.
The Lady Guard were stopped in three games, 25-14, 25-14, 25-10 to complete their season with a 20-13 record. It was a season that saw coach Candise Wise and assistants Erica Mattay and Mallory Simmons pilot Brook Hill back to the playoffs after a year absence.
The Guard finished tied for second place in TAPPS 3-5A at 3-3 to earn that playoff spot.
It was the final high school match for these Lady Guard seniors!
Thank You for your commitment and contributions to Brook Hill School and Lady Guard volleyball!
Jacee Callens
Lauren Eden
Adrianna Kuechle
Allee Mann
Megan Priddy
Kaleigh Smith
Brianna Young
LADY GUARD STATS
Kills: Katherine Mondrik 2, Megan Priddy 2, Maddie Anthony 4, Morgan Carpenter 5, Kay Kay Smith 1, Lauren Eden 3
Assists: Lauren Eden 7, Maddie Anthony 7, Brianna Young 1
Digs: Kaitlynn Rhea 5, Jacee Callens 1, Adrianna Kuechle 3, Brianna Young 17, Katherine Mondrik 1, Megan Priddy 5, Maddie Anthony 8, Kay Kay Smith 11, Lauren Eden 4
Blocks: Kay Kay Smith 1, Maddie Anthony 1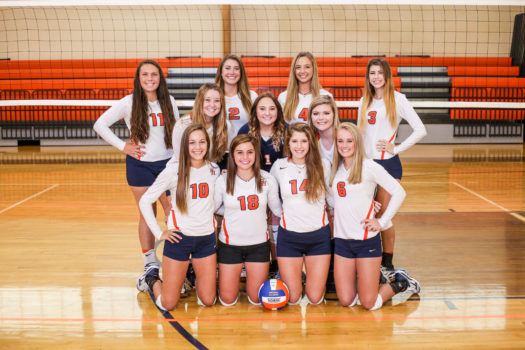 2016 Lady Guard Roster
SR JACEE CALLENS DS
SR LAUREN EDEN S/RS
SR ADRIANNA KUECHLE OH
SR ALLEE MANN OH/DS
SR MEGAN PRIDDY M/OH
SR KAYLEIGH SMITH M/OH
SR BRIANNA YOUNG L
JR MADDIE ANTHONY S/RS
JR CASSIE CANNON RS/DS
JR JULIA HARDIMAN S/DS
JR ZOE HAYES OH/DS
JR GRACE HELMERS DS
JR JORDAN O'NEILL DS/OH
JR KAITLYNN RHEA OH/DS
JR AUTUMN WEBB M
SO KASEY ANDERSON OH/DS
SO EMMA BYNUM S/RS
SO MORGAN CARPENTER M
SO KEAIRRA CHRISTOPHER M
SO KAITLYN JUAREZ L/DS
SO MADELINE REED OH
SO AMIE REGESTER S/RS
FR KAYLEE LAKE RS
FR ASIA MCGOWEN DS
FR KATHERINE MONDRIK OH
FR NATALIE TRAVIS DS
FR CAROLINE WELTY S/RS