SIGN UP FOR OUR 2017 GOLF CLASSIC
BOYS STATE CHAMPIONS 2014, 2013, 2011
STATE FINALISTS 2012, 2010, 2009
GIRLS STATE CHAMPIONS 2010
STATE FINALISTS 2012, 2011, 2009
INDIVIDUAL STATE CHAMPIONS 2011, 2004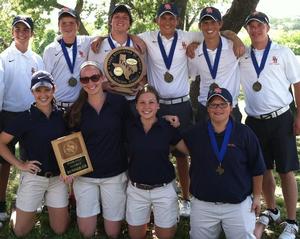 The Brook Hill Girls Golf team was state runner-up in 2009, won the state championship in 2010 and were state qualifiers in 2011 and placed 4th at the state competition in 2012. The Brook Hill Boys Golf team finished 3rd in state in the 2009 and 2010 seasons, won the state championship in 2011 and were state runner-ups in 2012. Varsity Boys were State Champions in 2013 and 2014 in TAPPS 3A. Karina Redfern and Nut Pattamakijsakul are returning as 2014 All-State team members. This year, there are 4 members of the boys 2014 team and 2 members of the girls 2014 team returning for another season of Brook Hill Golf.
Varsity Boys are led by Captain Matt Webb (Sr.), Nut Pattamakijsakul (Jr.), Brooks Garner (Jr.), Austin Savage (Jr.), and Jacob Yeager (Jr.).
Varsity Girls are returning Karina Redfern (Jr.) and Myles Inglish (Jr.).
Coach Moore is always looking for more girls to play! We are looking forward to a great 2015 season!
Coaching Staff
Bill Littlefield
Transportation Coordinator; Head Girl's Golf Coach
Mr. Littlefield retired from Texas public schools after 31 years of teaching and coaching. His wife was transferred to New Jersey with her job where he became Director of Basking Ridge Golf Academy for six years. He returned to Longview in 2012 to become the Head Men's and Women's Golf Coach at LeTourneau University until […]