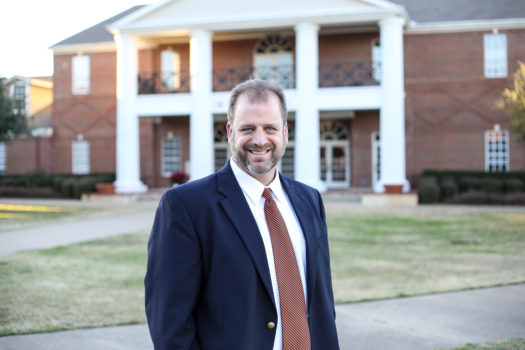 From the desk of Rod Fletcher, Headmaster:
My wife, Heather, recently had the opportunity to share a few thoughts at the Brook Hill Mom's Annual Ornament Exchange. As the world is counting down the shopping days left until Christmas, Heather reminds us that during this busy season, really only "one thing is needed". I found her words very thought-provoking and wanted you to share them with you:
As many of you know, I have an obsession with Nativities! I started this love addiction the first year we were married when I was given a small Nativity from an older woman that I adore.  She had a tradition that I continued – each year I would place this Nativity in the center branches of our Christmas tree. Then I began adding ornaments that displayed any aspect of the Nativity – the Holy Family, the Wise Men, etc.  As my tree got bigger, I decided I needed a bigger Nativity in the center, but then I was so sad to not use my original Nativity that I just decided to fill the entire tree with Nativity scenes!
I also have several Nativities without the figurines glued into place, so those cannot be displayed within the tree; they have to be set out on tables around the house. So each year I have encouraged my boys to help me unwrap each of the characters and set up these special Nativities around the house. I always had great intentions of this becoming a tradition and a special time for all of us. Sadly, I was often annoyed and frustrated – especially if they didn't set up the Nativity correctly!
I have vivid memories of the boys placing the characters in different spots than I thought they should go – I mean the 3 Wise Men should always be beside one another, not separated all over with one sitting on top of the barn's roof – and they should be near the camels, right?!  And Mary should be next to baby Jesus, looking down at him, not outside with the animals! I am sad to admit that I literally would go back later when they were in bed and rearrange all the characters in their correct places! And then there are memories of the boys actually taking the characters to play along with their Superman and Batman figurines! I was so distraught and worried one would break or get lost. One Wise Man from my childhood Nativity actually did break and I remember being so upset that there was a big chip off the front part of his robe that couldn't be fixed.
Finally, I thought I had learned and I got a cute wooden one that the boys could actually "play with". But then, one year when McCray was about 2 1/2, he came into the kitchen softly repeating the phrase, "bye bye sheepy", and as I began to investigate, I found that he had taken one of the sheep and pushed it down a small hole for a pipe in the floor of our bathroom that was being renovated! I was so upset and sad to lose one of the special pieces to this Nativity. On a side note, when we moved a short while later, we made a point to go under our house that was on piers and beams to search and we actually found that little lost sheep!  (Isn't there a parable about that in the Bible?!)
Well, fast forward 17 years to today – that "bye bye sheepy" boy is now 19 1/2. This year when I brought the boxes of Nativities downstairs, I felt an ache within me as I realized he is now away at college and not even physically present to help, and my youngest is now 14 – so the weight of the fact that they are all growing up hit me as I realized no one is wanting to grab the shepherds to play war with their army men anymore.  And to be honest, no one was at all interested in unwrapping those precious figurines and helping me decorate.
So, after two days of the boxes sitting unopened, I finally decided I would just enjoy doing it myself. As I began unwrapping and making soft comments about the characters that I love so much, Chandler, my 14-year-old, came over and to my surprise, started helping me.  I decided to let him enjoy and left him to work on that Nativity while I began opening the one from my childhood. And guess what? As I unwrapped that Wise Man with the chipped robe, I actually smiled fondly remembering those three crazy boys and wishing I had somehow enjoyed that season of life more. 
A few minutes later, Chandler called for me to come look at his creation of his Nativity, but he had a mischievous grin on his face. As I looked closely, I noticed that the baby Jesus was not in the Manger. In his place was a sheep of all things (I guess Jesus did later become our sacrificial lamb!) lying on his back with his feet in the air! So with a little sense of anxiety and annoyance but also amusement, I asked Chandler where was baby Jesus? Like an old fashioned I Spy book, I searched the scene and finally spied Jesus hanging on for dear life between the 2 humps on the camel's back! I am happy to report that over those 17 years, I too, along with my boys, have grown and matured. I thought the whole thing was very clever and actually funny! I hugged him tight and we both had a good laugh. And of course, later when he was in bed, I made a conscious choice to NOT put Jesus back in his rightful place in the Manger!
I share all of this with you today because today is December 1st. Just that statement alone sends a chill up my spine. The anxiety that can be a part of this month, especially for mothers, can be completely overwhelming.  As mothers we want this season to be full of special memories for our children. We have great intentions of wanting to unwrap the Nativity figurines while Christmas music plays and we sip on hot cocoa, but things don't always go as we had planned and we soon become annoyed with those we love most. We can become distracted by all the preparations that have to be made and become worried and upset about many things. Soon we can even forget Who the main character of the Nativity scene is and why we even set it out for display in the first place during this special time of year – the main character, the whole focal point of Christmas is Jesus!
I am very encouraged that this desire to prepare and make special memories and this proneness to fret and worry is not new to the 21st century; it's been a concern for women since Jesus actually lived here on Earth.  In Luke 10:38-42, the Bible tells a story of a woman to whom I so relate, a woman named Martha.  It reads,
As Jesus and his disciples were on their way, he came to a village where a woman named Martha opened her home to him. She had a sister called Mary, who sat at the Lord's feet listening to what he said. But Martha was distracted by all the preparations that had to be made. She came to him and asked, "Lord, don't you care that my sister has left me to do the work by myself? Tell her to help me!" "Martha, Martha," the Lord answered, "you are worried and upset about many things, but few things are needed—or indeed only one. Mary has chosen what is better, and it will not be taken away from her."
Martha's sister, Mary, was praised by Jesus because she had chosen what was better. She had chosen to not be distracted by the preparations, to not be worried and upset about many things. She had chosen the "one thing needed" – to "sit at the Lord's feet listening to what he said". What a beautiful idea for this Christmas season – sitting, at the Lord's feet, focused on the ONE thing needed, Jesus, and listening to what he says! So, it's December 1st – it's time to start your Advent Calendar! Instead of feeling panic up our spine, let's choose together to focus on the main character in the Nativity – let's focus on Jesus each day and point our children to Him – teaching them to sit at His feet and listen to what He says.