Sign up for Summer Camps!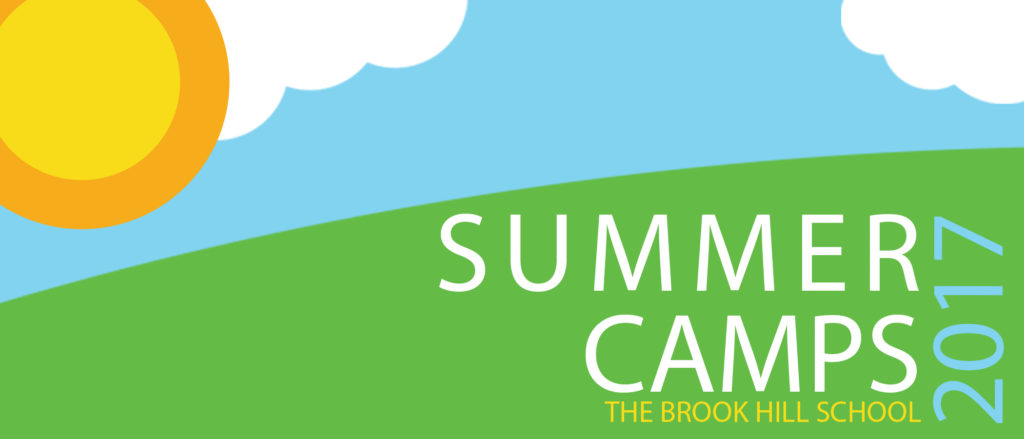 2017 Summer camps
The Lower School campus is a small community and we participate in a variety of activities that helps add fun and service to our normal intellectual pursuits. These activities serve to define us, connect us with our extended community, or allow us to relax in the context of things we have accomplished. Here's the list:
Art Camp
The Brook Hill Lower School Art Teacher, Mrs. Lisa Larios, is this year's art camp instructor. Mrs. Larios currently teaches art to PK through 5th graders and after school Art Academy classes. She has over 17 years of experience teaching art to these grade levels. For more information, please contact Lisa Larios at llarios@brookhill.org
Our God made our world packed full of animals and places to inspire and excite us! The sea is no exception! Take an art trip to the sea this summer and create 2D and 3D art work based on real and imaginary ocean subject matter. We will be painting sea creatures on canvas, making a fishy T Shirt, painting a treasure chest, and lots more. If you are wild about the ocean like I am, this is the camp for you.
Grades: Boys/Girls entering K through 6th grade
Dates: June 12-15 and July 24-27
Times: 9-11 a.m. or 1-3 p.m.
Location: The Brook Hill Lower School Art Room, M-2
Cost: $150 (includes all supplies, and snacks each day)
$100 ($50 discount for a sibling to attend)
Other: Please email T shirt size to llarios @brookhill.org before camp begins.
Space is limited-12 students per session.
Baseball Camp
Brock Lemire played collegiate baseball at TJC, winning a National JuCo Championship, before transferring to Lubbock Christian and then UT-Tyler. He is known throughout East Texas for his work in developing younger players, especially their fundamental skills of hitting and pitching. He will be assisted in camp by Austin Reed.
Camp Description:
Simply put, this baseball camp is designed to improve fundamental baseball skills. All aspects of the game will be covered, including: hitting, pitching, and base running. The campers will enjoy the final day of scrimmages. For additional information, contact Brock Lemire at blemire@brookhill.org.
BASEBALL CAMP
Grades: Boys entering grades 3 – 8
Dates: June 6 – 8
Times: 10 a.m. – 12:30 a.m. [Walk-ups welcome! but will not receive a shirt]
Location: Brook Hill Baseball Complex
Cost: $60 (includes T-shirt)
Basketball – Boys
Brook Hill's head varsity coach, Jacob Agnew, is this year's basketball camp director. He is a former collegiate basketball player and so brings several years of valuable experience as both player and coach. He can be reached at jagnew@brookhill.org.
One on One Basketball/Small Group Instruction
This Camp is a highly individualized program for players with experience who are serious about taking their game to the next level. Campers will work on ball handling, shooting, footwork, movement and positioning, passing, scoring, and confidence–all while working 1-on-1 or in a small group with Coach Agnew.
For boys entering grades 4th-11th
Dates available: Mon-Thu June 5 – July 6
Meet: Brook Hill's Upper School Gym
Cost: $75 for three 1 hour sessions (includes a T-shirt)
Or: $150 for six 1 hour sessions (includes a T-shirt)
After signing up online, contact Coach Agnew jagnew@brookhill.org in order to schedule your sessions.
Boys Basketball Skill and Conditioning Camp
This camp focuses on teaching the fundamentals of basketball, including shooting, ball handling, passing, and basic offensive moves. These skills will be taught while campers compete in 1 on 1, 5 on 5, free throw and field goal competitions, and learn developmental games that are fun and instructional.
For boys entering grades 1 – 5
Dates: June 12 – 15
Time: 8:30 a.m. -11:30 a.m. (Monday-Thursday). [WALK-UP registrations welcome!]
Meet: Brook Hill's Lower School Gym
Cost: $75.00 and includes a T-Shirt.
3 on 3 Basketball Camp
Are you a basketball player looking for new and fun ways to participate in basketball? Grab some friends and sign up for a 3 on 3 basketball league or tournament! There are opportunities for boys and girls from 3rd through 12th grade. Brook Hill 3 on 3 camp is excited to provide youth a chance to develop their basketball skills in a FUN environment in 2017! The camp will provide an opportunity for youth to improve by focusing on individual skill development and implementing those skills in a 3 on 3 setting. This provides a unique blend of skill development and competition. Emphasis will be placed on teamwork, leadership, and fundamentals while challenging each kid to get outside of their comfort zone.
The camp will be directed by Ivan Johnson. Coach Johnson brings 15 years of camp experience and has worked at Baylor Basketball Camps with other coaches and Baylor Bear and Lady Bear athletes. Coach Johnson's daily energy and enthusiasm brings out the best in each and every kid. Coach Johnson was a college player in Oklahoma and has coached basketball on the middle and upper school level for 16 years.
The Brook Hill 3 on 3 basketball camps and tournaments offer exciting, affordable opportunities to enhance your individual and team skills. The smaller team size increases offensive and defensive opportunities for each player through basic fundamental team play (give and go's, back door cuts, pick and rolls, etc.). The intent of this format is to provide a fun, competitive learning environment for all players.
Where : Brook Hill Campus (Upper and Lower School Gym)
When : June 28th -June 30th
Who : Boys & Girls Grades 3-12 grade.
Cost : $40 per player Includes a t-shirt for winning teams in each division
Each team must have three to five players on its roster who have registered their team by the predetermined entry deadline.
Math is Fun
Number Sense- Coach Ivan Johnson
Mr. Johnson is the Brook Hill Number Sense coach here at Brook Hill. His number sense team has qualified for state every year. His team won 1st place in 6th & 7th grade divisions, and 2nd in 8th grade. All three grades qualified for the state competition. Mr. Johnson is an Algebra I and Math 6 Pre-Algebra teacher and just completed his 3rd year at Brook Hill. He has taught Math/Algebra for over 15 years.
Camp Description:
Math is fun. Learn Math tricks using mental tactics and strategies. We will have t-shirts for the first 20 to sign-up, games and prizes. We will have guest speakers and fun activities. Come join us at Number Sense Camp. Monday, June 26th-29th. Brook Hill's 2nd Annual Number Sense Camp! No physical activity required.
Brain power is the only requirement.
Questions? Contact Ivan Johnson @ ijohnson@brookhill.org
Grades: 3 – 12
Dates: June 26-29, 2017
Times: 1:00 p.m. – 3:00 p.m. [Walk-ups welcome! but will not receive a shirt]
Location: Lauderdale Hall, Room 101
Cost: $75 (includes T-shirt)
Pine Cove's Camp in the City
Camp is a place where people start a journey. After five days with some of the most fun and exciting college students in the country, your child will be energized for the upcoming year and ready for their own spiritual journey. Campers will experience Jesus through Bible study, worship, and time with their counselor as well as participate in tons of great camp activities. Prepare for your journey at Pine Cove's Camp in the City!
Soccer Camp
Brook Hill's head varsity coach and former college coach, David Collins, is this year's camp coach. Coach Collins' Varsity Soccer Team advanced to the Division III Final Four State Soccer Tournament for four of the last six seasons. For more information, contact David Collins at 903-894-5000 ext 2109 or dcollins@brookhill.org.
Camp Description:
The camp will emphasize soccer fundamentals, strategies, and rules of the game, while offering competitions and activities for all levels of play.
Grades: Boys /Girls entering grades K – 8
Bring: Soccer ball, shin guards
Dates: July 17 – 20
Times: 8:30 a.m. – 11 a.m. [WALK-UP registrations welcome!]
Location: Brook Hill, Herrington Stadium
Cost: $75 (includes T-shirt)
Ukulele Camp
Kevin Pierce, the Lower School music teacher, will host a summer camp teaching the basics of playing the ukulele. Students will be introduced to the instrument's history and technique with a focus on strumming and chording. Campers will complete this four day camp with the ability to play simple songs and the knowledge of how to learn new songs by adding chords to their library.
Campers must purchase their own instrument prior to the beginning of the camp. Inexpensive ukuleles may be purchased at a local music stores such as Mundt Music, Guitar Center, or online at www.westmusic.com or www.guitarcenter.com.
Grades: Boys and Girls entering grades 1-6
Required Materials: Soprano ukulele
Dates: June 19 – 22
Time: 10 – 11 a.m.
Cost: $50
Yearbook
Ever wonder how the yearbook gets made every year? Here's your chance to see first-hand the work that goes into producing the "ultimate scrapbook" of The Brook Hill School. Contact Kenny Kempton at 903-894-5000 ext. 1200 or kkempton@brookhill.org.
Grades: Boys/Girls entering grades 6-12
Bring: A great attitude and a willing spirit!
Dates: TBD
Times: 9 a.m. – 12 p.m. [WALK-UP registrations welcome!]
Location: Brook Hill, Room L-200
Cost: $50
---
We are partnering with Grace, Gorman, Bridgemark, and Venture to organize some STEM/Robotics camps. Those are listed below.
LEGO WeDO 2.0
There is a maximum class size of 16 campers per session. Both sessions are the same camp.
"The LEGO Education WeDo 2.0 curriculum pack is built on Next Generation Science Standards and delivers key science content. The curriculum facilitates and supports a clear, easy-to-follow journey through subjects, including: life-, physical-, earth- and space sciences, and engineering.
The WeDo 2.0 software provides an excellent platform for science learning, offering an innovative way for students to model reality, conduct investigations, and use design skills.
Programming is an important part of 21st century learning. The WeDo 2.0 software teaches programming in an intuitive way – letting students bring their creations to life while sharpening computational thinking skills like logical reasoning, pattern recognition, and modeling simulations. The software also features a colorful drag and drop interface that is easy for students to use and understand." (https://education.lego.com/en-us/products/lego-education-wedo-2-0-core-set/45300)
Completed K – 1st Grades
July 10 – 14 from 9 a.m. – Noon
Cost: $125
Completed 2nd – 3rd Grades
July 10 – 14 from 1 p.m. – 4 p.m.
Cost: $125
LEGO Engineering
Students will use Legos to create designs, engineer structures, and complete challenges.
Completed K – 3rd Grades
July 10 – 14 from 1 p.m. – 4 p.m.
Cost: $125
Simple & Motorized Machines
There is a maximum class size of 16 campers. This session features "Simple & Motorized Mechanisms" from LEGO® Education and is a hands-on tool that helps students investigate basic mechanical principles through advanced motor-powered machines while also acquiring key insights in STEM (Science, Technology, Engineering and Math) topics.
Completed 2nd – 8th Grades
July 10 – 14 from 9 a.m. – Noon
Cost: $125
LEGO EV3
There is a maximum class size of 16 campers per session. This camp is designed to: "Show students how hypotheses, equations and planning translate into real-world solutions, skills and successes. Through real-life themes and engaging physical and digital creation we grow and develop 21st century learning skills. This combination of teamwork, communication and collaboration enables your students to become more independent and self-confident.
• Explore real life themes and challenges.
• Develop 21st century learning skills.
• Grow critical thinking and creativity."("https://education.lego.com/en-us/middle-school/explore)
Completed: 4th – 8th Grades
July 10 – 14 from 9 a.m. – Noon
Cost: $125
VEX IQ
There is a maximum class size of 14 campers per session.
"VEX IQ is a robotics platform designed to transform STEM learning for young students and their teachers. Students as young as 8 can jump right in and snap robots together using the intuitive, tool-less platform while educators can utilize the free VEX IQ Curriculum to help teach students valuable lessons and skills that are needed in today's changing world…" (vexrobotics.com)
Completed: 4th – 8th Grades
July 10 – 14 from 1 p.m. – 4 p.m.
Cost: $125
VEX EDR
Students are required to bring a lunch and come prepared for robotic designing, building, and programming. "VEX Robotics inspires students to become the problem solving heroes of tomorrow. VEX EDR offers students a rich and exciting platform to immerse themselves in the areas of Science, Technology, Engineering and Math (STEM) through the fun of building robots." (http://www.vexrobotics.com/vexedr/why-vexedr)
Completed: 8th – 12th Grades
July 10 – 14 from 9 a.m. – 4 p.m.
Cost: $125
news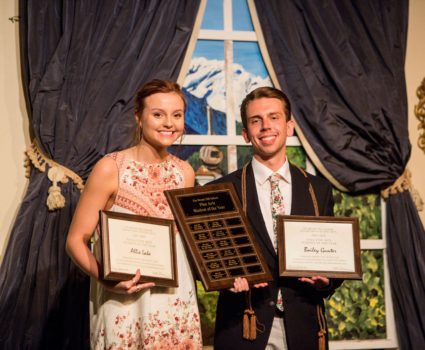 May 18,
At the Fine Arts Banquet, the audience was entertained by students in each area of Fine Arts at Brook Hill as awards were given out to many deserving and talented students.