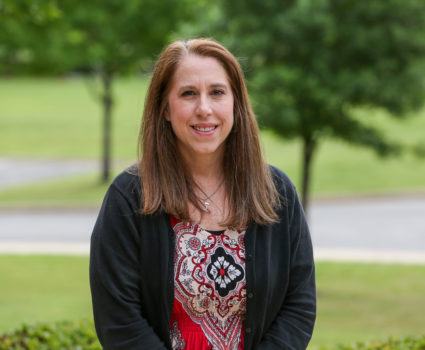 Patti Eden
Choir (MS/US)
Patti Eden has been at Brook Hill since 1998 as the Middle and Upper School Choir Director. During these years, she has also taught History / English (grades 5,6,7,8,10), Latin, Theater Arts, and coached Middle School volleyball for three years.
Before coming to Brook Hill she taught English and choir in Jacksonville Middle School and Rusk. Prior to teaching Patti received her Bachelor of Music Education degree from Stephen F. Austin State University. She was also awarded a Master of Arts degree in Interdisciplinary Studies from The University of Texas at Tyler, where her primary field was music.
Except for her college years she has always lived in Jacksonville where she now lives with her husband Tim, who is an assistant principal at Jacksonville High School. The Edens' three daughters are all graduates of  Brook Hill, and her grandson is a Lower School student!
The Edens are active members of Fellowship Bible Church where Tim is an elder, and Patti is the Music Director. Mrs. Eden is active in community theatre and performs with various groups in the East Texas area.