Brook Hill Athletic Director announces 2018 Baseball Coaching Staff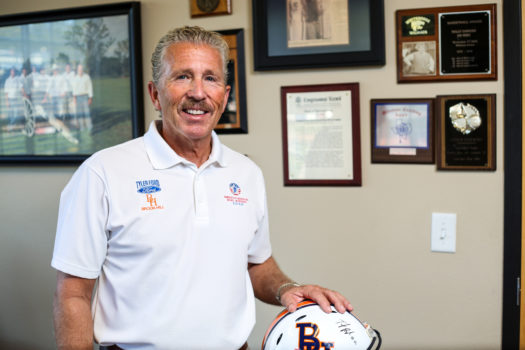 From the desk of Wally Dawkins, Athletic Director:
We are proud to announce the selection of Austin Reed as the new Interim Head Baseball Coach for the 2018 season.
Coach Reed has been a member of the Brook Hill Baseball coaching staff for 11 seasons and has served as an assistant coach for BH as the Guard has made five trips to the TAPPS State Baseball Tournament during his tenure.
Coach Reed served as 1st Base Coach as the Guard racked up 3 TAPPS State Championships in a row in 2011, 2012 and 2013. Reed was also serving as the 1st Base Coach when Brook Hill made it to the State Semi-Finals in 2016.
Hiring Austin Reed as our Interim Head Baseball provides us with a man who has the experience, knowledge and demeanor to make this transition not only as smooth as possible, but will give our baseball players their best chance to be successful. Austin knows the program, understands how Brook Hill Baseball works and has a great relationship with the players, and they have great respect for him. We believe that Austin is the right man for the job. He has been a loyal, faithful employee and coach for 11 years, and is deserving of this opportunity.
Reed's varsity staff has also been announced. Former Baylor University star and MLB player Trey Webb will join Brook Hill as a varsity assistant coach. Webb was a standout player at Baylor from 2001-2003, and then went on to play professionally for the Washington Nationals from 2003-2006. Webb ended his pro career with the San Francisco after being in the Giants organization from 2006-2010. Webb will also help as a hitting instructor for the Guard.
Also joining the Brook Hill staff is former LeTourneau standout and pitcher Jordan Price. Price pitched at LeTourneau from 2011-2014, was twice named All American Southwest Conference in 2013 and 2014. Price pitched for several minor league teams before graduating with a degree in Kinesiology in 2014. Price will teach Lower School PE at Brook Hill and specialize in working with the pitchers while being a varsity assistant at BH.
We really believe that this is a step forward for our baseball program, and I am excited about the opportunity for Coach Reed, and that we have surrounded him with a couple of guys that will truly raise the level of play in our baseball program.