Continuous Enrollment Information for 2020-2021
We're starting something new to better serve you. To streamline our annual re-enrollment process, we have implemented a new system of Continuous Enrollment that eliminates the need for you to fill out enrollment paperwork every year.
After you re-enroll your student ONE FINAL TIME this spring, your student's enrollment will automatically renew until graduation from The Brook Hill School, or, if necessary, until the withdrawal process is completed.
CLICK HERE TO VIEW THE CONTINUOUS ENROLLMENT cONTRACT
CLICK HERE TO VIEW THE CONTINUOUS ENROLLMENT POLICIES
click here to login to renweb and sign your contract
---
Similar to last year, we're offering a 20-21 tuition credit for completing last the last re-enrollment EVER! We are offering $1,500 for one overall winner and another $500 for one winner from each school. This is only offered to families who re-enroll by Monday, January 27th.
Winners will be drawn on Monday, Jan 27th. The sooner you re-enroll your student(s) the more chances you have to win!
Wednesday, Jan. 22 – 5 entries per student
Thursday, Jan. 23 – 4 entries per student
Friday, Jan. 24 – 3 entries per student
Saturday, Jan 25 – 2 entries per student
Sunday, Jan 26-Monday, Jan 27 at 9 am – 1 entry per student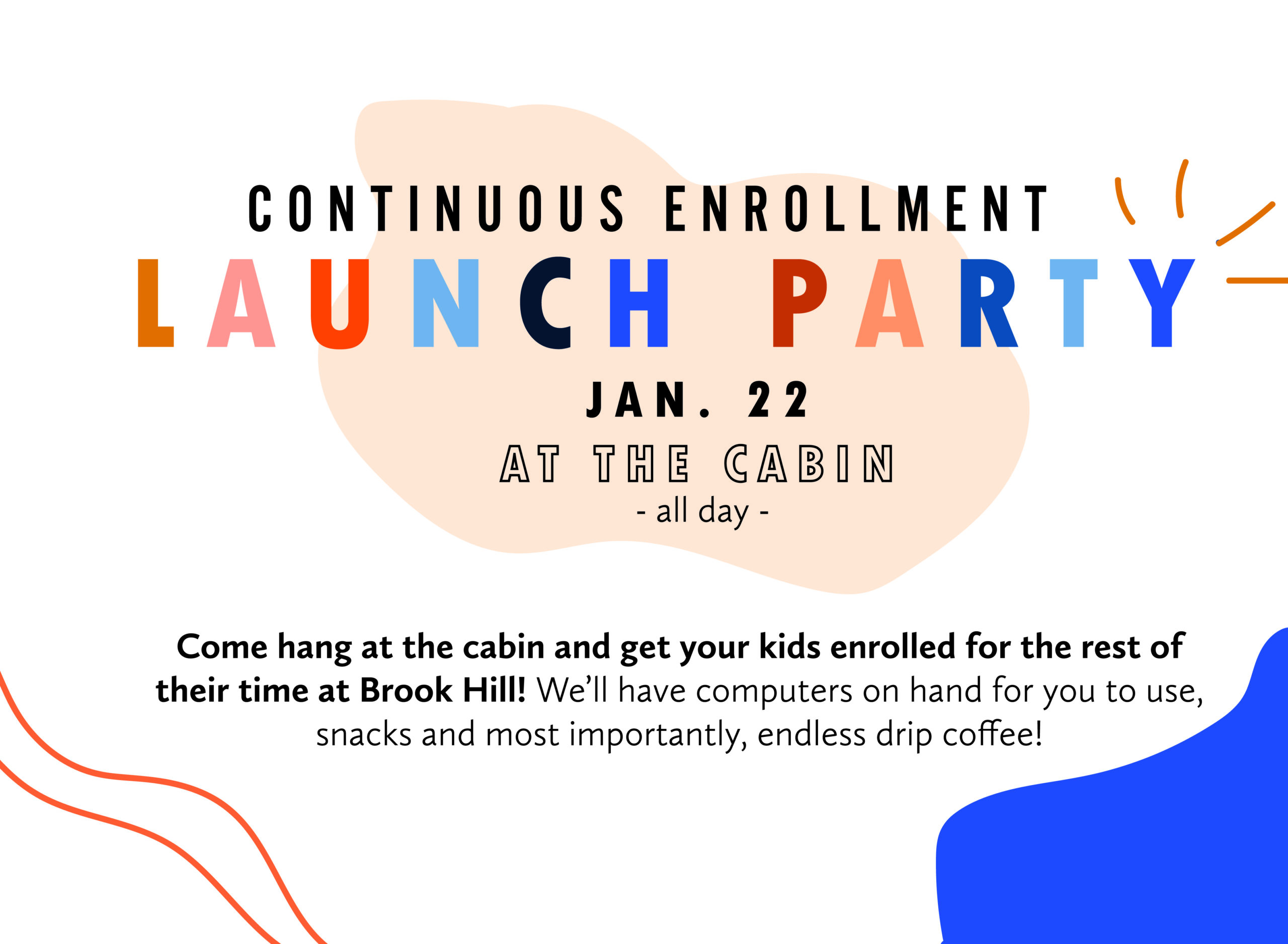 YOU'RE INVITED TO JOIN US FOR OUR CONTINUOUS ENROLLMENT LAUNCH PARTY ON JANUARY 22ND.
The Admissions Office will be available from 8 am – 6 pm to guide you through the continuous enrollment process. There will be refreshments and coffee waiting for you as well! Of course you can also enroll from your home or office, but if you want to celebrate with friends, we would invite you to join us!
ADDITIONAL INFORMATION
To learn more about this system and how it affects your family, we highly encourage you to attend a Continuous Enrollment Information Meeting. To emphasize our heart to have the opportunity to communicate with families face-to-face regarding this change, we are offering a $50 tuition credit per family that will be applied towards next year's tuition, simply for attending one of the meetings listed below:
Wednesday, January 15 at 12:15 p.m.
Wednesday, January 15 at 5:30 p.m.
Tuesday, February 18 at 12:15 p.m.
Tuesday, February 18 at 5:30 p.m.
click here to login to renweb and sign your contract
---
Still have questions? Check out our FAQ's:
---
Families can view tuition and learn about the financial aid process here:
tuition & financial aid information 
---
If your family is not returning for the 2020-2021 year, it is imperative you submit the Brook Hill Withdrawal Form for each student.
Please contact Madison Hanks in the Admissions Office with questions: mhanks@brookhill.org