The Lower School Learning Enrichment & academic Potential (LEAP) Program exists to not only help students realize their academic potential through support programs, but also enrich the learning environment of students through innovative programs that develop critical thinking and problem solving skills.
LOWER SCHOOL LEAP PROGRAM
---
academic support
Brook Hill's Lower School LEAP Program provides training and alternative instructional support, promotes student learning labs, and facilitates parent-school communication to foster student growth. Our program is teacher initiated, student-centered, and skill specific. We offer:
Support services for students with learning differences
Alphabetic Phonics Curriculum, developed at Texas Scottish Rite Hospital for Children
Multi-sensory Teaching Approach (MTA)
Take Flight
Mathematical Skills
Alphabet and Dictionary Skills
Letter Sound Correspondence
Reading and Spelling Rules
Sight Words
Fluency
Comprehension
---
Learning enrichment
In order to enrich learning and promote twenty-first century skills, Brook Hill's LEAP Program facilitates professional development, the innovative use of integrated technology, hands-on learning experiences, and club opportunities.
Student Clubs: Robotics, Lego, Literacy, Cheer and Dance and many others
Guard Dog Mentoring Program
Cadet Singer Choir
Art Academy
Orchestra Academy
Academic Competitions: ACSI, PSIA, Math Olympics, Speech Meet and many others
Integrated Technology like iPads, Virtual Reality Headsets, Computers, Promethean Boards, and many others
And more to come!
MARTHA WAGGONER
LEAP Director and Dyslexia Specialist
Mrs. Waggonner not only brings over 27  years of experience in working with dyslexia, but she also has a strong passion for working with and advocating for students. She believes in making the learning process fun. Mrs. Waggonner holds a bachelor's degree from the University of Texas at Tyler in Elementary Education, with a specialization in reading.  She went on to earn a Master of Science in Special Education from Arkansas State University, as well as a Master of Education in Literacy from the University of Texas at Arlington. She trained to be a Dyslexia Therapist at the Southwest Multisensory Institute in Dallas, as well as at LEAD in Dallas.
Mrs. Waggonner has a passion for reaching young learners very early. "Working at the Lower School provides the perfect opportunity to consult with teachers and parents about the early characteristics of dyslexia." Her passion will not only help us identify student needs early, but also begin to equip them with the tools to be successful in Brook Hill's academic environment.
READY TO TAKE THE NEXT STEP?
We appreciate your interest and hope to assist you any way we can. If you have any questions, please feel free to contact us. You may also schedule a tour or request more information about our school using the button below.
news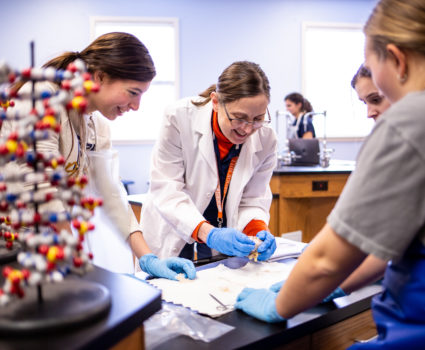 November 29, 2022
Honor the teachers who have impacted your life this holiday season! All gifts directly support the faculty fund. Give today at brookhill.org/donate!