The Lower School Learning Enrichment & academic Potential (LEAP) Program exists to not only help students realize their academic potential through support programs, but also enrich the learning environment of students through innovative programs that develop critical thinking and problem solving skills.
LOWER SCHOOL LEAP PROGRAM
---
academic support
Brook Hill's Lower School LEAP Program provides training and alternative instructional support, promotes student learning labs, and facilitates parent-school communication to foster student growth. Our program is teacher initiated, student-centered, and skill specific. We offer:
Support services for students with learning differences
Alphabetic Phonics Curriculum, developed at Texas Scottish Rite Hospital for Children
Multi-sensory Teaching Approach (MTA)
Take Flight
Mathematical Skills
Alphabet and Dictionary Skills
Letter Sound Correspondence
Reading and Spelling Rules
Sight Words
Fluency
Comprehension
---
Learning enrichment
In order to enrich learning and promote twenty-first century skills, Brook Hill's LEAP Program facilitates professional development, the innovative use of integrated technology, hands-on learning experiences, and club opportunities.
Student Clubs: Robotics, Lego, Literacy, Cheer and Dance and many others
Guard Dog Mentoring Program
Cadet Singer Choir
Art Academy
Orchestra Academy
Academic Competitions: ACSI, PSIA, Math Olympics, Speech Meet and many others
Integrated Technology like iPads, Virtual Reality Headsets, Computers, Promethean Boards, and many others
And more to come!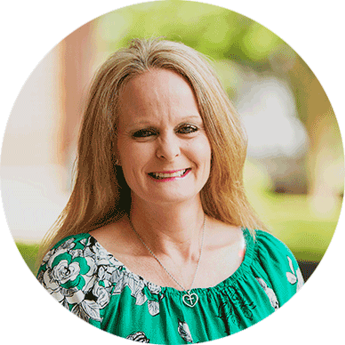 Meri Mullicane
LEAP Director
With over 30 years of experience in education, a B.S. in Elementary Education and a Masters of Education, Mrs. Mullicane is eager to help Brook Hill's students realize their potential. Her experience as a district coordinator for dyslexia has given her the wisdom to provide valuable feedback to teachers and administrators on best practices, curriculum implementation, and effective teaching for students with a variety of needs, gifts, and talents.
Mrs. Mullicane believes in "the limitless potential of all students." A mindset she intends to impart to our students through the LEAP Program.
"As a parent of two Brook Hill graduates, I know the passion and commitment of the teachers, administrators, and families at Brook Hill and I believe in the mission of the school," Mrs. Mullicane said. "Brook Hill is much more than a school, it is a family with Christian values that is committed to educating the whole child."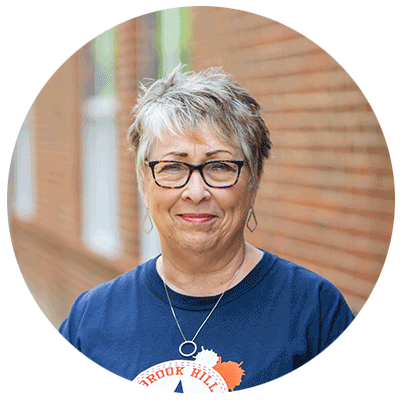 GAYLA MCKNIGHT
Academic Intervention Specialist
Mrs. McKnight received her Bachelor of Science in Interdisciplinary Studies from Texas A&M-Commerce and her Master of Education from Southern Methodist University, Dallas, with a specialization in Learning Therapy (dyslexia remediation). She also obtained a Certificate of Learning Therapy from Southern Methodist University. Mrs. McKnight is a Certified Academic Language Therapist through the Academic Language Therapy Association, as well as a Licensed Dyslexia Therapist by the state of Texas. She has taught students with learning differences for over 26 years with 17 years as an Academic Language Therapist. She received training in Alphabetic Phonics at SMU and later trained in Take Flight when Scottish Rite restructured their curriculum. She also audited MTA training.
Mrs. McKnight loves to see students flourish and succeed and has spent her life helping them become the best version of themselves.
READY TO TAKE THE NEXT STEP?
Please complete the following form to learn more about joining our school. If you are ready to start an application, click here to apply.
We look forward to connecting with you to help you make the best informed decision possible for your family.
Student Information
Male or Female?

Birth Date mm/dd/yyyy

Day or Boarding Student?

Which School are you interested in?
(Boarding School: Grades 8-12) (Lower School: Grades PK-5) (Middle/Upper School: Grades 6-12)

Grade level

School Year

Is there more than one student? If so, please include additional info in the Parent Notes section, including name, birthday, and grade level of interest.
news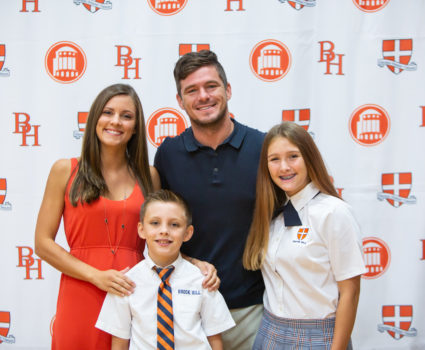 August 21,
The first day of school has finally arrived! Can we get a "Hallelujah!"? We are so grateful to be starting back and to have the Brook Hill Family together again. This year, we're learning to act with love at the Lower School. Our school verse for the year is: "Let all that you do be […]