The Brook Hill School is unlike any other day and boarding school because it is home to The American Freedom Museum. Located in Founder's Hall, the museum boasts over 650 artifacts from our nation's history.
---
mAKE AMERICA'S STORY yOUR STORY
The American Freedom Museum illuminates the American experience during crucial moments in our nation's history. From the hills and valleys of the American Revolution to the sands of Iraq and Afghanistan, you will step into history and discover the journey of those in our nation's military who have courageously and heroically sacrificed to ensure the many freedoms that we enjoy today.
Our mission is to Honor American veterans and military personnel for the sacrifices they have made for our freedoms; Educate this and future generations about our rich heritage; and Inspire others to achieve greatness.
A TEACHING MUSEUM FOR ALL AGES
Dull moments don't exist at the American Freedom Museum. From the minute students arrive, they're immersed in a story that makes history come alive. When they leave, students not only have a better grasp of the material they've been learning about in class, but also a stronger sense of how their story fits into the larger story of America.
With educational experiences across every discipline for every grade PK-12, there are no shortage of memories to be made and stories to learn.
Teachers can find their area of study in action throughout history. They will find real life application of the skills their students are learning from the basics to higher level academics in the following areas:
Reading, Writing, and Literature
Math and Science
History and Geography
Psychology and Sociology
Speech and Debate
Spanish
Arts and athletics
READY FOR MORE?
Please complete the following form to learn more about joining our school. If you are ready to start an application, click here to apply.
news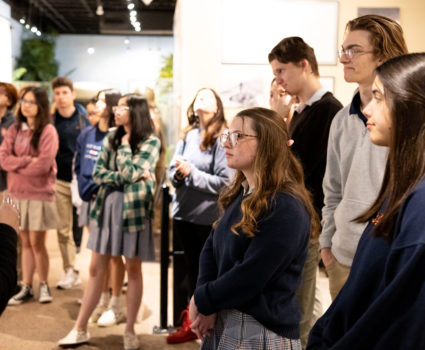 February 20,
In our Macroeconomics students' current unit, they have been studying how to calculate GDP (Gross Domestic Product), CPI (Consumer Price Index) and how to adjust prices to different time periods. […]