WE BELIEVE THAT A STUDENT'S POWER TO ACCESS A WORLD-CLASS EDUCATION SHOULDN'T BE LIMITED BY THEIR FAMILY'S ABILITY TO PAY FULL TUITION. OUR FINANCIAL AID PROGRAM EXISTS TO ASSIST CAPABLE, TALENTED, AND DESERVING STUDENTS WHO WOULD BE UNABLE TO ATTEND BROOK HILL WITHOUT FINANCIAL ASSISTANCE.
A Brook Hill Education is more affordable than you think
Every year, families just like yours are able to afford Brook Hill through our generous financial aid program. Families from a variety of income brackets and socioeconomic backgrounds apply for and receive need-based financial assistance.
Financial Aid is not a loan, but rather a grant made possible through the generous gifts and donations of others that reduces the cost of tuition for qualifying families.
INCOME OF FINANCIAL AID RECIPIENTS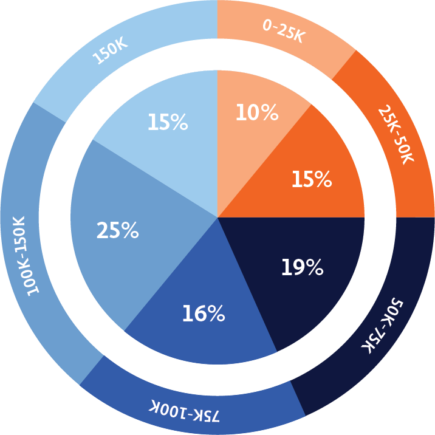 Financial Aid
At Brook Hill, Financial Aid is meant to help families afford a Brook Hill education who otherwise could not. By reducing the cost of tuition for qualifying families through financial aid, they are able to gain access to the world-class education we provide at Brook Hill.
The Brook Hill School partners with FACTS for domestic families and Financial Aid for School Tuition (FAST) for international families, to evaluate Financial Aid applications. Awards are determined by the third party recommendation and a Financial Aid Committee review.
Please be aware that to complete this part of the process, copies of your tax documents must be submitted. If you are an international family and do not file taxes in your country, then other documents can be submitted to prove your income and assets. This can be done by mail, or through our third party partners (FACTS or FAST), which can be found inside the Financial Aid application.
If you have questions regarding the Financial Aid process, please contact Madison Hanks here.
FINANCIAL AID APPLICATION

"As a kid from a single parent household, I wasn't oblivious and I knew that my family didn't have the same resources as others. Financial Aid is the sole reason I was able to go to Brook Hill and set my life on a trajectory that wouldn't have been possible otherwise."
– Mason Spradlin, Class of 2010
FAQ'S



WHAT DOES FINANCIAL AID COVER?


Financial grants are applied toward tuition only. Costs not included in tuition include lunch, trip fees, uniforms, fees for optional clubs/activities, and textbooks for grades 6-12.



IS FINANCIAL AID A LOAN OR A GRANT?


Financial Aid is a grant, not a loan. Families are not required to pay back the financial assistance they receive. If you are able, we hope you will consider making a donation to The Brook Hill Fund to help other deserving students attend Brook Hill in the future.



HOW ARE FINANCIAL AID AWARDS DETERMINED?


Brook Hill relies on the assistance of FACTS Grant & Aid (domestic families) and FAST (international families) in calculating the level of financial need for each applicant. These calculations consider gross income, nontaxable income, assets, liabilities, family size, the number of children in tuition-paying schools, and situations where the income level does not support the spending level, among other circumstances. Included in this calculation is an allowance for basic living expenses and taxes. The Financial Aid Committee reviews this data and will adjust the amounts based upon additional knowledge about each family's unique situation.



ARE THERE ANY SCHOLARSHIPS AVAILABLE?


Brook Hill does not offer scholarships based upon a student's skills or merits (i.e. athletic, academic, or artistic abilities). All financial aid is awarded based upon a family's demonstrated financial need.



SHOULD I APPLY FOR FINANCIAL AID?


First, consider the total annual cost of a Brook Hill education. Then, calculate your ability to cover this cost. Consider all sources of income, adjust priorities and spending as able, and review assets available for use. If after this analysis you believe you cannot cover all of the educational expenses, we encourage you to apply for financial aid.



DOES APPLYING FOR FINANCIAL AID AFFECT SCHOOL ADMISSION DECISIONS?


The committee that reviews candidates for admission to The Brook Hill School is "need blind" and does not consider the family's ability to pay.



WHAT DOCUMENTS DO I NEED TO SUBMIT IN ADDITION TO FILLING OUT THE FINANCIAL AID APPLICATION?


A complete copy of your previous year's Federal tax return is required (if applying for the 21-22 school year, you may submit taxes from 2019 or 2020). If you live outside the United States of America and do not pay taxes to the US government, you must submit proof of income and bank statements that verify the information on your application. These documents must be submitted in English.



CAN INTERNATIONAL STUDENTS APPLY FOR FINANCIAL AID?


Yes. International students can receive financial aid; however, the vast majority of financial aid is allocated to domestic students. Families without a US address should complete the FAST Application for financial aid. In addition, the Financial Aid Committee requires proof of income by way of bank statements, tax documents, pay stubs, etc.



WHAT IS THE POLICY FOR FAMILIES THAT ARE DIVORCED, SEPARATED, OR NEVER MARRIED?


Regardless of marriage status, Brook Hill believes both biological parents have an obligation to contribute to the education of their children to the extent they are able.

Brook Hill expects that separated parents, divorced parents, or parents that have never been married will contribute to the cost of their child's education regardless of whether or not there is a legal obligation for them to do so.

The Financial Aid Committee considers all resources that might be available to each student. If either parent remarries, the committee takes into consideration the resources of that stepparent, given the obligation of the stepparent to his/her new family. Therefore, both parents along with stepparents must provide financial information by submitting a financial aid application.

Brook Hill understands that some family situations can be very difficult. In such cases, a letter may be submitted from a pastor, school official, social worker, or attorney confirming that the other legal parent cannot be located or refuses to participate in any aspects of their child's life. The letter writer cannot be a relative of the applicant.

The letter must state the following, as applicable:
The whereabouts of the other legal parent is unknown.
The other legal parent has provided no support and has had no contact with the family for at least two years.
It is in the family's best interest not to have further contact with the other legal parent.
Any other extenuating circumstances that the individual believes the school should consider




IS FINANCIAL AID AWARDED FOR ONE YEAR ONLY, OR FOR EACH YEAR MY CHILD ATTENDS BROOK HILL?


Financial aid awards are valid for one year only. Families must re-apply for financial aid each year they wish to receive assistance.



IF WE RECEIVE A FINANCIAL AID GRANT, CAN WE EXPECT TO RECEIVE A SIMILAR GRANT IN FUTURE YEARS?


As long as a family's finances do not change significantly from one year to another, the family can expect to pay a similar percentage of tuition each year their child is enrolled at Brook Hill.



NON-DISCRIMINATION POLICY:
The Brook Hill School admits students of any race, color, nationality, or ethnic origin to all rights, privileges, programs, and activities generally accorded or made available to students at the school. The Brook Hill School does not discriminate on the basis of race, color, nationality, or ethnic origin in administration of its educational or admissions policies and athletic or other school administered programs.