At the brook hill upper school, our mission is simple: prepare students for college and for life. We accomplish this through academic rigor, caring faculty, and a nurturing environment that keeps the christian worldview front and center.
The Brook Hill Upper School educates students in grades 9-12. There are many options for high school in Tyler, Texas and the surrounding area, but our small class sizes, focused on individual needs to prepare students for college, sets our private school apart. More importantly, Brook Hill is a Christian school, and our Christ-centered environment helps students find their identity in Christ and discover the gifts and talents God gave them.
The faculty and staff at our upper school work diligently to prepare each student for the next level of their education, leading to success in college and beyond. As a Christian school, we strive to create a culture of genuine love and care. We hope that this trains up our students in a nurturing environment, and that our private school develops students that are prepared, challenged, affirmed, and encouraged in body, mind, and spirit. We see successful and happy students moving onward to excellence and success as we partner with families in the growth and development of their children. We hope that we can partner with your family in this endeavor as well.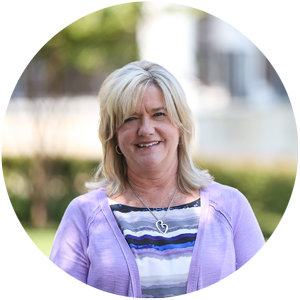 Michelle Rozell
Upper School Principal
Michelle Rozell earned her Bachelor of Science in Mathematics at the University of Texas in Tyler. After spending time as a full-time mom, Mrs. Rozell joined the Brook Hill community on a part-time basis as upper school math teacher in 1998. She quickly moved to full-time status and spent 12 years in the classroom both middle and upper levels before becoming upper school principal in 2013. Mrs. Rozell is relationally strong and able to motivate students to dig down deep for extra efforts when they might otherwise be complacent. Mrs. Rozell has a heart for helping students reach their potential which culminated in her leading the efforts to put the Academic Center for Excellence in place.
Mrs. Rozell is married to Danny Rozell and has three alumni from Brook Hill, Eric, (2005), Shelby (2008), and Baylee (2013). Mrs. Rozell has invested her life in Brook Hill and continues to serve its mission as she leads students and cares for their families at The Brook Hill Upper School campus. Her legacy continues with her two grandchildren, Haleigh and Grayson now attending the lower school.
news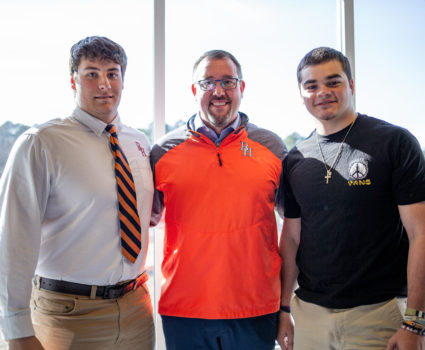 May 17,
We had THIRTEEN student-athletes sign for SIX different sports with schools in Seven different states this year! 🥳 Finn Kaiyala and Grayson Murry will go to Tyler Junior College to play baseball. Al and Felipe will attend Tyler Junior College to play Football. Annabelle Reed will also attend TJC, where she will play volleyball. Mollee […]