The Brook Hill School Department of Fine Arts proudly presents Little Women: The Broadway Musical!
APRIL 23, 24, 25, 30 and MAY 1
*Saturday and Sunday matinees.
Six generations have read the story. This one will sing it!
Book by Allan Knee
Music by Jason Howland
Lyrics by Mindi Dickstein
Based on the novel by Louisa May Alcott

Directed by Glenn Ballard
Musical Direction by Patti Eden
Costumes by Rebecca Ballard

ORDER TICKETS


In order to lead in the 21st century you need more than a relentless work ethic – you need creativity and ingenuity. At The Brook Hill School, we believe our God-given creativity is deepened through our practice of the arts. That's why we emphasize what we like to call the educational arts- so that you can learn creativity through the exercise of arts like drama, music, singing and the visual arts.
Expressions of Creativity
READY FOR MORE?
Please complete the following form to learn more about joining our school. If you are ready to start an application, click here to apply.
Student Information
Male or Female?

Birth Date mm/dd/yyyy

Day or Boarding Student?

Which School are you interested in?
(Boarding School: Grades 8-12) (Lower School: Grades PK-5) (Middle/Upper School: Grades 6-12)

Grade level

School Year

Is there more than one student? If so, please include additional info in the Parent Notes section, including name, birthday, and grade level of interest.
Some students have a special talent in music – vocal or instrumental. Others are gifted in the visual arts, and can draw, paint and sculpt. And there are still others whose talents lie in the dramatic arts, on the stage or in the tech booth. But wherever their personal talents are focused, our goal as Christian educators is to inspire in our kids a passion for their respective art form that will motivate them to stretch their creative abilities and to excel in their art in a way that will honor our Maker and His creative genius.
Pablo Picasso said, "Art washes away from the soul the dust of everyday life."  We believe that every student needs a creative outlet; a time for self-expression; a moment during the school day to "cut loose" and wash away some of the stress associated with the academic rigors of the teen years. At The Brook Hill School, the extraordinary fine arts educators provide just such an experience.We challenge. We encourage. We inspire. We have fun. And we do it with excellence.
news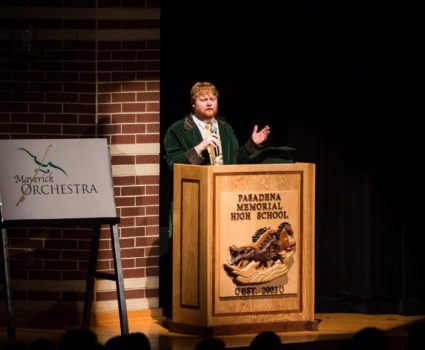 May 08, 2020
As we wrap up a week of celebrating our faculty for Teacher Appreciation Week, we wanted to highlight one of our own alumnus working in the field of education, Noah Claytor '07! Seeing our Brook Hill Alumni thriving in their lives after high school is such a joy. As a school, our mission is […]