BH Athletics State Finalists 2019-2020

Guard Cheer


Boy's Soccer

All Orange All The Time. At Brook Hill, winning is the goal of competition, but that's not why we play the game. We believe that competition builds character and teaches us how to work together.

The Brook Hill School Athletic Event Covid protocol as of January 10, 2022:
*We will accept cash only at ticket window the day of the game.
*Fans and spectators are encouraged to social distance.
*Masks are optional for participants, coaches, fans, and spectators.
Brook Hill Athletics
Academic Excellence. Christ-Like Character. Championship Athletics. Tyler, Texas.

WALLY DAWKINS, ATHLETIC DIRECTOR
"All of our athletic teams at Brook Hill are staffed with experienced, full-time coaches who promote Christ-like character, academic excellence, and provide an environment that fosters championship athletics. At Brook Hill, we are committed to the success of our student athletes on and off the playing field. We also treat girl sports equally to our boys sports."
news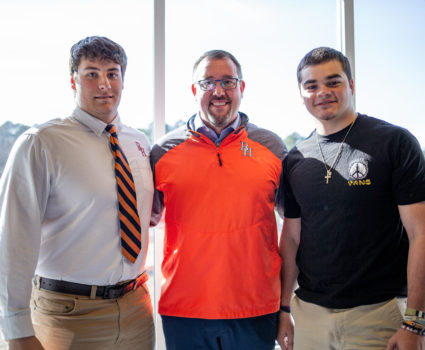 May 17,
We had THIRTEEN student-athletes sign for SIX different sports with schools in Seven different states this year! 🥳 Finn Kaiyala and Grayson Murry will go to Tyler Junior College to play baseball. Al and Felipe will attend Tyler Junior College to play Football. Annabelle Reed will also attend TJC, where she will play volleyball. Mollee […]
READY FOR MORE?
Please complete the following form to learn more about joining our school. If you are ready to start an application, click here to apply.
Student Information
Male or Female?

Birth Date mm/dd/yyyy

Day or Boarding Student?

Which School are you interested in?
(Boarding School: Grades 8-12) (Lower School: Grades PK-5) (Middle/Upper School: Grades 6-12)

Grade level

School Year

Is there more than one student? If so, please include additional info in the Parent Notes section, including name, birthday, and grade level of interest.
Athletics Staff