Alumni Highlight: Jake Anderson
We love our alumni! We believe they are the fulfillment of our mission, and we love taking the opportunity to highlight them beyond their experiences here at Brook Hill. From our campus in East Texas we had the opportunity to catch up with alum Jake Anderson '15 all the way from the campus of Columbia University in the city of New York.
Jake joined the Brook Hill family in 5th grade with 18 classmates in what was then a new Lower School building. He graduated in 2015 with 57 classmates in that same Lower School building (due to weather)! In his time at Brook Hill, Jake did a little of everything. He acted in a few plays, participated in student government, and was a multi-sport athlete. He left Texas after graduating to attend the University of Alabama (Did someone say Roll Tide?!) where he was avid fan of Bama football and received three (!!!) majors. He spent some time in the non-profit sector before heading to the Big Apple to receive his Master's Degree in Negotiation and Conflict Resolution from Columbia. We believe Jake would be successful in whatever career path he chose, but we are especially proud that he has embarked on one to benefit those around him. Read below to hear more about his time at Brook Hill, his life now, and the days in between.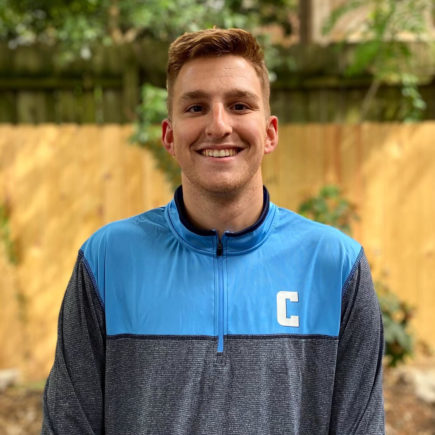 Jake, can you tell us where your journey picked up after leaving Brook Hill in 2015?
"I attended the University of Alabama (ROLL TIDE!) and received three majors in Philosophy, Business Management, and Marketing. I graduated in 2019. As was the case in high school, football was my favorite thing about college— although I was just a fan this time! Alabama went to four CFP National Championship Games during my time there, and won two. I got the chance to fly all over the country for those games, which I never missed, and see only the second Heisman winner in school history in Derrick Henry. It was truly the most fun college experience I could imagine and Tuscaloosa will forever be one of my favorite places. Everyone should go to a game there!
While football was king at the university, I also loved my philosophy program and my other activities, which included youth mentorship at a local middle school through YoungLife. Both were incredibly influential in my development and deciding on a career path. Philosophy gave me the tools to think critically and rigorously and wrestle with life's big questions, while working with YoungLife gave me a way to invest in others. I also got the chance to serve as a Field Coordinator on a state-level political campaign in Tennessee, which was an unexpected experience that I thoroughly enjoyed."
Volunteer work, three majors, and four National Championship games! You were a busy guy!
What role did Brook Hill play in helping you be successful in your college years?
"Academically speaking, I was incredibly well prepared for college. One of the reasons I was able to get three majors was all the dual credit courses I took while in high school, which allowed me to focus on the subjects I cared about over my four years in college. I don't think it can be overstated just how much of a privilege and advantage it is to attend a school that provides those kinds of classes, ACT/SAT test prep, college advising, and more.
At Brook Hill, I was insulated from the world. That was both good and bad. The good part was that I was safe; I was able to explore some of my interests, meet people I loved and trusted, and have a great childhood. I wish I was able to really step outside my circumstances and experience new things, people, and worldviews, but after leaving Brook Hill I was better equipped to do those things myself."
"Academically speaking, I was incredibly well prepared for college."
And it appears as if you have done exactly that! You went back to graduate school after spending some time the working world!
Why did you make this decision?
"I did! I'm so thankful for my decision, too, although it was not my original plan. I was working at a nonprofit in Richmond, VA, as a Marketing and Development Assistant, but left my job during the pandemic. I knew that I didn't want to be in marketing long term, but wanted to continue in the nonprofit sphere and working to make people's lives better. So I left Richmond to get my Master's Degree in Negotiation and Conflict Resolution. This was partly motivated by a stagnant job market, but also because I felt like to really do the work I wanted to do, I had to learn to approach societal conflicts like criminal penal system reform, immigration reform, voting rights reform, and more with systemic understanding in order to help create solutions.
I have had incredible opportunities since starting the program, including learning from world-renowned experts in Peace Studies, Psychology, and Conflict Resolution. I learned remotely from a group in Medellín, Colombia, about how they use art to curb violence within their communities, have interned with the Columbia Center for Justice's National Executive Council to help secure resources for schools in NYC, and presented at the International Association for Conflict Management's yearly conference on the ways in which the discipline of philosophy can be a useful tool for conflict resolution practitioners. Lastly and most importantly, I have met incredible people from all across the globe. I could not be more thankful for the community that I've built in the last year and will be sad to leave!"
We know too well that goodbyes are bittersweet! Do you know where you are headed next?
"I am entering my last semester in my program and will be moving back to Dallas with my fiancée in the spring. She will graduate law school and has a job lined up, while I am on the hunt for my next opportunity! I believe my career is a direct reflection of my values, so I want to help make Texas a more just and more equitable place for everyone who lives in the state. While that's a big task, I'm excited to play a small part in it!
I am also really excited to write a book with my dad; it's something we have discussed for a few years and we plan to make it happen in the spring. His first book and current work revolves around training people to be "leaders of character," and there is no one who's had a bigger impact on my life than him. I am excited to help him with his next project."
"I believe my career is a direct reflection of my values."
Gonna emphasize that little ENGAGED detail you slipped in! Congratulations to both you and your twin sister (Samantha '15)!
Can you share a little about your fiancée?
"I am! Not on the same day as Samantha, but within the same week (weird, we know. We didn't plan that). My fiancée is wrapping up her third year of law school at the University of Virginia, and she will be working for a firm in Dallas upon graduation. She's originally from Colorado, studied philosophy in undergrad, and is all around amazing, brilliant, and capable of anything. I surprised her this past weekend in Charlottesville and we will be getting married in Colorado in May 2022!"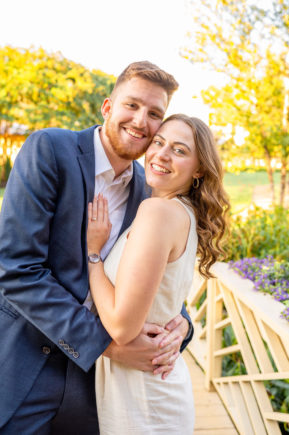 Big things up ahead! Looking back, what was the highlight for you being a part of the Brook Hill family?
"Definitely the people. I still am in contact with friends and faculty from my time there, and despite not being in the area often anymore I look forward to catching up with them whenever I get the chance. I felt loved and supported during my time at Brook Hill, and continue to feel that love and support even 6 years after graduation."
"I felt loved and supported during my time at Brook Hill, and continue to feel that love and support even 6 years after graduation."
In addition to the people, when you think about your time at Brook Hill, what are you grateful for?
"I am grateful for the people I met, the academic rigor that prepared me for college, and the opportunity to grow as a person. I had the chance to find my voice going all the way back to 5th grade, when our class fought for the right to a salad bar at lunch! That has grown over the years into a desire to fight against unjust systems within our country, and I am not sure that would have happened without my experiences at Brook Hill. So I will always be grateful for the seeds that were planted young."
How did Brook Hill prepare you for where you are right now?
"Brook Hill was crucial to my development as a student and to piquing my academic curiosity that led to my subsequent decisions to study philosophy and pursue a career in advocacy work. Specifically, Bible classes and humanities classes helped me develop my love for philosophy, theology, and literature. It was a place where my hunger for knowledge was started, and propelled me into my current path. It also was the first place where I heard about one of my heroes, German theologian Dietrich Bonhoeffer, whose life and work played a large role in my personal journey. He said: "We are not to simply bandage the wounds of victims beneath the wheels of injustice, we are to drive a spoke into the wheel itself." I take that charge very seriously!"
"[Brook Hill] was a place where my hunger for knowledge was started, and propelled me into my current path."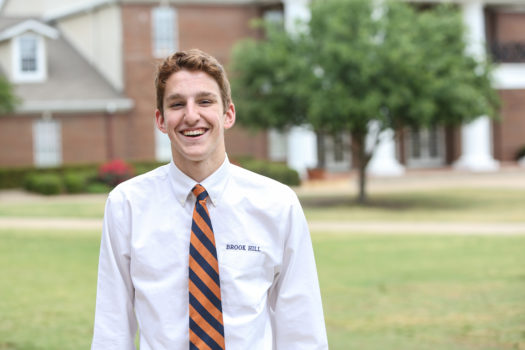 You attested to the people of Brook Hill being a highlight of your experience.
What faculty members impacted you specifically? What would you say to them?
"Coach Reed– I first had Coach Reed in 6th grade, and he taught me every year of middle school as well as one in high school. It was in his class I was first exposed to theology, and I consider him to be a huge influence on the kind of person I am today and the person I strive to be. Plus, he was awesome and always had a cool beard.
Coach Agnew– advisor, coach, and geometry teacher. It's crazy he was only 22 when he started teaching us; he felt so much older at the time! Our class had a special connection with him and he's someone I still saw a lot of when I was back in Tyler during college. I'm forever appreciative of his influence on my life and my ability to Carlton.
Mr. Travis– To this day, one of the best teachers I've ever had. I found his class intellectually stimulating in a way I'd never experienced, and it propelled me to explore philosophy, theology, and literature further in college and post grad. As long as he is teaching at BH, the humanities department is in great hands.
Mrs. Brooks– She was a warrior, loved ancient literature so much that I learned to love it too, and modeled her spirituality in a way that impacts me to this day. I'll always be thankful for the opportunity to learn from her!
Mrs. Fritcher– I used to always say 5th grade was the best year of my life. When my sister and I came to BH, the entire grade was only 18 people. Mrs. Fritcher taught us all in what was then a new lower school building, and we had a blast. If every day of my life could be as great as the days in Mrs. Fritcher's class, I'd be very happy!
Mrs. O'Brien– You were right about the play A Doll's House."
"To this day, one of the best teachers I've ever had. i found [mr. travis'] class stimulating in a way i'd never experienced."
One last question: what do you hope for the future of Brook Hill and it's students?
"My hope is that Brook Hill is a place where all feel welcomed, loved, and encouraged to grow in wisdom, stature, and in favor with God and other people. I loved the people I met there and recognize I was incredibly privileged to have such a great experience, and I hope that Brook Hill continues to grow and be a place where everyone can feel safe and have the experiences that I did. I am encouraged by the work Brook Hill United and others are doing to make that a reality, and I hope to see it continue!"
Jake, we are in your corner for life!
Thank you for sharing with us today, and thank you for your continual pursuit to make the world around you better.