Brook Hill Middle School boys basketball team leaves a legacy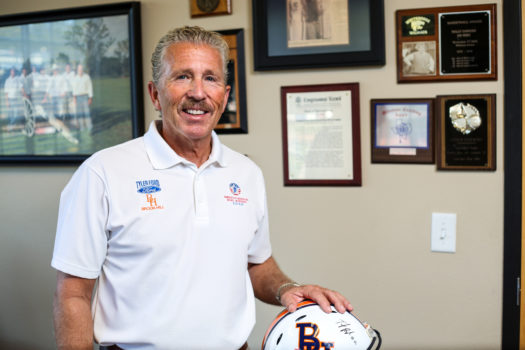 From the desk of Wally Dawkins, Athletic Director:
Every now and again, a team comes along that is truly special.
Such can be said about this year's group of Brook Hill 8th Grade Basketball Team members.
Not only are they special in how they play the game, they are even more special as to how they conduct themselves off the court.
I don't know a lot about basketball, but I know a gifted group of kids when I see one, and I was proud to have been their coach for the past three years.
After coaching high school basketball for 35 years, I broke into the Middle School ranks three years ago, when this group of 8th graders were in the 6th grade. Our first game was at Cumberland Academy, and I remember, yes believe it or not, I was a little nervous when I looked to the opponent's end and saw a talented group of athletes that were probably going to spoil my "debut."
Even I did not realize what a fantastic "hand I had been dealt," and our little group of what were then mostly 6th graders, pulled off the 35-28 victory.
Throughout the 2014-2015 season, occasionally we would hit a bump in the road due to our inexperience and lack of size, but that changed after our lone district loss to T.K. Gorman at home in the second conference game of the season. The Brook Hill 7th Grade Team, largely made up of 6th graders, would go on to win 5 straight district games including the TAPSAC District Tournament.
Some might have thought it to be "beginners luck," but those false hopes by the competition would soon be laid to rest as the 2015-2016 season saw these young men who now made up the BH 7th Grade Team, run the table by going a perfect 18-0 and again capturing the TAPSAC Championship. And in case you are wondering, the competition wasn't always easy as this group took on and beat Tatum, White Oak, Spring Hill, and Rusk to name a few.
After having an unbelievably successful season, I purposely set the schedule to get rid of the unbeaten streak pressure of winning 23 in a row by scheduling U.I.L. class AAAAA Lindale for our first game, and after only three practices, on the road. Result?  Brook Hill 29, Lindale 15. The rest of the year saw this group of young men fall to Chapel Hill at Chapel Hill, and to Mount Pleasant Chapel Hill in the finals of the White Oak Tournament (there is something about the words Chapel Hill and basketball that can make it really tough on you!).
The loss in the White Oak Tourney Finals would be the last defeat of the year.  It would be the last time this group would lose as a member of their BH Middle School Team.  As they moved forward, a 12 game win-streak would be sown together, culminating by winning their third straight TAPSAC Championship.
So how is this for being a tough act to follow?
How is this for future BH Middle School Basketball Teams and players to try to live up to?
The 8th graders who started as 6th graders can say this about their Middle School Basketball careers.
3 Year TAPSAC Back-To-Back-To-Back CHAMPIONS!!!
3 Year TAPSAC Overall District Record of 23-1, last losing the 2nd week of January, 2015.
2 Year Overall Team Record of 34-2.
You know what you call that?
You call that "LEAVING A LEGACY!"
I was extremely proud to have coached Boston Durrett, Layne Barter, Carson Richards, Colton Carson, Bryce Scwab, Chandler Fletcher, Riley Hill, Mason Barker, Joseph Johnson, TyJuan Cannon, Colby Davis, TyShaun Cannon and Willie Roberts.
Great players make winning coaches!
So what can we do in the Brook Hill Middle School Basketball Program for an encore?
What can we do to even possibly come close to achieving the heights of this year's 8th Graders?
Well how is this for a start?  This year's 7th Grade team, made up of largely 6th graders, went undefeated posting a perfect 8-0 record in District play, and were also crowned as TAPSAC Champions.
Here we go again!
It is my goal to prepare the young men who play Middle School Basketball at Brook Hill, to be prepared to play for Coach Agnew and Coach Ford at the high school level, and to mentor them as to how Christian athletes conduct themselves.
And that's another reason to be "ALL ORANGE" …ALL The Time!