Caleb Collins: A story of clearer vision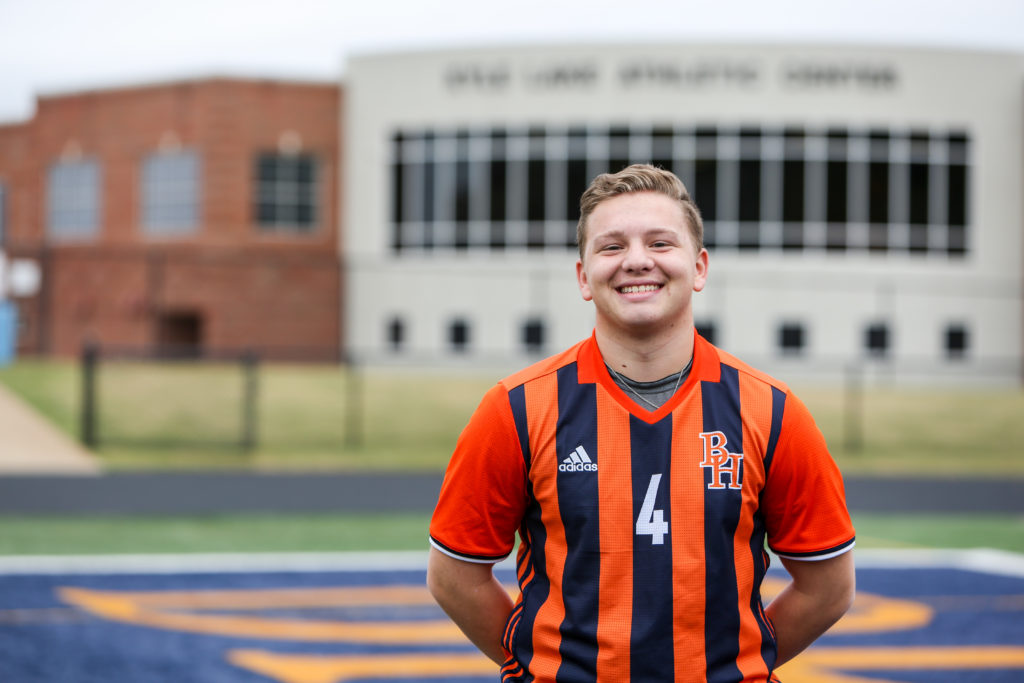 Imagine a chilly, nearing brutally cold – barring the right clothing – night in a small town of East Texas. You're sitting in the stands of a high school stadium watching a soccer game. About 10 minutes into the game, you hear the student section start to roar. This is kind of odd to you considering this student section appears to be larger than normal for a soccer game.
You glance over to hear them cheering and chanting something that you can't quite make out. Your eyes quickly jump to the field, and you see a guy on the sidelines getting warmed up about to go in. Little do you know, this is his first time to play in a soccer game in two years, and he is the reason the stands are so full.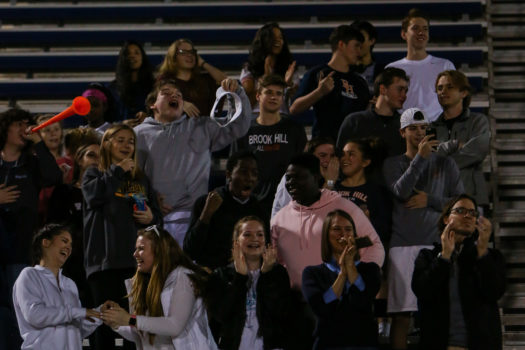 Caleb Collins has attended The Brook Hill School in Bullard, Texas, his entire life and is currently a junior involved in student representatives and athletics. He grew up with a soccer ball at his feet partially because his dad was a collegiate soccer player who went on to coach a back-to-back national championship winning team at East Texas Baptist University. He moved to Bullard in 2003 with his wife and two young boys to become a boarding parent and soccer coach at Brook Hill.
Both of David and Christi Collins's sons, Caleb and Josh, have always enjoyed soccer and seem to not be able to imagine life without it even though their dad encouraged them to try every sport they could before deciding on the one they wanted to pursue and improve their skills in.
"We used to be in the yard playing soccer every day," younger brother Josh Collins said. "It plays a big role in the life of our family. That's what we do most of the time, and that's kind of been one of the main things in our life."
Even though Caleb's mom claims she didn't know what soccer was until she met her husband, she quickly seemed to fall in love with the sport. Whether or not it was because he was coaching at the time.
Excluding club soccer, David has been both Caleb and Josh's coach in the yard at home and on the field at school.
"Caleb really honed in on soccer, and it's been his love and his passion for as long as I can remember," David Collins said. "That's what he's wanted to do, and his dream was to play college soccer, and his goal was to win a state championship with me in high school. He's driven. He always wanted to play with me at the highest level."
Caleb discovered his love for soccer in the third or fourth grade.
"I realized it was something I was good at, so I started playing club and then it became real in fifth or sixth grade," Caleb Collins said. "By the time I was in seventh grade, I was like, 'I want to be a college soccer player.'"
But this tight-knit, fun-loving family had a shake up in their family when Caleb started to get hurt.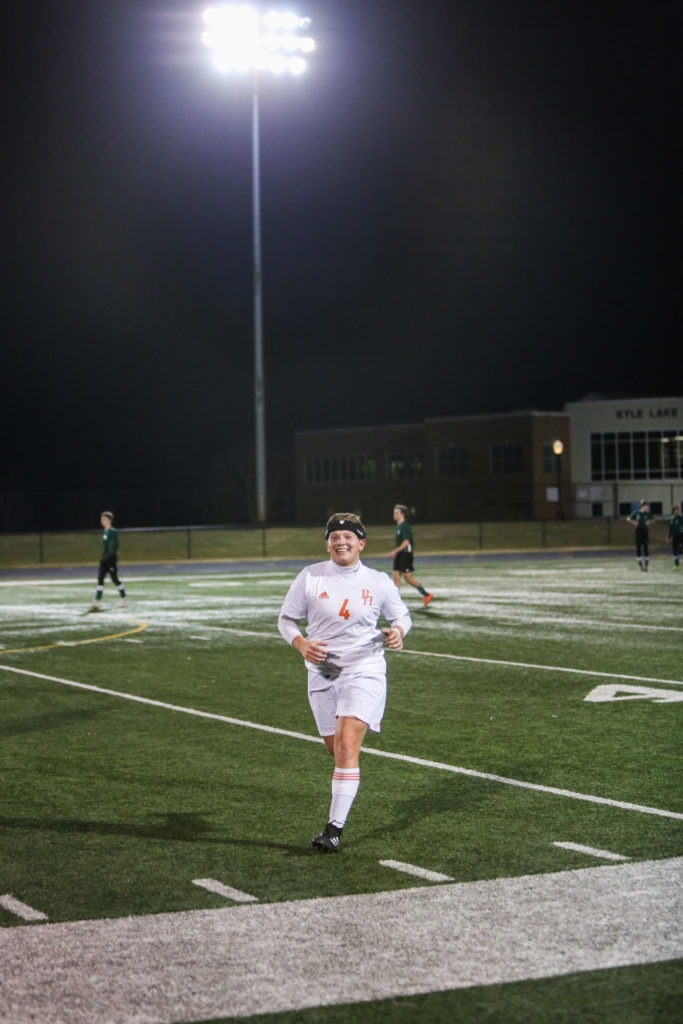 Even though he is a relatively small player, Caleb is aggressive. According to his father and coach, Caleb knows one speed and "that happens to be 100 miles per hour."
"He plays with reckless abandonment," David Collins said. "He's never been afraid. Caleb's going to play as physical as he can and try to find some advantage he has over that guy. And so he's had some injuries, and he gets banged up a lot because he plays so hard."
Caleb has had three distinct moments during game play within the past four years that have caused concussions and a lack of playing time.
Because of his aggressive play, his eighth grade year at Brook Hill, he was cornerback for the football team and was slammed on his head during the middle of the game. Looking back now, he believes that as his first concussion even though it wasn't diagnosed at the time.
He injured himself again at summer camp, but just seemed to brush it off and continue to play club soccer and not heal.
During his freshman year in the middle of a soccer game against Brighter Horizons Academy, he jumped up to hit the ball with his head and another player who also tried to jump up late behind him accidentally collided with him and their heads hit each other. All of these injuries were a little over a year apart.
And then, his sophomore year, he was playing soccer on his club team and nearly 15 minutes into the game, he stepped up to defend the opposing player, and he suffered another injury that led to the end of his athletic career.
"He elbowed me in the temple and at first I just thought my head hurt a little bit, and I wasn't really thinking of it, so I asked for a sub," Caleb Collins said. "A couple of minutes later, I went back in and probably less than a minute later, I just sat down and I was like, 'I can't go anymore.' He was bigger than me. His elbow was at my head height, and he just got me in the wrong place at the wrong time."
He then asked for a sub a second time and began walking down the sideline. He remembers signaling to his mom to come over. She assumed he had hurt his ankle.
"I just remember falling at the corner flag, and I don't really remember what happened after that, but I remember opening my eyes and my mom and three of the dads were standing over me," Caleb Collins said.
A visit to the emergency room confirmed that he had suffered a concussion. The next day, he could barely walk by himself and he would collapse in the kitchen trying to get a drink because he was so unbalanced and couldn't stand up by himself.
He lost motor skills in his left hand and nearly fell off the exam table during the tests at the doctor's office because he couldn't move his arm out far enough from his body.
Caleb began to convince his friends that he would be back on the field with them soon when they would ask not ever assuming – in his teenaged-boy mind – that he would be done playing.
A red flag for Caleb was after his motor skills in his hand weren't back fully, and his general practitioner told them that he needed care from a neurologist.
"I just lost it," Caleb Collins said. "I was wondering what was wrong with me at the point."
During the check up with the neurologist, Caleb and his parents replayed the timeline of injuries and the doctor calmly told them, "You need to be done."
"I kind of had a feeling it was coming, but I didn't want to believe it I guess because soccer meant so much to me, and so it was kind of a shocker at that point," Caleb Collins said.
At that moment, his thoughts with hours and money spent toward making him a better soccer player. In his head, it was all a waste. He had worked hard to get to the point of athleticism that he was at, and to be told there was nothing else the doctors could do was heartbreaking.
"One of the nurses looked at me like I was crazy when I said to give me a broken bone or a torn ligament or stitches all day," David Collins said. "I know what to do with that. I don't know what to do with a brain injury. There's just so much about it that you don't understand."
The Collins family decided that the best approach was to take it one day at a time and to look at this heartbreak as a marathon and not a sprint.
One thing Christi and David tried to keep reminding and reassuring their spirit-crushed teenager that there was a purpose in this trial and that he needed to keep his eyes open to what is important.
"You're not going to practice everyday anymore," Christi Collins remembered. "It completely changes the dynamics of who you are and what you do and that's – it was a lot of – you have to find your joy in God and not that you play soccer."
Caleb, although mentally devastated and misplaced, slowly had to learn this for himself. And when football season came back around, the Brook Hill family began to rally.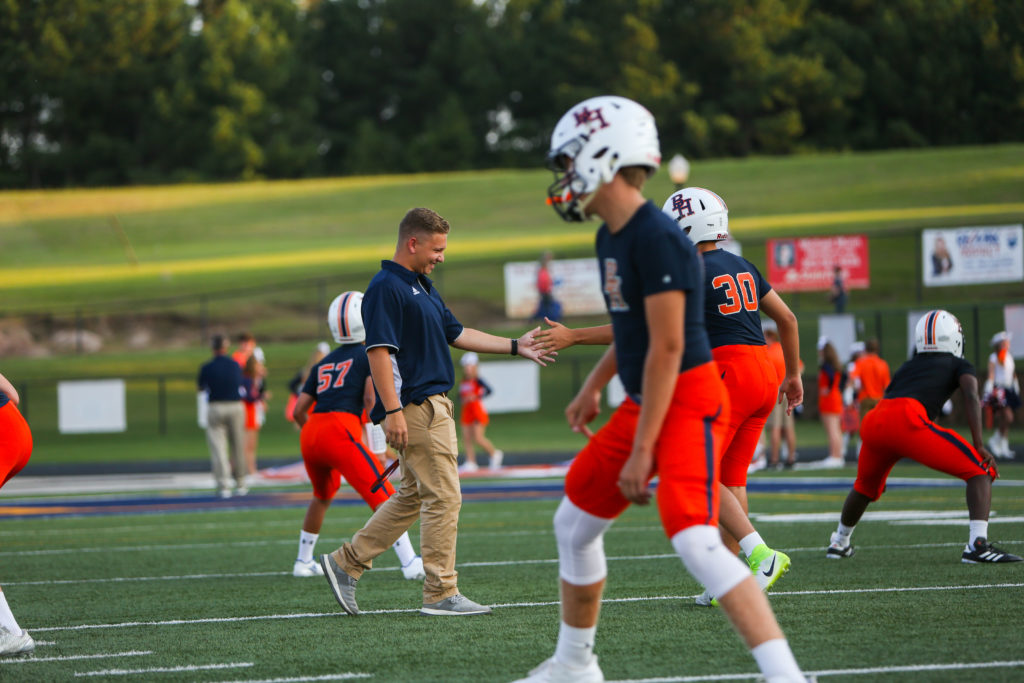 There was an empty spot on the coaching panel for the team. The position was a coach who signals plays to the offense. Brook Hill's head football coach, Scott Ryle, was thinking through the qualities of the man who he would need to fill this spot. Since everyone on his coaching staff had previous responsibilities, he started to think about asking Caleb.
"He was our kicker when I got to Brook Hill," Ryle said. "He's a talented kicker, and as a soccer player he's one of the best on the field, so I know that killed him not being involved."
With the position he let Caleb have, there was a level of trust that was already established. As a student coach, he would have a headset and hear everything that the other coaches were saying about the game plan or adjustments that were needed or his fellow peers.
"Caleb's the type of kid that we've had watch our boys," Ryle said. "That's how much I trust him. He's going to be an unbelievable man. He's a hard worker, he loves his teammates, and he loves his team."
"I will always be grateful for Scott for doing that," David Collins said. "Caleb was looking for something to hang on to. He needed something. It was big for him, and it made him feel apart of something."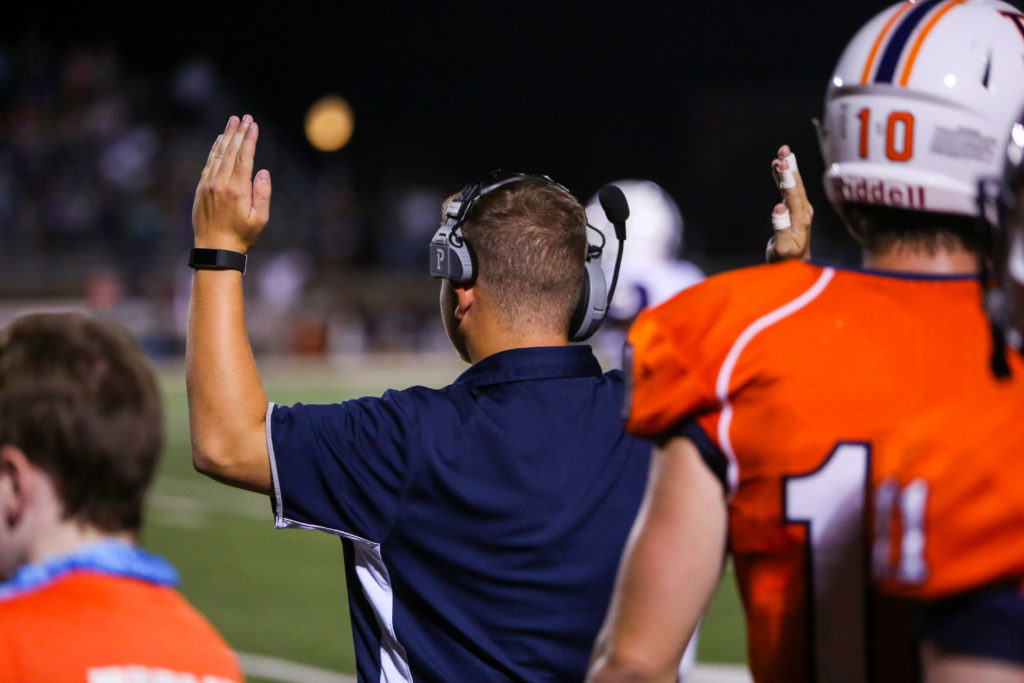 "That's the Brook Hill community coming and doing something," Christi Collins said. "That's not something that he went and asked for. That's what somebody here did and it was neat to see them help like that. Caleb looked forward to Friday nights and being part of something."
Partly because of those Friday nights on the sidelines and partly from helping out his dad each summer at Kyle Lake Soccer Camp for young soccer players, Caleb wants to now pursue coaching.
The Brook Hill family naturally became some of Caleb's biggest fans, and in one of the first games this past soccer season, Caleb was able to go in for some playing time.
After lots of research and meeting with doctors, David and Christi decided that it was safe to take precautions and allow Caleb to play again since college was a definite no. They were possibly persuaded to keep searching options and opinions because of Caleb's constant pleading to be back on the field.
"First it started out, 'Can I play senior night with Josh? Can I play 10 minutes? Can I play my senior year?'," Christi Collins said.
"The moment we got to tell him…it was awesome," David Collins said. "The joy on his face, I mean, you just can't describe it. He couldn't believe it, he cried, we all cried, it was a great moment, and then that night he got to play it was so cool."
The night he got to go back in, the Collinses had friends and family in the stands who are Caleb's teachers and church leaders and friends who skipped their own son's games just to be there to support Caleb even for the little time he would be on the field that night.
Quickly after running out onto the field, Caleb scored. He turned around with both pointer fingers in the air as he was nearly attacked by his teammates.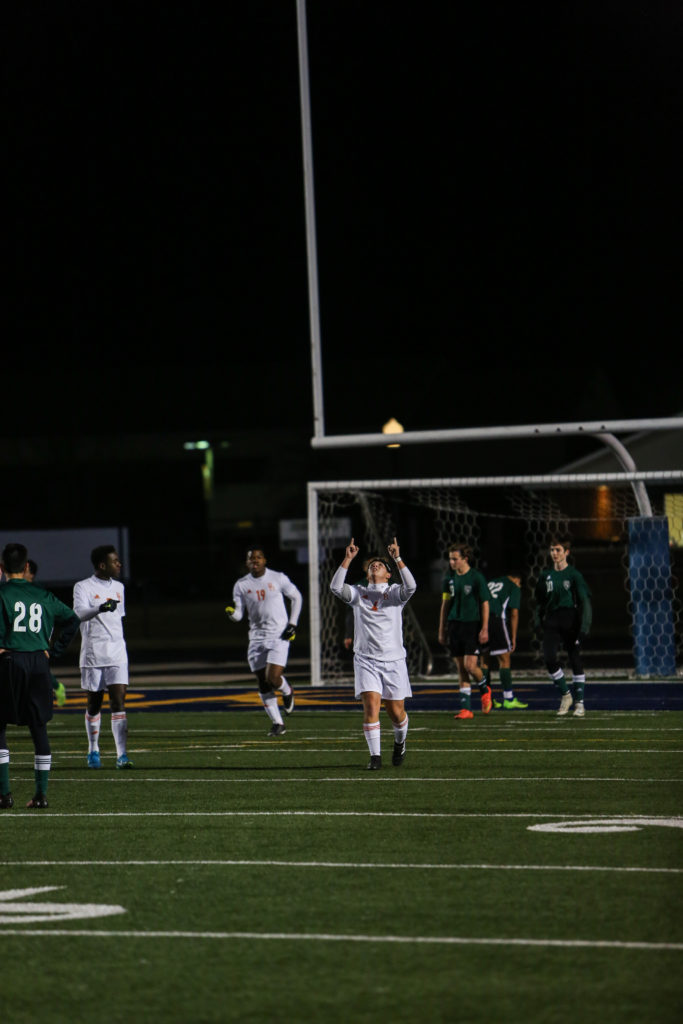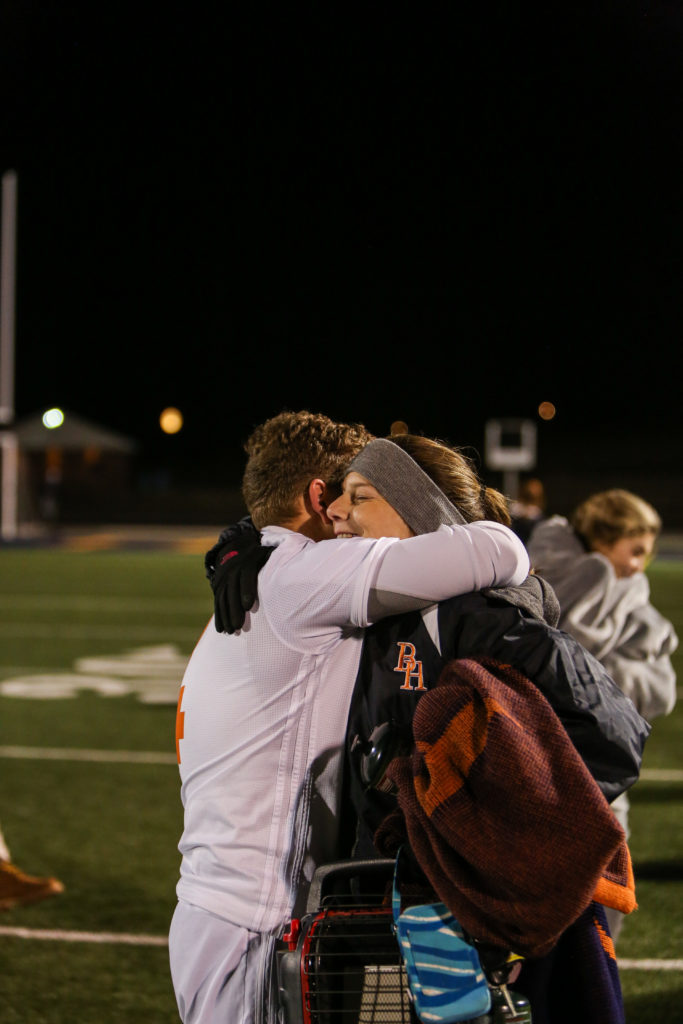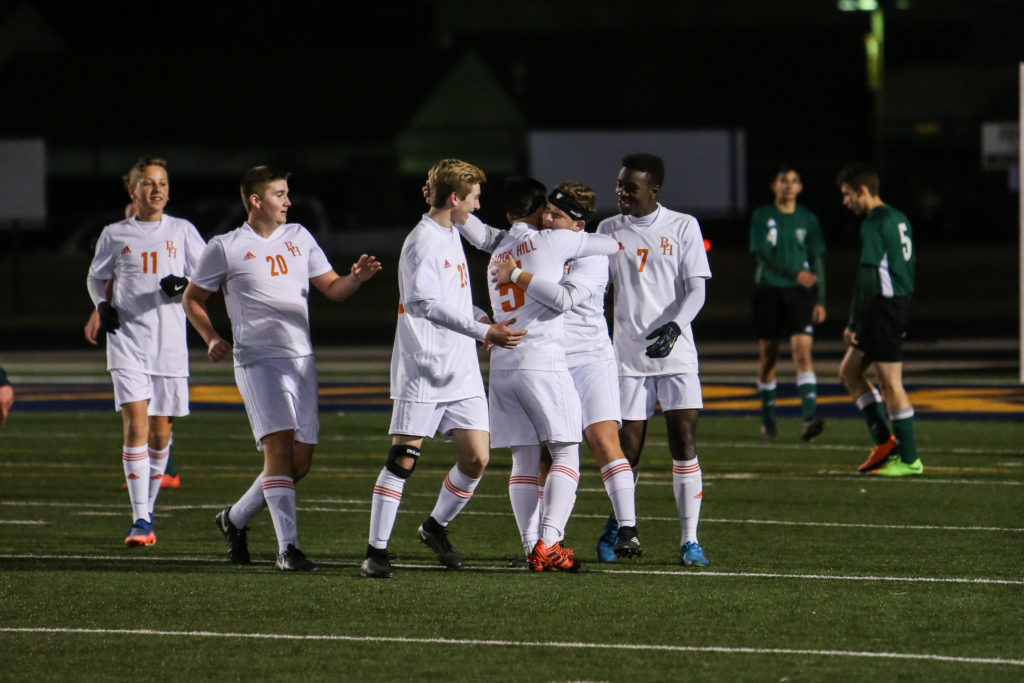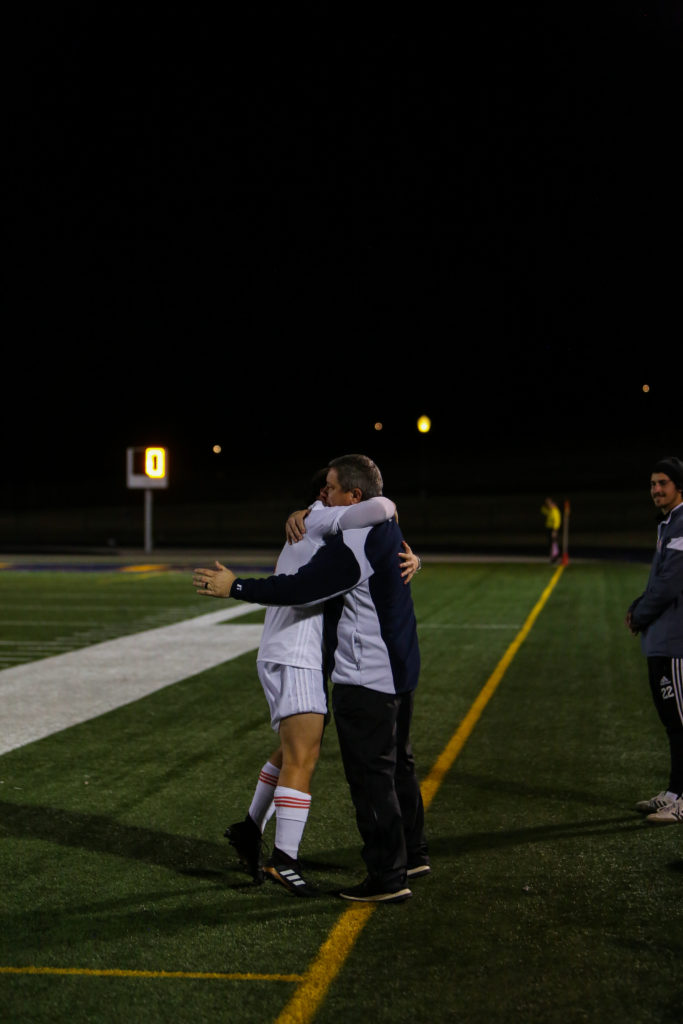 As he ran back to mid-field, he came over to the sidelines and gave David a bear hug. His parents relived the moment and were reminded of how special that moment was for all of them.
"It worked out really sweet," Christi Collins remembered.
"I mean, it was storybook," David Collins said.
"I thought he'd be so keyed up he'd shoot it over the uprights," Christi Collins said.
"No, I knew he'd make it," David Collins said.
Caleb has been able to experience an outpouring of support through his journey. His teachers have stayed late to help him when his headaches were crippling, his football coach found a way to include him and utilize his talents on Friday nights, and his peers have been in the stands and on the field cheering him along every step.
"You can't do it by yourself, and I realized that through the injury," Caleb Collins said. "I realized that my relationship with God during soccer was pulling apart because I was focusing so much on soccer and all this time, my focus and my identity should have been found in Christ. Now that I'm back, I want to make sure that my identity is found in Christ and not in the fact that I'm scoring goals, and I'm getting to play."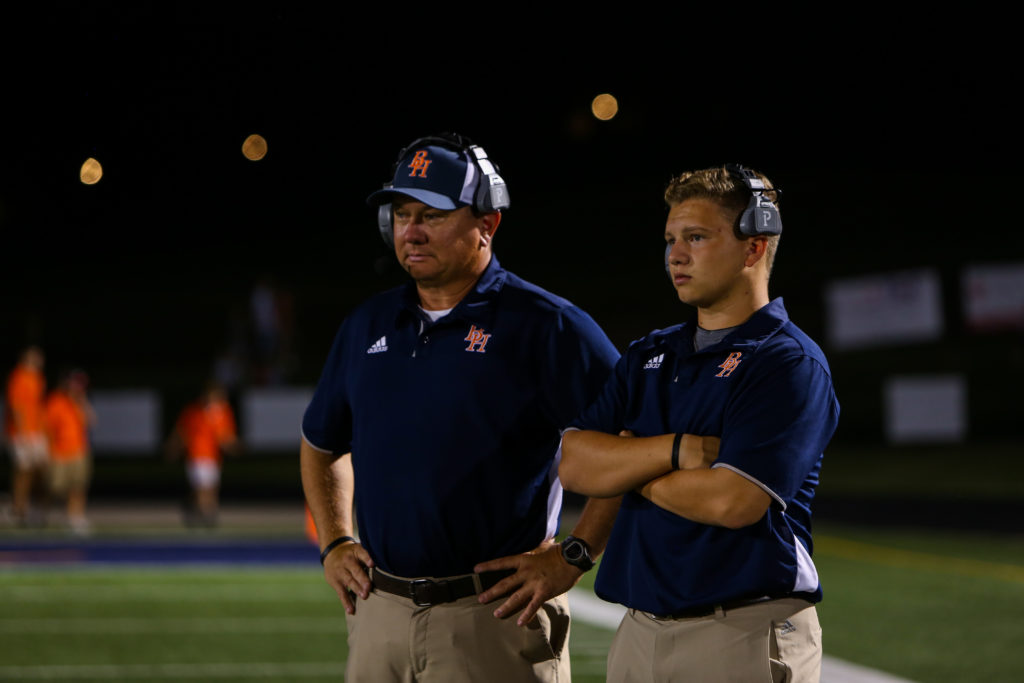 "Whatever he does – whether he's a coach or whatever career he chooses whether soccer plays a part or not, the part of his life as a player is so small in the grand scheme of God's perfect plan," David Collins said. "One day you look back and realize that happened, but it's not near as bad as it was at the time."
The Brook Hill Guard's soccer season ended early in the playoffs this year, but Caleb has one season left of playing soccer competitively.
"Every day that he plays is a gift, and that's how you look at it," Christi Collins said. "Even next year, when that last game comes, it was a gift, and he got to play. He got to do something that he loves."
"You cannot replace the joy that is back on his face," David Collins said. "He's had a lot of people reach out and be there for him. And next year Josh is going to be a freshman and Caleb will be a senior, and that's going to be an incredible moment for me that I have been looking for since they were little. They're going to get to play together, and how incredible would it be if we could win it all – the three of us together next year? I couldn't imagine a better coaching moment than if we were blessed with that situation."