The Cadets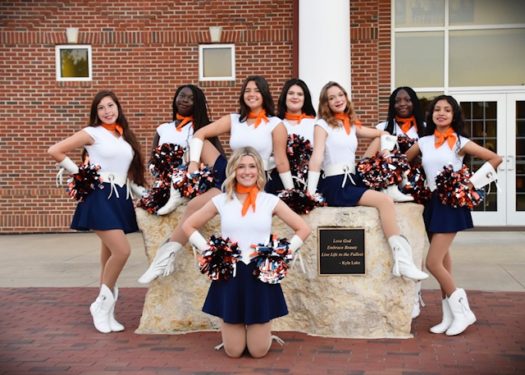 The Cadet drill team participates in a home choreography camp each year. A private choreographer taught field routines, fight song entrance, and dance technique.
 The Cadets perform at football games, tailgates, and pep rallies. The Cadets compete in the TAPPS State Dance Competition during the winter season.
Tryouts for Cadets will be in April. Students must be enrolled in Brook Hill prior to tryouts.
 All State Awards
2019-2020 Brook Hill Cadet Competition Team finished 5th at TAPPS State Dance Competition. 2020-2021 Cadet team finished in the top 10.
Brynn Allen-1st Team All State and All Star Turn Company 2019
1st Team All State 2020
Hannah Weber and Tabby Ramey- 2nd Team All State 2019
Tabby Ramey -2nd Team All State 2020
Mattie Cheatham – Honorable Mention All State 2019
Mattie Cheatham, Claire Kinsky and Maggie Manning – Honorable Mention All State 2020