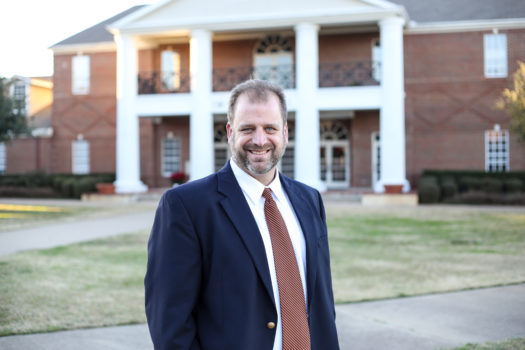 From the desk of Rod Fletcher, Headmaster:
Twenty-five years ago, while I was in Seminary, someone introduced me to the book Designed for Dignity by Richard Pratt.  Although I don't remember every argument Pratt made in this book, I will never forget the title and his main point: each person is "designed for dignity" and they deserve both honor and respect. I was struck by the idea that each human being was "designed" purposefully and specifically by the Creator of the universe. God Himself knit each human being together, and He did not stop there – in that knitting process He created each person in His own image and likeness (Genesis 1:27).
Today, this TRUTH is as important as ever.  As we strive for racial reconciliation, the TRUTH is that each person, regardless of skin color is "designed for dignity."  God, our Creator and Father, through His handiwork, has placed His mark on each person – that alone is reason for respect.
In his letter, James makes this idea more tangible when he writes, "With the tongue we praise our Lord and Father, and with it we curse human beings, who have been made in God's likeness" (James 3:9). James points to the irony that we would praise and adore our heavenly Father, but curse and mock His children. We sin when we say hurtful and degrading things to our brothers and sisters because we are dishonoring the image of God that they bear.
The Brook Hill School is not immune to racial conflict.  We are a community of sinful people who are desperate for God's grace.  But, because of our deeply held belief that God, the Designer, created us in His image, we are committed to respecting each person and striving for an environment that all people, regardless of skin color or ethnic background, are valued and honored.
At Brook Hill, we are committed to striving towards racial reconciliation and respect. As a diverse community with students from over 25 different countries and many races and ethnicities, we strive to cultivate a welcoming and loving environment for students of every race, color and ethnic background. As a school, we celebrate our diversity throughout the year with international chapels, a Parade of Nations, and by allowing our students the opportunity to share life with one other in advisory groups among a variety of other activities.
We emphatically reject racism of any kind. We address issues as they arise and take appropriate disciplinary action when necessary.
After last week, we have realized that there is still work to be done as we teach our students how their words and actions can hurt others and cause division. We are doubling our efforts by holding special assemblies, hosting community leaders, and encouraging our students to share with and listen to one another as they understand their differences. As a community, we will continue to teach our students the TRUTH that, because we are all made in God's image, everyone is "designed for dignity."
"So God created man in His own image, in the image of God He created him; male and female He created them." – Genesis 1:27