Graves, Tng Earn Top Honors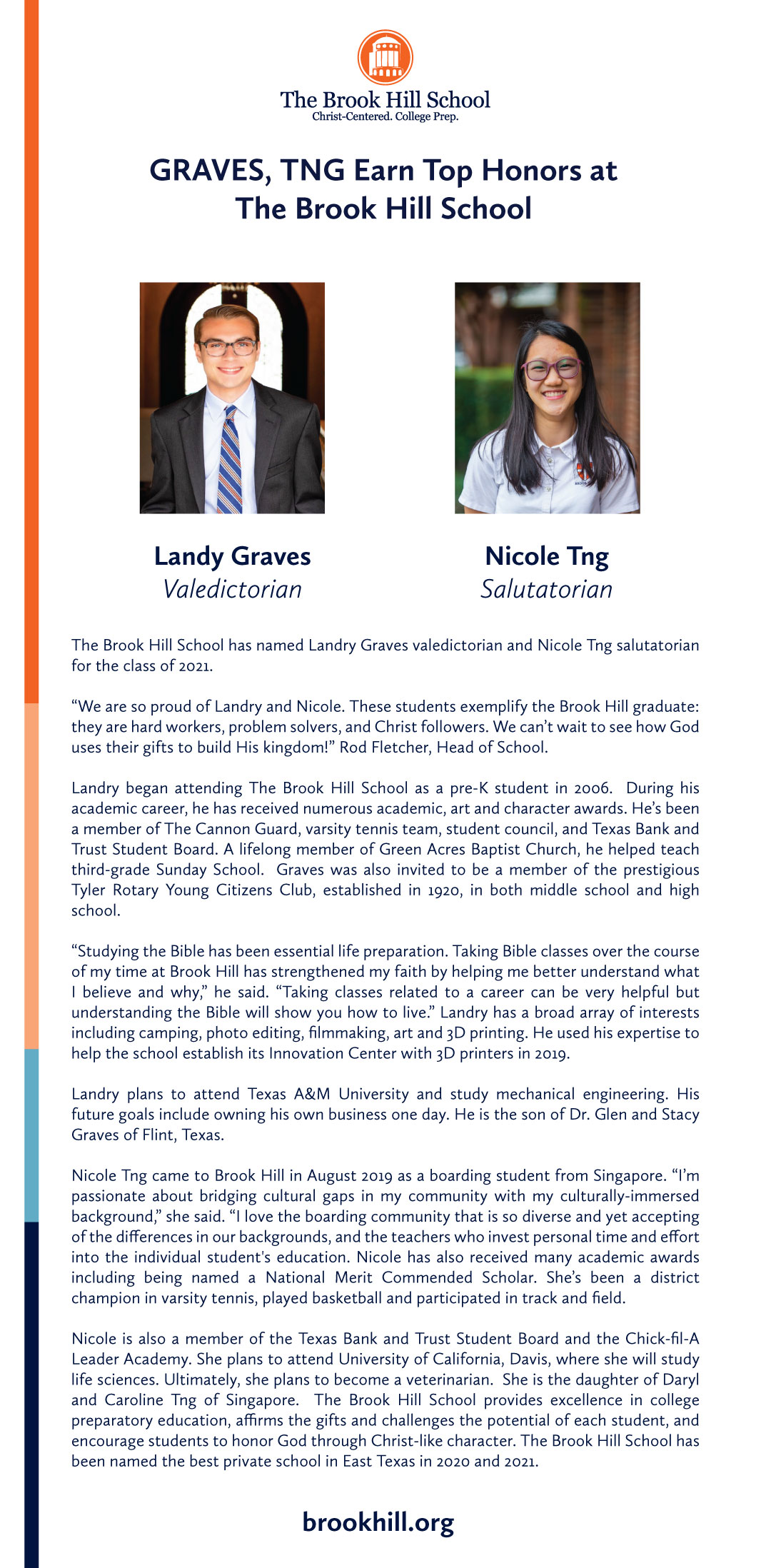 The Brook Hill School has named Landry Graves valedictorian and Nicole Tng salutatorian for the class of 2021.
"We are so proud of Landry and Nicole. These students exemplify the Brook Hill graduate: they are hard workers, problem solvers, and Christ followers. We can't wait to see how God uses their gifts to build His kingdom!" Rod Fletcher, Head of School.
Landry began attending The Brook Hill School as a pre-K student in 2006. During his academic career, he has received numerous academic, art and character awards. He's been a member of The Cannon Guard, varsity tennis team, student council, and Texas Bank and Trust Student Board. A lifelong member of Green Acres Baptist Church, he helped teach third-grade Sunday School. Graves was also invited to be a member of the prestigious Tyler Rotary Young Citizens Club, established in 1920, in both middle school and high school.
"Studying the Bible has been essential life preparation. Taking Bible classes over the course of my time at Brook Hill has strengthened my faith by helping me better understand what I believe and why," he said. "Taking classes related to a career can be very helpful but understanding the Bible will show you how to live." Landry has a broad array of interests including camping, photo editing, filmmaking, art and 3D printing. He used his expertise to help the school establish its Innovation Center with 3D printers in 2019.
Landry plans to attend Texas A&M University and study mechanical engineering. His future goals include owning his own business one day. He is the son of Dr. Glen and Stacy Graves of Flint, Texas.
Nicole Tng came to Brook Hill in August 2019 as a boarding student from Singapore. "I'm passionate about bridging cultural gaps in my community with my culturally-immersed background," she said. "I love the boarding community that is so diverse and yet accepting of the differences in our backgrounds, and the teachers who invest personal time and effort into the individual student's education. Nicole has also received many academic awards including being named a National Merit Commended Scholar. She's been a district champion in varsity tennis, played basketball and participated in track and field.
Nicole is also a member of the Texas Bank and Trust Student Board and the Chick-fil-A Leader Academy. She plans to attend University of California, Davis, where she will study life sciences. Ultimately, she plans to become a veterinarian. She is the daughter of Daryl and Caroline Tng of Singapore. The Brook Hill School provides excellence in college preparatory education, affirms the gifts and challenges the potential of each student, and encourage students to honor God through Christ-like character. The Brook Hill School has been named the best private school in East Texas in 2020 and 2021.