Hearts for Brook Hill was a Huge Success!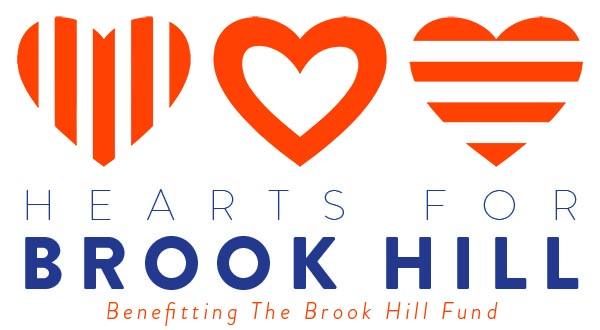 From the desk of Laurie Humphries, Director of Development:
Hearts for Brook Hill was a HUGE success!!  I am so happy to announce that the Hearts for Brook Hill Campaign, benefiting The Brook Hill Fund, raised $166, 822.00!  With the help of Susan and Paul Webb, a Brook Hill family, who made a matching gift of $100,000, the grand total for the campaign is $266,822.00.  The Brook Hill fund supports every aspect of the annual budget for each fiscal year and makes a Brook Hill education possible for all students. 
Words cannot express the gratitude I and the entire administration feel for your generosity. It is clear, that many, many people have a "heart" for this great school and for each and every student, faculty member and staff person that makes Brook Hill the outstanding place it is today.  Whether you support the campaign as a sponsor, an attendee of the woman's or men's luncheon, as a supporter of the lower school teacher cans, a participant of the "Families Give Their Heart to Brook Hill Week" , the online auction, or finally were part of the culminating event at the home of Steve Dement,  your involvement made a difference!
The campaign taught us many things, but I think the most importantly, the realization that our students think of Brook Hill as an extension of their family.  In the words of our Headmaster, Rod Fletcher, "Brook Hill is a family, and I am proud to be a part of it."
Again, the words THANK YOU seem so small, but they are felt in a BIG way!  Thank you from the bottom of my heart for "giving your heart to Brook Hill!"  You are making a difference and influencing the world for Christ.
Attached is a letter from Kendall Well, senior 2014 sharing how Brook Hill has impacted her life. Please take a moment to read it; you will be glad you did.
Dear Mr. Dement and everyone who makes Brook Hill possible,
I cannot thank you enough for your obedience to God regarding Brook Hill. I have been here since sixth grade and it has done nothing but improve my character, identity and my faith in the Lord.
Before I came to Brook Hill, I attended Rice Elementary. In 5th grade my main priority was to be the most popular and have the most friends. However, when I came to Brook Hill in middle school, the atmosphere of the campus was a huge change from where I came from. All of my friends at Brook Hill cared about their grades and respected their teachers. It wasn't until the summer before eighth grade that I became a genuine Christian. That was when I really understood why I am in need of Savior and my life took a huge turn. God opened my eyes to so much more! That school year was when I really discovered how blessed I was to go to a school like this. I was able to find great accountability partners at a young age. The idea of continuously worshipping God throughout the week instead of just on Sunday's made me realize how much I had taken for granted. Not only did my school friends encourage me with academics and sports, but they also supported my walk with God.
Proverbs 27:17 says "As iron sharpens iron, so one person sharpens another." I believe this is a verse that sums up the Brook Hill family. Faculty members are constantly going out of their way to help students and build relationships with them. This is so encouraging and uplifting to us as students, knowing that we have adults on our side. Not only do teachers support us but also the coaches. I played for the high school girls' soccer team and our coaches consistently reminded us how much they believed in our team.
Without being around such Christ like people, it is very easy to stumble in life. It's because of Brook Hill that I decided to go to Dallas Baptist University next year. A Christ centered atmosphere makes more of a difference than one thinks. Looking back to where I have come from makes me fearful as to what my life would look like right now if I had never attended Brook Hill. The impact it made on my life will be something I will value forever. I hope to never take this school for granted and I am so incredibly thankful that I have the opportunity to go here. God has such a great plan for High school students and I am so blessed to go to a school where His purpose for us is constantly being revealed. The impact that this school has is indescribable. Thank you so much for the donations, prayer and support that you have put towards Brook Hill.
Kendall Wells