Lady Guard make quick work of Frisco Legacy Christian, 12-2 on Senior Night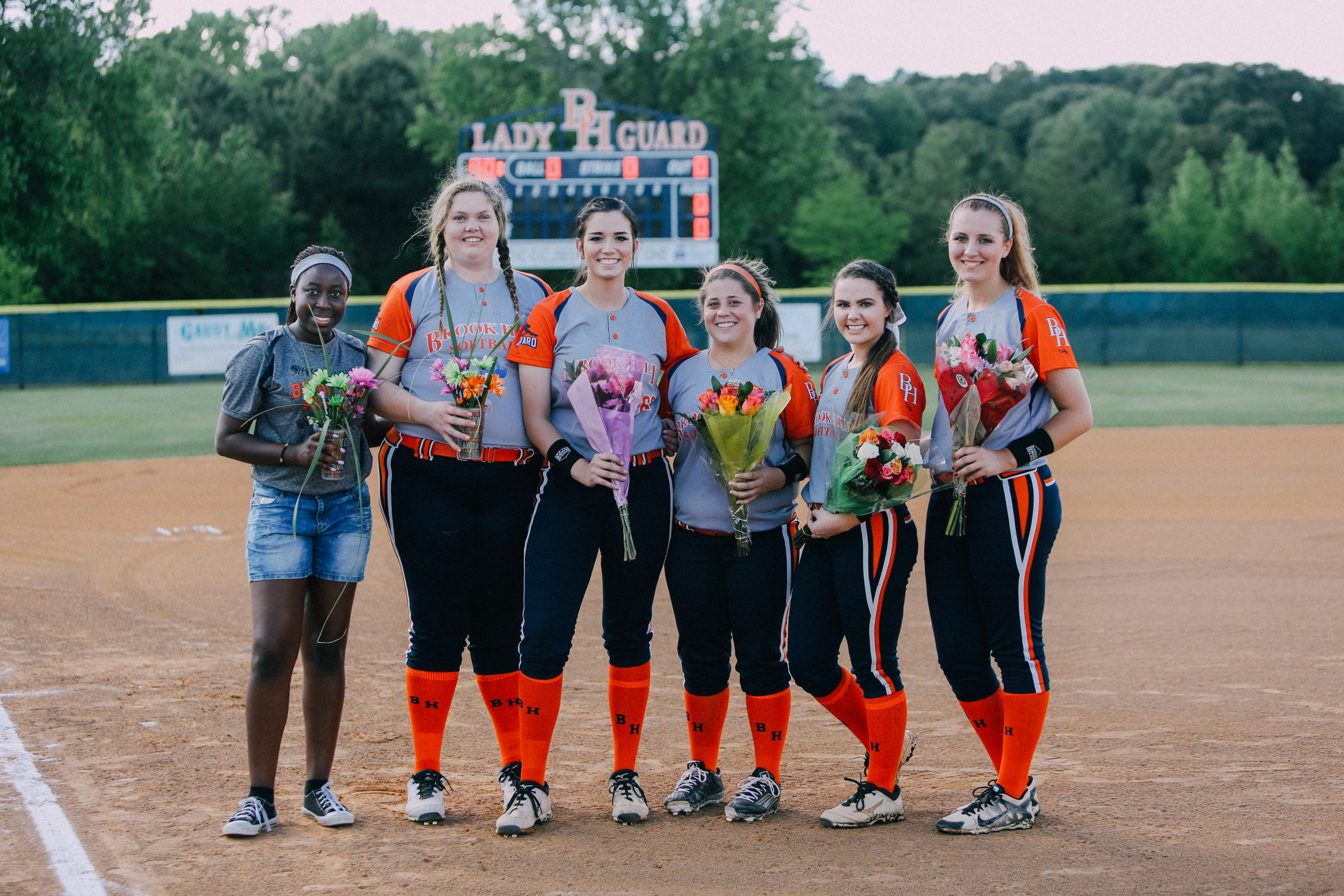 We celebrated our Lady Guard Softball Seniors on Thursday night this week. It was a beautiful evening, and to make it even better, we won!
It did not take long for Brook Hill varsity softball to east past Frisco Legacy Christian in a 12-2 victory Thursday at Schwab Field.
The Lady Guard trailed 2-1 entering the bottom of the third before outscoring Legacy Christian 11-0 in the next three innings to force the game to be called because of the 10-run rule.
The win kept second-place Brook Hill (16-5-1 8-1 in TAPPS 2-4A) within striking distance of league leaders Dallas Christian, the lone district team to defeat the Lady Guard this season.
Alyssa Duplichain led the charge for the Lady Guard in Thursday's win, going 3 for 3 with a double, a stolen base and four RBIs. Maddie Parker and Taylor Schultz drove in two apiece with Schultz also getting the win in the circle.
Schultz allowed two runs on two hits with two strikeouts in three innings. Kasey Anderson delivered two innings of scoreless relief with four strikeouts.
Brook Hill struck first in the bottom of the first inning when Schultz worked a two-out walk and scored on an RBI double from AD Kuechle.
Legacy Christian responded with two runs in the top of the second with the score staying 2-1 until Brook Hill batted in the third inning.
The Guard scored five runs in the third inning to take control of the contest. An RBI single by Schultz scored Maddie Anthony from third to tie the game at 2-2. Duplichain stepped to the plate with two outs and two runners on and drove both Maddie Parker and Schultz home with a two-run double to left field.
Duplichain then came home on an RBI single from Lexi Crenshaw for the 6-2 score entering the fourth inning.
Brook Hill tacked on five more runs after that, highlighted in the fourth by a two-run single from Duplichain and Schultz RBI double in the fifth to plate the run needed to trigger the 10-run rule.
Lady Guard Stats
Legacy Christian     020     00  —  2   2   4
Lady Guard            105     24   —   12   13   1
Runs (12): Maddie Anthony 2, Maddie Parker 2, Taylor Schultz 3, AD Kuechle 1, Alyssa Duplichain 1, Lexi Crenshaw 1, Kasey Anderson 1, Kaitlyn Juarez 1.
Hits (13): Maddie Parker 1, Taylor Schultz 2, AD Kuechle 2, Alyssa Duplichain 3, Lexi Crenshaw 1, Kasey Anderson 2, Morgan Moss 1, Kaitlyn Juarez 1.
Runs Batted In: Maddie Parker 2, Taylor Schulz 2, AD Kuechle 1, Alyssa Duplichain 4, Lexi Crenshaw 1, Kasey Anderson 1, Morgan Moss 1.
Doubles (4): AD Kuechle 1, Taylor Schultz 1, Alyssa Duplichain 1, Kasey Anderson 1.