Dylan joined Brook Hill in the Fall of 2020 as a freshman, transferring from a local public school in the area. He's plugged into our community right away and has been thriving as a student at Brook Hill! Dylan also loves sports, and the athletic program was a big reason he and his family chose Brook Hill. We got the chance to hear from his parents about their experience at Brook Hill and why they believe it was one of the best decisions they ever made.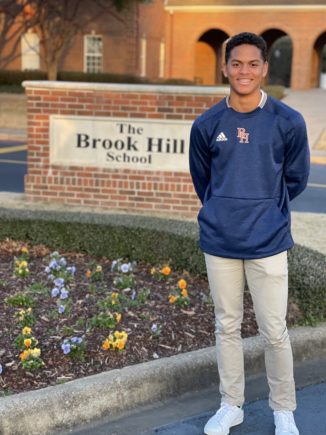 Your family transitioned to Brook Hill from a local public school. What drew you to transfer to Brook Hill?
We noticed that Dylan was not being challenged enough at his current school. We had heard from many of our friends whose children attend Brook Hill that it truly prepares kids for college academically and athletically. Knowing their stories and seeing the difference Brook Hill made in their lives made our decision to send Dylan to Brook Hill very easy!
How has Brook Hill's environment broadened your son's perspective?
Brook Hill has helped Dylan have a broader perspective on college and what it will look like for him. He's not only being prepared academically, but he is learning essential skills like organization and time management that is preparing him for his future.
How is Brook Hill inspiring Dylan to reach his full potential?
One of the unique influences in Dylan's life since coming to Brook Hill has been the upperclassmen. They have inspired him and he is amazed by how many student-athletes are leaders both on and off the field. We have never seen him so involved in the life of a school before. He came home one afternoon and said one his senior friends shared how he wished that he had taken his freshman year more seriously and told Dylan to not take this year for granted. It is amazing to see what Brook Hill has to offer young student athletes like Dylan!
How is Brook Hill preparing Dylan for what's next?
The best decision we made was starting Dylan at Brook Hill his freshman year. He is learning about different paths he wants to take in his future, and his teachers, coaches, and counselor are giving him wise counsel. Brook Hill is helping Dylan achieve excellence by pushing him to become better than he was yesterday. He now has interests and aspirations that will take him on a path beyond sports – helping him imagine his future life and career.
In what ways has Dylan matured since he started at Brook Hill?
We see Dylan becoming a more intelligent and faith-minded young man. He has changed his way of thinking – asking questions of those things he used to not. This curiosity and interest in his Christian faith is making him a more well-rounded individual and we couldn't be more proud of him!
Thank you so much for sharing about Dylan's experience! We're so excited to see how he grows during his time at Brook Hill!