Nicole Tng receives UT Tyler Presidential Fellow Scholarship
Nicole Tng's future changed when she walked down the stairs of Lauderdale Hall this morning.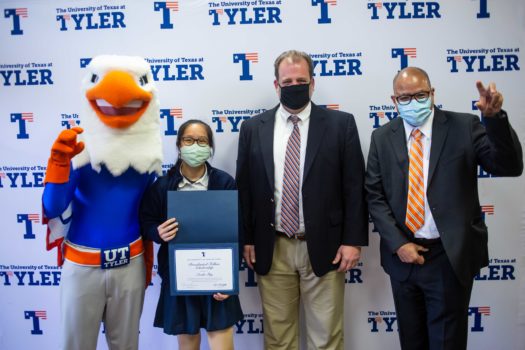 Nicole's friends, classmates, and teachers greeted her with applause as UT Tyler President Dr. Kirk Calhoun congratulated her on being one of fourteen students to receive UT Tyler's Presidential Fellow Scholarship. Over 500 students applied for this prestigious scholarship that covers 100% of tuition and fees, housing, meal plan, and books for all four years at UT Tyler.
"While in college, you learn skills that will serve you for a lifetime," Calhoun said. "But earning a degree from college also demonstrates to the world that you can accomplish a difficult task, proving that you can do just about anything you set your mind to."
Nicole plans to study biology and then go on to further her education to become a veterinarian.
"I am honored to receive this scholarship, and grateful for how it will help my family pay for college," Nicole said. "I am also thankful for the loving, Christ-centered community at Brook Hill. I have not only learned more about the Christian worldview and values, but also been challenged academically. I have learned so much about the local culture from the students here, as well as experienced so much diversity through our boarding community."
We are so proud of you, Nicole, and can't wait to see where this next stage of your life takes you!