Orchestra Students Attend Symphony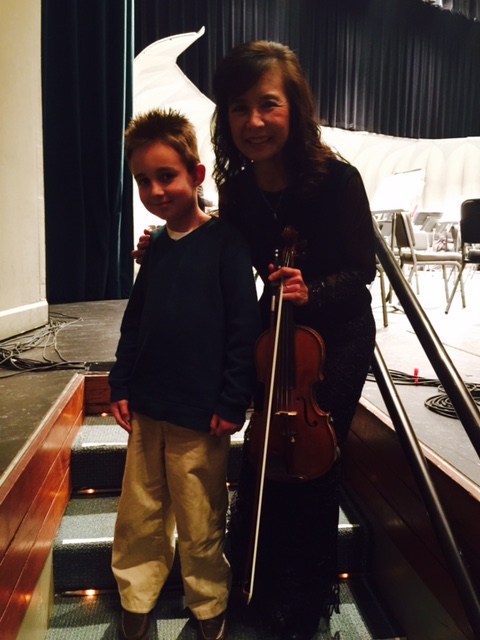 Brook Hill second grader and beginning cellist, Kai Glenn (pictured), along with several other Brook Hill orchestra students, attended the East Texas Symphony Orchestra "Dueling Fiddles" concert on Saturday, January 17th at the UT Tyler Cowan Center.  Brook Hill orchestra students got to hear ETSO Concertmaster, Mark Miller solo on violin classics and witness the fiddling and dancing talents of Celtic fiddle superstar, Natalie MacMaster while also seeing their very own orchestra director, Jamie Reason, play violin with the East Texas Symphony Orchestra.
This was a wonderful string concert for our orchestra students to experience as they could hear, see and appreciate two very different styles of string playing and music. They learned that mastery of common string techniques enables a string musician to play both Celtic and classical style!
Dueling Fiddles with Natalie MacMaster
Richard Lee, Conductor

photo: (c)Portraits by Bryan

Natalie MacMaster, fiddle

Mark Miller, Violin

photo: Kenneth Greer

What is the difference between a violin and a fiddle?  You'll learn the answer as classical and Celtic meet in this program featuring Celtic music superstar Natalie MacMaster and ETSO concertmaster Mark Miller.  Each performer will be featured in solo works with the ETSO and they will team up for a duet with ETSO.

Date

January 17, 2015 , 7:30 p.m.

Location

UT Tyler Cowan Center

Program

(click on links below to hear music samples)

Mozart: Rondo in C, K. 373

Massanet: Méditation from Thaïs

Elgar: Serenade

Saint-Saëns: Introduction and Rondo Capriccioso

Plus selections by Natalie MacMaster and a Dueling Fiddles duet