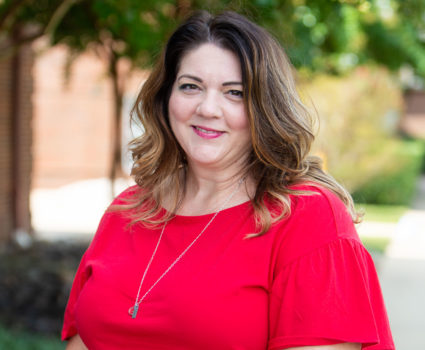 Angela Allmond
Teacher- Art (MS, US)
Angela earned her bachelor's degree in Fashion with an Art minor from Liberty University.  Then, after teaching in K12 Christian schools for several years, she went on to earn her Master of Education and Doctor of Education degrees, both in Art and Art Education, from Teachers College, Columbia University in New York City.  Her academic and research interests lie in the areas of an ethic of care in education, human flourishing in the art classroom, and the design and arrangement of studio art classrooms in K12 schools.

Angela loves meeting new people and visiting new places whenever the opportunity arises. She also loves to cook, write, and organize things, and has recently added gardening to her list of favorite things to do. She looks for delight in the everyday moment and is well known among her family and friends as one who encourages others to as well.

As an artist, she loves color in almost any form, and enjoys discovering and exploring new materials. She works most often in silkscreen printing, mixed media, collage, photography, and video vignettes.  She has exhibited her work in group shows in New York and Spain, as well as a solo show entitled In Pursuit of Delight: An Installation of Photos and Video by Angela Allmond at the Macy Gallery in New York.