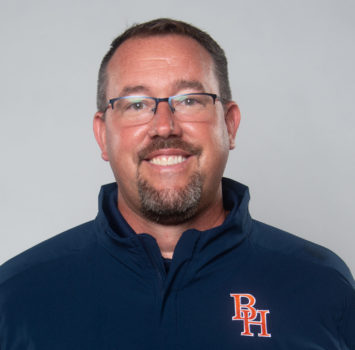 Scott Ryle
Head Football Coach
Coach Ryle took over as the head coach for the Brook Hill football team in 2016, taking the team to playoffs that same year.
Previously, Coach Ryle served as the Head Coach at North Cobb Christian, a private Christian school just outside of Atlanta, Georgia, where he took a program that had been fledgling and led the school to the most wins in school history, and increased participation in football dramatically from 2012-2015. Prior to coaching at North Cobb, Ryle brings Texas High School Football experience as well as TAPPS experience when he served as the Offensive Coordinator at Fort Worth Christian Southwest from 2010-2012.
From 1999-2009, Coach Ryle served as an Offensive Coordinator/Assistant Coach at Champaign (Illinois) Centennial and helped lead the Class 6A school to Illinois State Top Ten rankings in six of his 10 years.
Scott Ryle is also an Army Veteran, serving in Iraq as a Recon Team Leader. Coach Ryle graduated from the University of Illinois in 2003 and received his Master's Degree from Concordia University in 2011. Scott is married to Stephanie, and they have two sons Cameron and Zachary.