Student Highlight: Allee St. Amant

We will take any opportunity we get to highlight our amazing students and the impact they have made at Brook Hill! Allee St. Amant has been a Brook Hill student for 6 years! Since joining Brook Hill she has been involved in Dinner Theatre, One Act Play, Spring Musical, STUCO, Chick-fil-A Leadership Academy, Texas Bank and Trust Student Board, Mock Trial, Spanish Club, The Cadets, and Praise Team. Whew! She does it all, but she does it all so well! Read below to hear more about how Brook Hill and the Fine Arts program here has impacted Allee and her life as a student.

How has your involvement in Fine Arts impacted your journey here at Brook Hill?
"The Fine Arts have changed my life. When I first came to Brook Hill I hadn't signed up for Theatre, I just got thrown into it because they did not have room for me in Art. It turned out to be the best thing for me. It broke me out of my shell and introduced me to some of my best friends on the planet. Alongside this, the Fine Arts have allowed me to express myself in a way I could never have in real life."
Wow! What an amazing way to get out of your shell. We're glad a scheduling fix turned into a huge blessing for you.
What productions have you been a part of here at Brook Hill? And what roles have you held?
"I was in Shakespeare Unbound as the witch from Macbeth, The Sound of Music as Brigitta Von Trap, Aladdin as the genie, Annie Get Your Gun as Nellie Oakley, Little Women as Amy March, The Perfect Ending as "Little Sister" and Susie Smith, Just Desserts as Frieda Caswell, Clockwork as Myrna Hornbeck, Annie as Grace Farell and in the Ensemble, and currently I am in Soup Du Jour as Katherine Hawks and The Comedian as the Student Director."
"the Fine Arts have allowed me to express myself in a way I could never have in real life." – ALLEE ST AMANT

That's an impressive list Allee! What was your favorite production to be a part of so far and why?
"Little Women because of how close the cast was. I had been with most of the March girls since middle school and coincidentally had played their sisters since then as well. I also really enjoyed portraying the different sides of my character. Amy began the show as a child and ended the show as an established debutant."
Love that! What is something that you love about being a student at Brook Hill?
"I love all the boarding students!!! It's amazing how some of my best friends on the planet are from across the world. I would never have met them if it weren't for Brook Hill's amazing boarding program."
We love our friends from around the world! What is one of the top memories you have had as a student at Brook Hill so far?
"One of my top memories at Brook Hill is for sure the Israel SPARC trip I went on in 2020. It brought to life all of the stories I had been taught from the Bible, and it made my relationship with Christ much stronger. It amazes me how Brook Hill gives its students so many opportunities to experience new cultures."

What a great way to gain a new perspective of the Bible! How has your relationship with Christ grown over the years while you have been at Brook Hill?
"My relationship with Christ has grown throughout my time at Brook hill by including Christ in all that I do."
That's great to hear, Allee! When you think back on the years at Brook Hill, which teacher or faculty member has impacted you the most so far? Why?
"Mr. Soldi has impacted me the most. He changed the way I thought about my goals and what would truly make me happy. He helped me love reading again. Alongside this, Mr. Soldi makes it clear that he cares about each and every one of his students."
You are leaving us next Spring! What are your hopes and dreams for the future beyond Brook Hill?
"I am undecided on what college I would like to attend as of now, but I want to study pre med, and eventually become a dermatologist."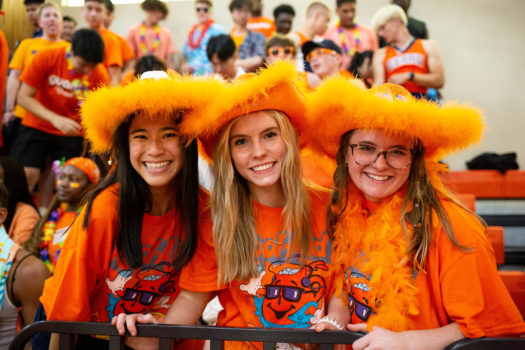 Is there anything else that you want to share? Funny, serious, sentimental – we're here for it.
"Brook Hill has helped me through some of the darkest times in my life. In the midst of the dark times, they gave me friends, supportive teachers, and the arts. I would not be who I am today without the Brook Hill."
Allee, we are so glad to hear that Brook Hill was able to be there for you when you needed it the most. Thank you for sharing your story with us!
We are super excited to see Allee shine as Katherine Hawks in Soup Du Jour, our Fine Arts program's Dinner Theatre, on October 20th – 22nd! Tickets are now available for purchase here.
Allee plays a huge role (pun intended) in our Fine Arts program here at Brook Hill, and we appreciate her DEDICATION AND LEADERSHIP AS A STUDENT AND A PERFORMER. WE ARE SO PROUD OF YOU ALLEE!