Few things say "home" like food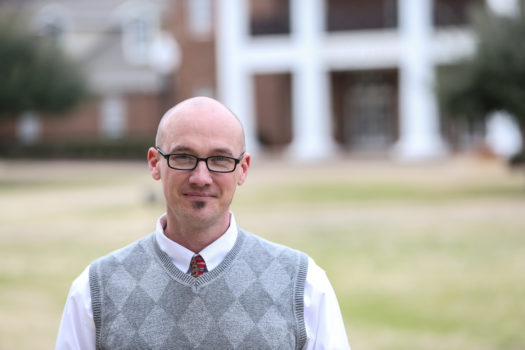 From the desk of Shawn Rhoads, Director of Residence Life:
"Chef Sualua Tupolo is a former Executive Sous Chef and Culinary Instructor at Weimar Center of Health & Education. He has served for over 30 years as Executive Chef, Chef de Partie, and Touring Chef in some of the world's finest kitchens."1
Brook Hill has a true gem in Chef Saulua Tupolo. Chef Saulua hales from American Samoa where he was the personal chef for three of the territory's governors. Tupolo was also responsible for starting the first culinary school in American Samoa (the American, Samoa Culinary Academy) and personally cooked for many ambassadors and dignitaries who visited the island. He recently held a cooking demonstration for the staff of the House of Representatives who prepare food for U.S. congressmen and congresswomen in Washington, D.C. In addition to this, Chef Saulua holds a certificate in vegetarian cooking, a credential that took him two years to earn. He has also been featured on the Hope Channel where he taught on the culinary healing properties of a vegetarian diet for cancer patients. In addition to all of this, Dr. Neal Bernard featured Saulua in his book Eating Right for Cancer Survival, a book which can be purchased on Amazon and was later made into a video series.
While all of this is truly impressive, it is still not what makes Chef Saulua so special. The thing that sets him apart is his heart to serve and minister. In our many conversations, he has told me that cooking for our students is not only his passion but it is his ministry. A lot of what he makes are easy to follow daily recipes that students can do themselves if they happen to like it. Not only is  the food he makes tasty and energy-filled, it is also healthy.
"That's what we're hear for – to serve and make sure the kids are enjoying their meals," Tupolo said.
He sees his role as Chef as a means of worship. He goes out of his way to make dining experiences not only delicious but also authentic. Just last week, on the night that he prepared a special African dish for the kids, one of our boarding girls took a photo of the menu to send home to her mom and let her know the genuine taste of home she was enjoying. She did so with tears in her eyes. The week prior Chef Saulua, understanding that we have students from Austria and Germany, researched special dishes from those countries and prepared schnitzel for the kids, with authentic sides. It was a huge hit, across the board.
"It's like a walk in the park for me," Tupolo said. "The boarding students are enjoying the food. We've been doing Chinese food for them, African food, German food, Korean food; we've even done some sushi and home-style country cooking."
And today, as I type this article, he is hosting a cooking demonstration for the Middle School Culinary Club here at Brook Hill. You will find him regularly visiting students' tables during lunch to ask them how they like the food and offering them samples of new foods that they might not have tasted before. Before every meal he takes the time to not only list every dish being served that day, but he also lists any foods that might contain allergens to insure that our students dine safely.
"My favorite part [of working at Brook Hill] is talking to the students, for sure that's number one," Tupolo said. "But then I have an awesome staff that I enjoy working with."
Brook Hill is blessed to have Chef Tupolo Saulua. All schools have academics. All schools have athletics. All schools have arts. But only one school has Chef Saulua, a man who pours his heart and life into making sure our kids not only eat well, but also have a taste of home.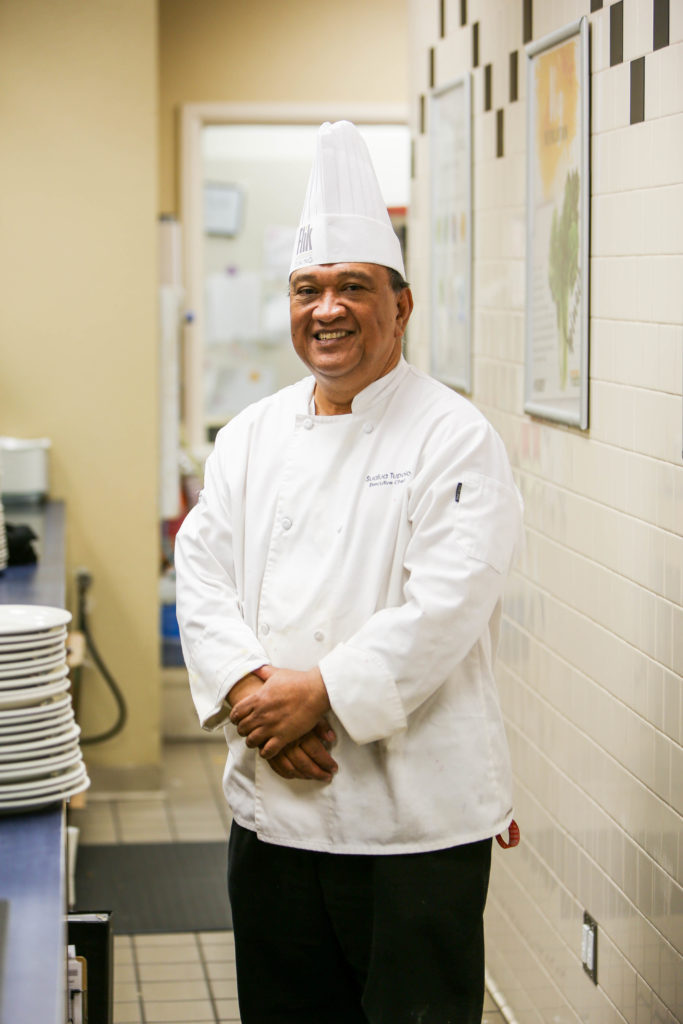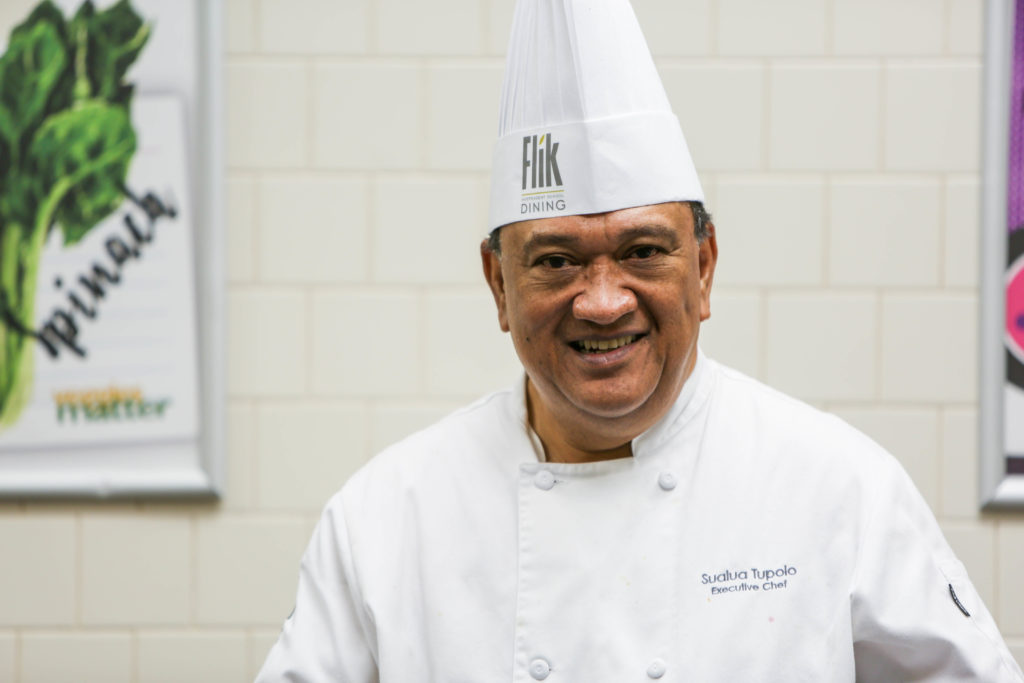 1 http://www.weimarmarket.com/simple-soups-sandwiches-and-fast-foods/