"Athletes Now. Champions for Life." is the mission of the football program.
"Champions for Life" represents prepared young men as Christian leaders. The football program will be committed to instilling student's core values of Christian development, and performance. The Brook Hill School's Football program has already established the "Champions Now" winning tradition in its short history.  The Guard have won six district championships, and is in their third year of competition in TAPPS Division II, District 2.
Guard Football played in three straight state championship games in 2009, 2010 and 2011, winning the program's first football state title in 2011.
Brook Hill features 10 full-time, on-site coaches who work at The Brook Hill School. The Brook Hill Football Team is led by Coach Scott Ryle.
All-East Texas Football Team:
2nd Team – Campbell Fletcher
Honorable Mention:
Alec Kitt
Andrew Brooks
Brooks Parham
Chidiebere Nechi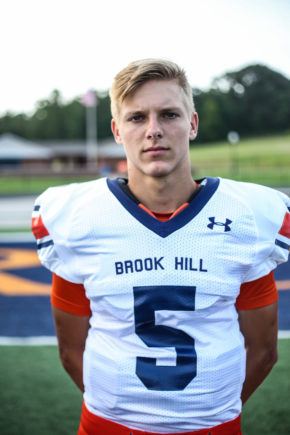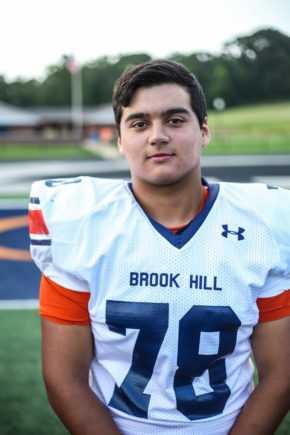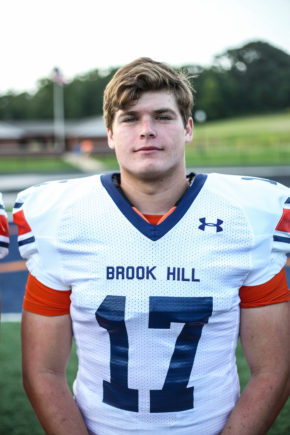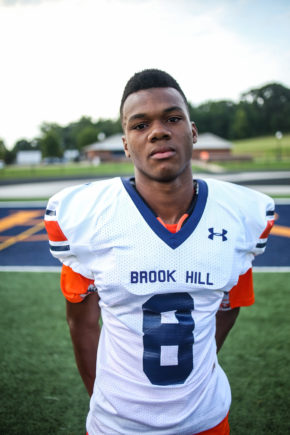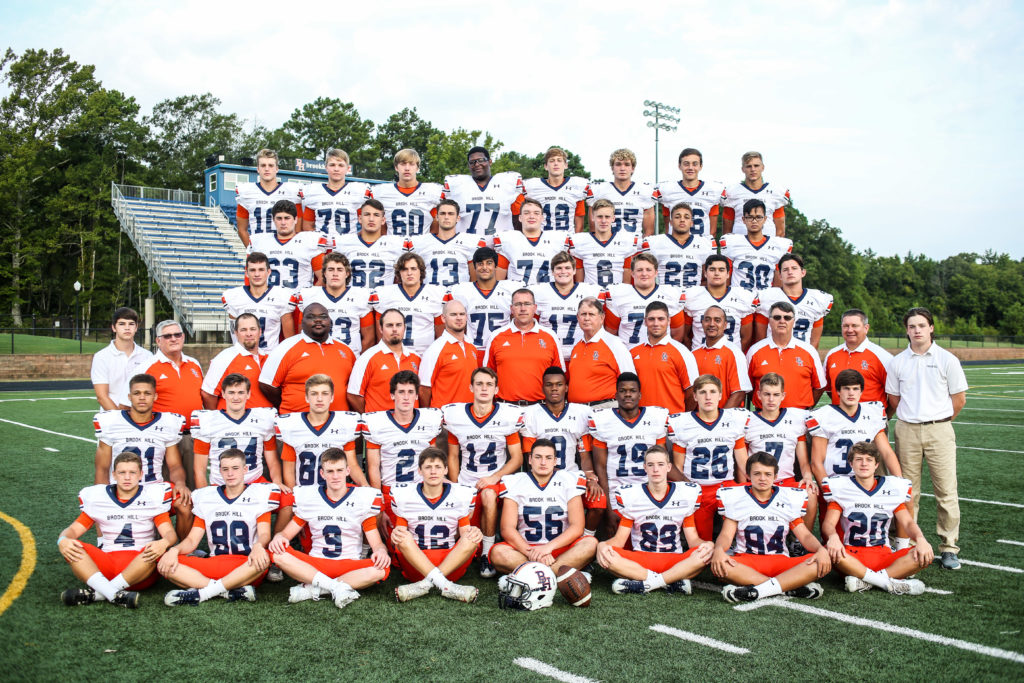 See the program below to learn about purchasing an advertisement in our Football Programs!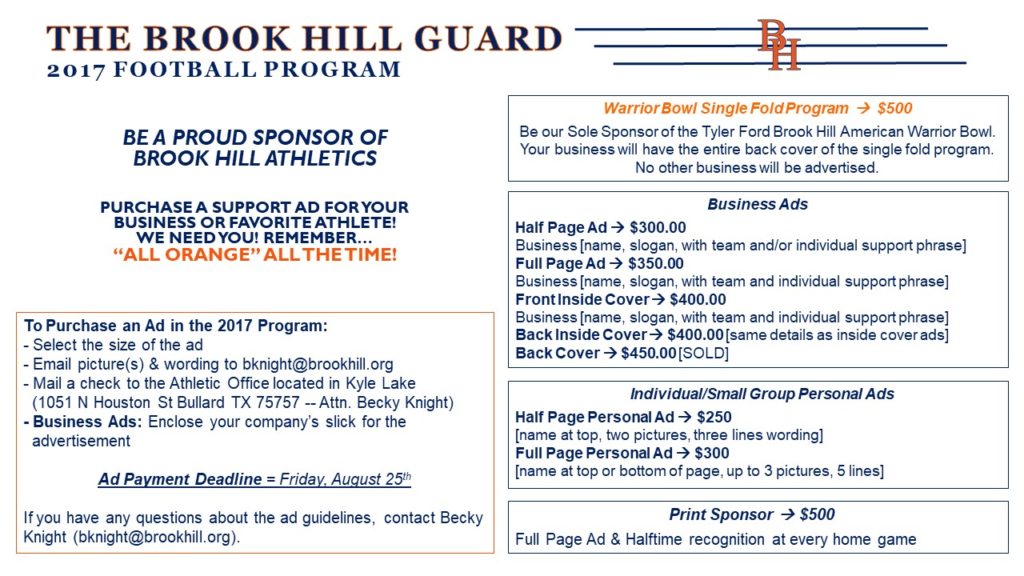 Please contact Becky Knight for more information about our 2017 Football Programs!
Coaching Staff
Kostin Wallace
Assistant Football Coach; Assistant Track Coach
Kostin graduated from Whitehouse High School in 2014 where he played defensive line and threw the shot put. He graduated from TJC in 2017 with an Associates in Kinesiology and is currently pursuing his bachelors in Kinesiology at UTT. Kostin began working at the Brook Hill School in February of 2016 as the shot and […]
Jereme Hubbard
Equipment and Athletic Facilities Manager
Jereme has been involved with the athletic department in a variety of ways over the last three years, volunteering as an assistant football coach as well as helping out with the basketball and baseball programs. Jereme spent the last 14 years self-employed in the oil and gas industry, but has now joined Brook Hill full-time, […]
Scott Ryle
Head Football Coach
Coach Ryle is in his second season at the helm of the Brook Hill football program after returning Brook Hill football team to TAPPS playoffs in 2016. Previously, Coach Ryle served as the Head Coach at North Cobb Christian, a private Christian school just outside of Atlanta, Georgia, where he took a program that had been […]
Joey Wilson
Teacher - Math (US); Head Track Coach; Offensive Line Coach; Special Team Coordinator
Joey Wilson is beginning his 39th year in education as a teacher and coach.  After 36 years in public education, Coach Wilson is beginning his third year at Brook Hill teaching mathematics, coaching football and as the head track coach. He holds a M.ED degree from McNeese State University and a B.S.ED degree from Lamar University. He was […]
Jacob Agnew
Teacher - Math (US), Head Coach-Boys Basketball, Assist. Coach Football & Track
Jacob Agnew came to Brook Hill from Abilene, Texas. He graduated from Clyde High School in Clyde, Texas as the top male student in his class and went to Lubbock Christian University to play college basketball. Later transferring, he graduated from Hardin-Simmons University with a B.S. in Mathematics. Coach Agnew has been at Brook Hill […]
Ivan Johnson
Teacher - Math (MS), Head Coach - Girls Basketball
Coach Johnson graduated from the University of Central Oklahoma with a B.S. in Mathematics. He also holds a Masters in Counseling from Dallas Baptist University. Coach Johnson begins his third year as head coach after coming from First Baptist Academy in Dallas, where he was the Head Varsity Girls Basketball Coach.  Last year the Lady Guard […]
Brock Lemire
Head Coach – Baseball, PreK-5 PE Coach, Asst. Football Coach
Guard Baseball Head Coach Brock Lemire graduated high school from Nederland High School in 2005. He played collegiately at Tyler Junior College winning the National Junior College World Series in 2007, where he was also named NJCAA Division III National Player of the Year and World Series MVP. After junior college, he played at Lubbock […]
James Rhea
Study Hall Supervisor; Assist. Coach Football, Track, Basketball
Les Rhea came to Brook Hill after retiring from the public school system in May 2011.  He joined Brook Hill after 33 years in the public education. He holds a BSE in Physical Education and History.  He also attended the Missionary Baptist Seminary in Little Rock, Arkansas taking many Bible language courses.  He also is […]
Austin Reed
Teacher - Bible (Department Chair); Junior Bible Teacher; Assistant Football, Soccer and Baseball Coach
Austin Reed has been a part of the Brook Hill community since 2007. He currently serves Brook Hill as their Bible Department Chair, the Junior Bible teacher, and as an assistant coach in football, soccer and baseball. Austin graduated with a B.A. in Christian Ministries from Ouachita Baptist University. He, then, continued his education, receiving […]
David Collins
Assistant Athletic Director; Science (MS,US); Head
David Collins serves as the Head Varsity Soccer coach, assistant Football Coach, and Science Teacher at The Brook Hill School. Coach Collins received his Bachelor's degree from East Texas Baptist University and his Master's in Education from UT Tyler. Coach Collins began his coaching career at East Texas Baptist University where he served as the […]
news
September 07,
We had an awesome time at the Warrior Bowl on Saturday as the USA took on Canada (and won 51-27). Check out all the fun we had at the tailgate party and the game!