Guard Soccer
STATE FINALIST:
2010, 2015
STATE SEMI-FINALIST:
2001, 2002, 2009, 2010, 2012, 2014, 2015, 2016, 2018, 2019
DISTRICT CHAMPIONS:
2000, 2001, 2002, 2004, 2005, 2007, 2010, 2013, 2014, 2015, 2017, 2018, 2019
The Brook Hill fields both a boys and girls soccer team; both teams compete as a member of TAPPS Division II.  Established in 1997 along with the school the boys' soccer team has enjoyed a lot of success as a program.  The boys team has won 11 district championships (2000, 2001, 2002, 2004, 2005, 2007, 2010, 2013, 2014, 2015, 2017, 2018, 2019) and been to the final four 9 times (2001, 2002, 2009, 2010, 2012, 2014, 2015, 2016, 2018, 2019), and were state finalist in 2010 and 2015.
2019-2020 Guard Soccer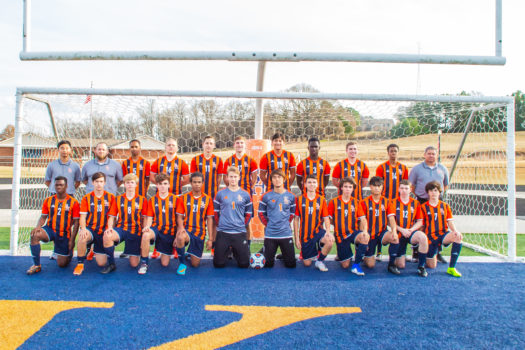 Coaching Staff
David Collins
Assistant Athletic Director; Science (MS,US); Head
David Collins serves as the Head Varsity Soccer coach, assistant Football Coach, and Science Teacher at The Brook Hill School. Coach Collins received his Bachelor's degree from East Texas Baptist University and his Master's in Education from UT Tyler. Coach Collins began his coaching career at East Texas Baptist University where he served as the […]
Austin Reed
Teacher - Bible (Department Chair); Junior Bible Teacher; Assistant Football and Soccer Coach.
Austin Reed has been a part of the Brook Hill community since 2007. He currently serves Brook Hill as their Bible Department Chair, the Junior Bible teacher, and assistant coach in football, and soccer. Austin graduated with a B.A. in Christian Ministries from Ouachita Baptist University. He, then, continued his education, receiving a Masters of […]
news
September 27, 2019
We're committed to offering excellence in all areas of student life development! That's why we're proud to partner with APEC (ATHLETE Performance Enhancement Center) to offer middle and upper school students the opportunity to pursue health, fitness, and strength with the best of the best! Training sessions are led by APEC coaches and conducted […]