Brook Hill United is proactive in educating, enhancing, and extending the scope of our cultural differences while embracing ways to bring harmony to our school.
UNITING OUR DIVERSE COMMUNITY
---
vision
In the spirit of uniting our diverse community, we have formed a focus group comprised of student leaders, faculty, parents, and administrators to continue conversations about ethnicity, equality, and relationships here at Brook Hill. This focus group meets regularly to discuss a variety of topics related to our Brook Hill, East Texas, national, and international communities.
---
BELIEF
We believe that the root of spiritual sin is born from phrases like 'I'm going to get even!', 'Things will never be fair, therefore I have to fight, fight, fight or I will never be heard', or 'God doesn't care about me.'.   However, the objective of our Christian heritage is to build up not tear down, using God-given tools to break down barriers of divisiveness, prejudices, and drastic impulsive behavior. Brook Hill is ready to clear the air on racial obstructions that hinder the mission of diversity, equality, and inclusion for every student. 
At Brook Hill, we believe that God is the highest authority and His authority is Good.

At Brook Hill, we embrace the Bible as absolute truth and the final authority for all humanity.

At Brook Hill, we have resolved the fact that through the Bible, God elevates the human condition from the womb to the tomb and informs and directs us how to live.
---
ACTION
The Brook Hill United Focus Group meets throughout the school year. We are building unity in our diverse community by:
Increasing and celebrating our diverse community
Identifying resources to enhance classroom discussions and curriculum with more diverse topics
Encouraging conversations and dialogue within our community by asking hard questions.
Addressing and responding to issues and concerns as they arise
---
people
BH United is working towards building a better and more diverse community not only among our student body, but also through the strategic hiring of faculty, staff, and leadership.
Creating access for students of color through generous financial aid policies as well as partnering with schools in underrepresented communities to bring more diversity to our campus
As One Diversity Recruitment Services has been hired to look for ethnically, diverse, Christian educators and administrators who desire to work in a Christ-centered school
Meeting with pastors and community leaders from under represented communities in the area to discuss enhancing and diversifying our student community
IVAN JOHNSON
DIRECTOR OF DIVERSITY AND INTERCULTURAL ENGAGEMENT
Mr. Johnson joined Brook Hill in 2014 as a Math teacher and coach. Since then he has also served as our Director of Diversity and Intercultural Engagement and began serving as the Middle School Assistant Principal in 2019.
Mr. Johnson graduated from the University of Central Oklahoma with a B.S. in Mathematics. He went on to earn a Master of Counseling from Dallas Baptist University.
Since information is everywhere, Mr. Johnson believes education should produce life-long learners who are intuitive and creative. For him, academic knowledge isn't enough; education should also point students to Christ and deepen their faith in Him.
Mr. Johnson and his wife of 27 years, Marcia have six children. They have a grown daughter, Pilar, who resides in Frisco; Joshua, who lives in Dallas; Rachel, a junior  at the University of Texas at Tyler; Jacob, who lives in Dallas; Jared (Class of 2019) and Joseph (Class of 2021).
news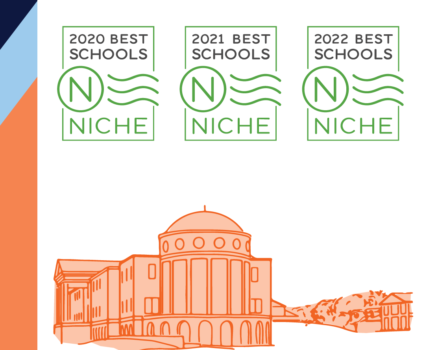 September 27, 2021
Here at Brook Hill, we're thrilled to announce that we have been recognized as a 2022 Best School in Smith County (Tyler, Texas | East Texas) by Niche for the third year in a row! Additionally,  Brook Hill has now been named in the Top 100 Christian High Schools in the entire USA! […]