Alumni Highlight: The Kerns
In the spirit of celebrating our graduating students this past weekend, we wanted to highlight one of our favorite Brook Hill alumni couples, Kendall Wells Kerns and Kendall Kerns.
Kendall and Kendall are married and live in Fort Worth, Texas pursuing their professions, investing in their church community, and building a life together. We had the chance to chat with them about how they fell in love, the advice they would give to their high school selves, and how they chose their current career paths. It was such a gift to hear more about how their Brook Hill years prepared them for college, and to know that they are both walking in exactly what the Lord has for them now! 
BH: Kendall and Kendall, how fun! It's not every day that a husband and wife have the same first name. For this interview, may we refer to you  Kendall Wells Kerns, '14, (wife) as Kendall? And Kendall, '13, (husband) may we refer to you by your Brook Hill nickname, KK to distinguish your answers as we chat?
Kendall: "Yes! When you ask what most surprises us about where we're at now, I am still surprised I am married to someone with the same name as me." (but we love it!)
BH: It's such a fun thing about your relationship! Before we dive in, we can't skip the fact that you're high school sweethearts! Can you tell us how you met?
Kendall: KK and I sat by each other in Spanish class my sophomore and his junior year and we became friends as the Spring semester moved on. 
KK: Yes, and after getting to know her, I finally mustered up the courage to ask her on a date. After the first few dates, I knew that she was exactly what I wanted in a wife. I tried to pump the brakes though and not think about our relationship so seriously. Eventually, I came to the conclusion that I needed to accept the fact that I was in love with her and saw a future with her. 6 years later I married her and it has been the best decision of my life!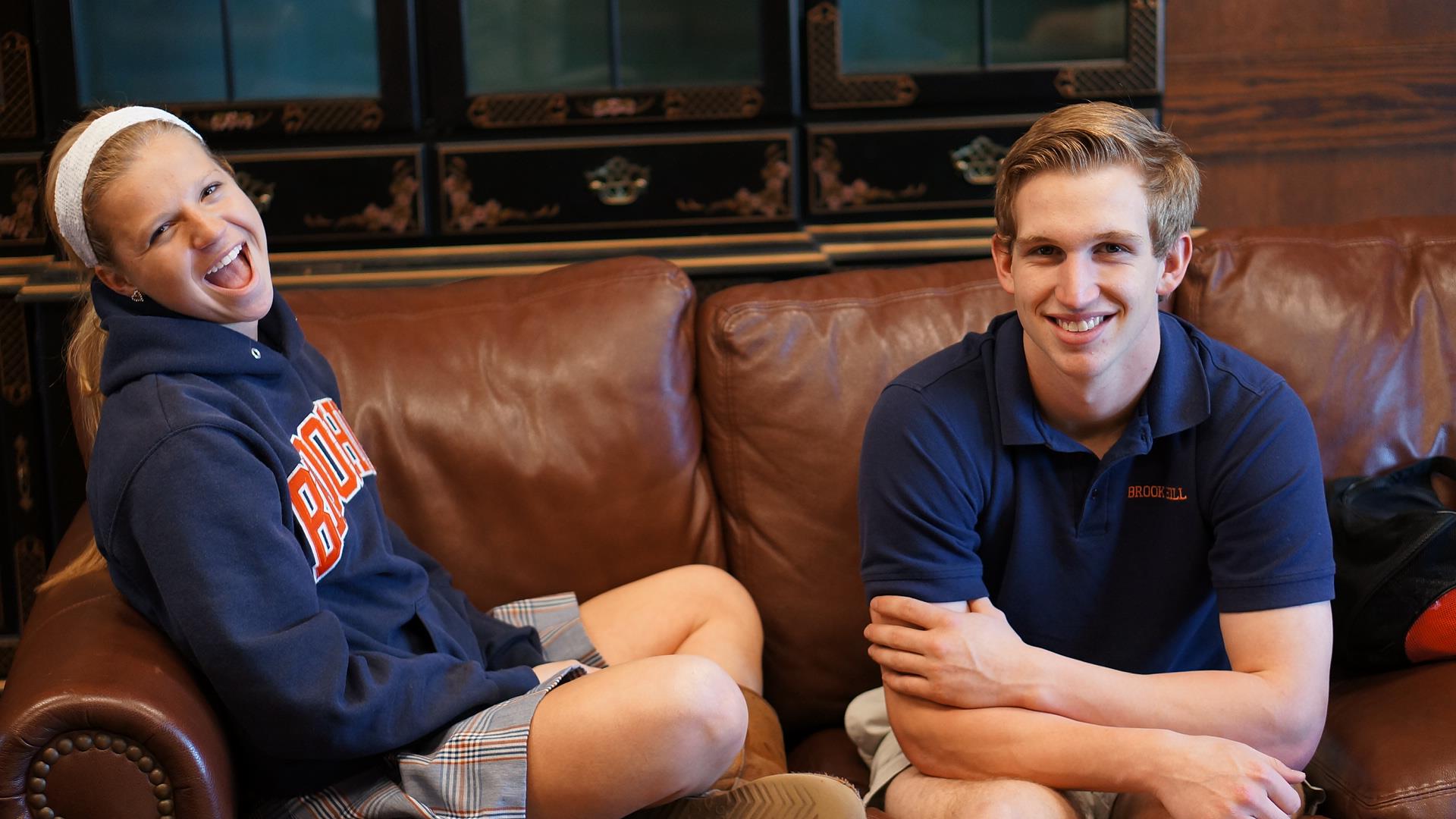 BH: We love that so much! Can you both share a little bit about your time at Brook Hill as students and what college looked like for you guys?
Kendall: My time at Brook Hill was very positive, uplifting, and full of some great opportunities and memories. I was in NHS, on the first high school girls' soccer team, won 2 soccer state championships with an incredible team, and I took dual credit classes.
For college, I went to Dallas Baptist University where I played soccer for 4 years. I majored in Elementary Education and graduated in 2018.
KK: I also really enjoyed my time at Brook Hill. I made a lot of great friends and really enjoyed my classes and playing sports. I was primarily involved with Baseball but was also a part of other programs like NHS.
For college, I went to TCU and received my undergraduate degree in 2016 and my masters in 2018. I majored in accounting with a minor in finance and got my masters in accounting. I was involved in Greek life and an on-campus ministry group called Student Mobilization.
BH: So you both went to schools in the metroplex but chose to follow your individual paths. How did you navigate that decision? 
Kendall: After KK's senior year of high school, he was going to ACU to play baseball and I was still going to be at Brook Hill for my senior year. We never talked about marriage in high school and even planned to break up when he left for college because we believed that to be the "mature and responsible decision." However, the night before he left, we decided to stay together and try to see if our relationship would work with the new and different circumstances. (I am so glad we did because we have been together ever since!)
"We viewed our separate college experiences as something positive that allowed us to have double the friends, and double the opportunities and experiences."
If I could talk with current students who are thinking about what's next, I would tell them not to make a big decision based on your current friends or boyfriend/girlfriend. I truly believe that KK and I both had great college experiences because we went where God was leading us, not where a certain relationship would be. Because of the decisions we made, God was faithful to maintain our dating relationship and some wonderful high school friendships during that time.
BH: Thank you for sharing that perspective, Kendall. It's awesome to hear about how you both kept the big picture in mind and navigated that decision. So switching gears a bit, tell us what you're doing post-college. You're teaching correct? 
Kendall: Yes, I teach First Grade at Sunset Valley Elementary in Keller ISD! 
BH: During the month of May we had the chance to celebrate our BH teachers and our alumni who have chosen to teach as their profession and have loved asking "why teaching". Can you tell us what led you to pursue a career as a teacher?
Kendall: I wanted to be a teacher because I have a passion for Education and I love building great relationships with students and their families. I have personally had so many positive relationships with my teachers and professors so I hope to be that positive influence for other students.
"Brook Hill teachers taught me not to be so task-oriented that I miss the opportunity to encourage someone or share about Jesus. Each teacher I had at Brook Hill clearly valued people and their families over projects or tasks and it shows in the family-like atmosphere. My goal is to create a classroom family environment each year so we can grow and support one another." 
Something else Brook Hill teachers showed me was how to extend my care for students into caring about their families as well. I aspire to selflessly serve students and their families, just like the teachers at Brook Hill. I want to make myself available to go the extra mile anytime it can further point others to Christ.
BH: Kendall, you just articulated one of the biggest reasons why people choose to attend Brook Hill, and hearing that it's made that kind of impact on your life is such an encouragement to continue pursuing the mission the Lord has given us as a school. We're excited that you're approaching your classroom like that at Sunset Valley Elementary. What a testimony to the Lord! 
KK, how about you? What are you currently doing?
KK: I am a CPA and work in KPMG's private equity audit practice. 
BH: For our students who might be interested in Accounting, how did you choose this career path?
KK: When I went to college I knew I wanted to do something in business but was not sure what area of business I wanted to pursue. I took an accounting class and realized that it came naturally to me. I also found accounting and finance interesting so I decided to pursue a career in public accounting. I'm currently in an office that specializes in financial services. 
BH: It's awesome to see how the Lord has provided you both with opportunities to use your gifts and skills in careers that interest you and seem so in line with how you're wired. Our hope is that students who graduate from Brook Hill feel both developed in their potential, and also prepared for their next steps. You've mentioned that you had a great high school experience, do you feel like you graduated from Brook Hill prepared for college? 
KK: I was able to develop great time management skills while balancing sports and a rigorous academic schedule. I really noticed this when I went to college where time management is crucial. I found that my college classes were structured in a very similar way to my classes at Brook Hill. Post-college, my time management skills have also proved to be valuable in my career. Brook Hill also prepared me to pursue spiritual growth in college and I am forever thankful for that.
"My experience at Brook Hill laid an outstanding foundation for my life." 
Kendall: Yes, Brook Hill prepared me for college in numerous ways as well. I felt ahead of the game going into DBU with so many dual credit hours. I was also very prepared to balance college athletics and academics because of the way Brook Hill taught me time management skills and how to communicate with teachers to take initiative in potential sports conflicts. 
The relationships I had with faculty members at Brook Hill also prepared me to take advantage of spiritual leadership opportunities in college such as interning at a church, working at Pine Cove, college soccer mission trips, and other service opportunities.
BH: Wow. We are so thankful to hear that and to both of you for taking the time to share that. It's one thing for us to say that we're a college-prep school and that preparing our students is vital to the vision, but to see the fruit of that in actual skills and experiences is always so humbling and encouraging!
Ok, as we wrap up, we would love to know, what advice would you give to your high school self? 
KK: For me, if I could talk to current students and share one thing, I would tell them that sports are not as important when you leave high school. The most important things are your faith, family, and friends. 
BH: It's powerful to hear you say that because you both were athletes and played at the collegiate level, so we're thankful to share that perspective. What about you Kendall?
Kendall: I would say, be fully invested in high school relationships and opportunities while you are there and don't mentally "check-out." You are in high school for these years for a purposeful reason so don't miss out on what God is teaching you because you are too future-focused. Personally, I almost missed out on a cool opportunity in my senior year to speak at Mr. Dement's house because I was just ready for college. Looking back, I am SO glad that I was able to find contentment and excitement in those opportunities because now they are some of my greatest memories.
"Be extra attentive and grateful for all of the friendships and faculty relationships you have at Brook Hill."
BH: To everyone reading, we promise that we didn't ask them to say anything, this is 100% their perspective and experience, and honestly, it has left us feeling so humbled and grateful! 
Kendall and Kendall, we have loved getting to talk with both of you. To hear just a tiny bit of your story and what things have looked like since leaving Brook Hill is so encouraging as we continue to invest, and believe in the mission of Brook Hill. We're excited to see what the future holds for you guys and hope that this conversation reminds our current students of the bigger picture and all that they have to look forward to in life!