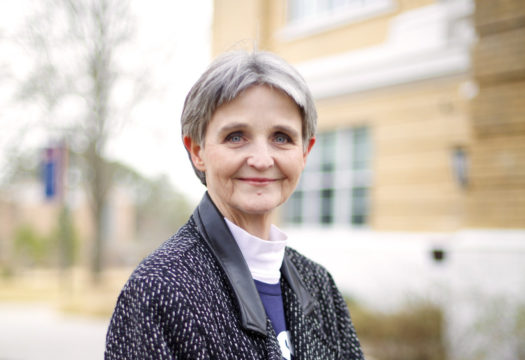 From the desk of Celia Tucker, Academic Counselor:
Have you ever felt like you needed to be in two places at one time? By taking Dual Credit classes at Brook Hill, it is an easy thing to do. Taking Dual Credit classes means you are taking courses for both high school and college credit at exactly the same time, meaning that if you register and pay tuition (with the college), you are a high school student and a college student concurrently. With this opportunity comes many benefits and also great responsibility.
"Dual Credit" means that as a high school student you will enroll for a course which is taught on the Brook Hill campus by a Brook Hill teacher who is also employed by Colorado Christian University or Tyler Junior College. Tuition and fees charged by the colleges are paid directly to the college by the high school student. Because students are actually in two places at one time they must meet requirements for both Brook Hill and the college. To earn credit at Brook Hill students must make sure they are enrolled in the appropriate courses. To earn credit at the colleges students must apply for admission at the college, take the TSI (Texas Success Initiative test which shows the colleges that students are ready for college level work) and pay tuition. To take Dual Credit courses high school students will be considered Early Admissions Students and must meet all college admission requirements.
Students who are taking college courses while still in high school must be TSI exempt (with SAT or ACT scores) or must take and meet college standards on the TSI. (SAT: Math: 530/EBRW: 480 ACT: Math: 19/English: 19 with Composite: 23)
Who Benefits? Dual credit can be a win/win situation. The student is saved the expense of repeating courses in college which may be similar to those taken in high school but do be aware that both public and private colleges and universities have policies and procedures in place as to how they award credit for college courses taken while still in high school. It is the student's and parent's responsibility to contact the post-secondary institutions directly as to their policy for awarding credit. You want no surprises! Many times colleges will have a Transfer Equivalency Guide on their website that you can enter the college and the course and it will list the equivalent course at that college. Talking directly to a college advisor is always best, though.
Appropriate questions for the College Advisor would be:
Do you accept Dual Credit?
Will my grades earned in Dual Credit classes transfer to your college or will only the credits transfer?
Will my grades earned in Dual Credit be used in my GPA calculation at your college?
Will my Dual Credit courses be used as core requirement courses or electives and if so, which courses?
Current Brook Hill Dual Credit Course offerings through Colorado Christian University and Tyler Junior College: (College credit earned is in parentheses)
High School course                                                                          (Criteria in Course Guide) Dual Credit Course
____ College Algebra/Trigonometry                                                 ____TJC Math 1314/1316 (6)
____ Calculus                                                                                   ____TJC Math 2413 (4)
____ Statistics                                                                                  ____TJC Math 1342 (3)
____ Anatomy and Physiology                                                         ____TJC Biology 2404 (4)
____ Environmental Science                                                            ____TJC Biology 2406 (4)
____ Biology DC                                                                               ____ TJC Biology 1406 (4)
____ English 12                                                                                ____CCU ENG 102/104 (6)
____ Government                                                                             ____CCU POL 207 (3) American Gov
____ Economics                                                                               ____CCU ECON 215 (3) Intro to Econ
____ US History                                                                                ____CCU HIST 205/206 (6)
____ Business Principles                                                                  ____CCU BUS 101 (3)
"Advanced Placement (AP)" AP courses are taught in high school by a College Board AP certified high school teacher. Students who are enrolled in AP courses at Brook Hill can register for AP exams (early spring), take AP exams in May and then present scores to their college for evaluation and possible credit. Each college sets standards and acceptable score requirements for credit to be awarded. A helpful website is: https://apstudent.collegeboard.org/creditandplacement/search-credit-policies
Taking courses for Dual Credit or registering for and taking AP exams are always optional for students. To make the best decision and for peace of mind it is always best to call and talk to college admissions officers at the colleges you are planning to attend to find out what will be most beneficial for you. I do always tell students to take Dual Credit classes with intentions of making an "A" remembering that they will be beginning their college transcript while still in high school.
Here's to being in two places at one time.