Guard Middle School CC debuts at LeTourneau Meet
The Brook Hill Guard cross country runners rose early and made their way to Longview to compete in the East Texas Charter School Backwoods Gallop on Saturday at LeTourneau University.
The Guard runners consisted of middle schoolers making their debut and one high school runner who made the trip to compete in the 5K.
The middle school girls who finished the 2-mile course were Emily Livesay, Katelynn Henics, Emy Rose, Catherine Kimball, Olivia Kim, Angel Basile and Kayle Dahn.
The Lady Guard runners finished fourth out of 14 schools and coach Kyle Ford was thrilled with their performance.
"To be fourth out of 14 schools, that is not bad at all for their first-ever cross country meet," Ford said.
Two middle school boys runners also competed. Josh Baker and Jack Jenkins raced as individuals due to the Guard not having the five runners needed to complete a team. Baker crossed the line in 16 minutes and Jenkins finished in a time of 18 minutes and 44 seconds.
"Overall I was pleased with the effort and the fact that every single runner sprinted the last grueling 100 meters to the finish line," Ford said of Brook Hill's effort.
Finally, Chasca Ortega had just competed in a cross country meet earlier in the week, but decided to travel to Longview with the middle school and run in the boys 5K. He turned in a season-best fifth place finish in just over 19 minutes.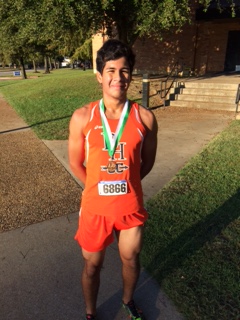 "We were pumped for the first middle school meet of the season, but I cannot overlook Chasca Ortega and (his efforts)," Ford said. "Not only did he run over 3 miles in just over 19 minutes, he earned his first medal of the season."