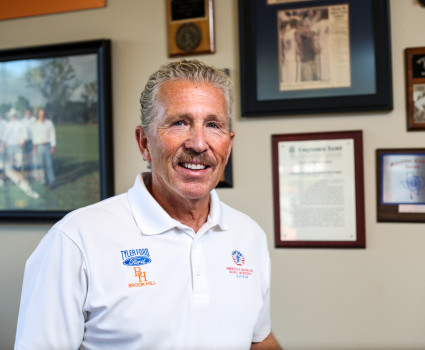 Wally Dawkins
Director of Athletics
Wally Dawkins joined The Brook Hill School in 2008 and he has served as Athletic Director.
Following a 30 year coaching career in Texas public schools, the last 21 of which were at Whitehouse ISD, Dawkins brings his wealth of experience to Brook Hill after coaching high school football, girls and boys basketball, track, tennis, golf, and baseball.
Dawkins also taught English for 15 years in the public schools along with Health and Physical education. For the past 6 years, Coach Dawkins served as the Varsity Boys Basketball Coach, leading the Guard to three Final Four appearances and two Regional Championship games. As a Head Basketball Coach for 33 years, Dawkins recorded 689 career wins and was selected Coach of the Year on 19 different occasions. Dawkins led the Whitehouse Boys Basketball program to 19 winning seasons in a row, and six in a row at Brook Hill.
Under Dawkins, The Guard has recorded 12 State Championships in the past 10 years, and 16 additional Final Four appearances. The Brook Hill Athletic Director has instituted an Athletic Program that emphasizes each student athlete's spiritual growth, academic excellence, and athletic success. Brook Hill also adopted the "ALL ORANGE" slogan under Dawkins as school spirit has been a major point of emphasis.
All male and female athletes participate in a 30-minute Strength Training course led by Brook Hill coaches that started under Dawkins and is held during Athletic Block on Mondays through Thursdays prior to team sport practices in an effort to improve the physical conditioning of each athlete, and set a trend of wellness for a lifetime. Dawkins has renewed an emphasis on girls' athletics, seeing the participation numbers in all female sports increase. Dawkins emphasizes that "Every Sport We Play Is The Most Important Sport We Play and Girls Sports Are Equal To Boys".
Also in Dawkins tenure, multi-sport athletics is encouraged as over 80% of all BH Upper School students participate in athletics and 100% of Middle School students participate.
Dawkins is married to his wife Laurie of 38 years. The Dawkins have two grown children in Brady 34 of Arlington, daughter Hayley Dru 27 of Fort Worth and one grandson Walter William who is 2. The Dawkins reside in Tyler.