Alumni Highlight: Lily Cool
We love catching up with our alumni – especially when it follows big milestones in their life. For alumna Lily Cool '14, that milestone was passing the BAR exam! Wow!
Lily attended Brook Hill for 10th through 12th grade before graduating in 2014. While at Brook Hill, she was a multi-sport athlete, and a member of the debate team, choir, and dance team. She went on to attend Texas A&M University – graduating in 3 years with a degree in Political Science before attending law school. While at the University of Oklahoma College of Law, she was in the Christian Legal Society, the Organization for the Advancement of Women in the Law, competed on a traveling moot court team, and worked in a civil law clinic. Most recently, Lily graduated with her J.D. and passed the BAR exam. We think it's clear Lily can do whatever she puts her mind to! We are so proud of her drive to succeed and passion for excellence – and we are grateful for this opportunity to catch up with her!
BH: Lily, CONGRATS to you! You just passed the BAR Exam… What's next?
Lily: I moved back to Tyler in May, and I am currently working as an attorney at the Sinclair Law Office, PC. 
BH: That's awesome! What kind of law are you practicing there? Do you enjoy it?
Lily: I practice family law. When a person has a family law case, they are usually going through a very difficult time in their life. I love that I get to help people work through that difficulty. I also enjoy family law because it is an extensive area of law with complex problems that are constantly changing.
BH: It's so cool that you get to be a champion for people in those hard moments. Is that your hope for your law career?
Lily: I hope to become a zealous advocate who fights for justice in and out of court.
"I hope to become a zealous advocate who fights for justice in and out of court."
BH: We believe whole-heartedly that you will, Lily! How did Brook Hill prepare you for your journey to becoming a lawyer?
Lily: Brook Hill prepared me in so many ways for my journey. Academically, Brook Hill more than prepared me for both college and law school. My first year at (Texas) A&M was easier than my senior year at Brook Hill, and the strong focus on literature and writing gave me a leg up for law school. Participating in sports at Brook Hill also prepared me for life. The teamwork I learned from my coaches and teammates at Brook Hill taught me many valuable lessons that I still benefit from today.
"Academically, Brook Hill more than prepared me for both college and law school."
BH: We are so very glad to hear that. In you we see the lasting impact of our mission! When you think about your time at Brook Hill, what are you grateful for?
Lily: I am grateful for the many opportunities I had to get involved in teams and activities. Because Brook Hill is a smaller school, I was able to be involved in more activities than if I had attended a bigger school. I am also very grateful for the education I received at Brook Hill – and for the amazing teachers that truly cared about me and pushed me to be my best.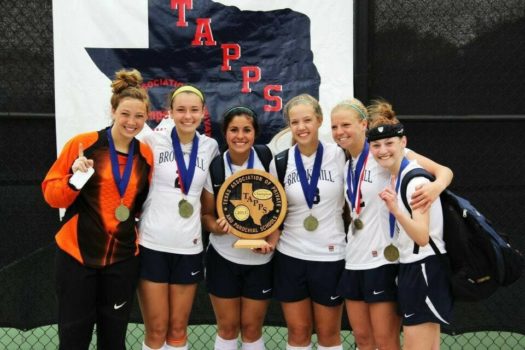 BH: Speaking of amazing teachers! What Brook Hill Faculty impacted you? What would you say to them?
Lily: Mr. Travis, Mrs. Williford, and Mrs. Tucker made immense impacts on my life. 
Mr. Travis is such a great teacher and truly knew how to make learning fun. He taught me how to be a good writer and always pushed us to be creative. I still remember what Mr. Travis said to me when I graduated from Brook Hill: "never stop writing." Without Mr. Travis's encouragement and great teaching, I would not be where I am today. 
I also cannot say enough about Mrs. Williford. She is amazing. Math did not come easily to me, and Mrs. Williford's patience knows no bounds! She never lost her patience with my endless questions and was always ready with a smile when I needed it. 
I believe Mrs. Tucker is the best guidance counselor out there. She held my hand through the entire college application process and always encouraged me to pursue my dreams.
"…Without Mr. Travis's encouragement and great teaching, I would not be where I am today."
BH: They say hindsight is 20/20… Looking back, what wisdom would you share with current students?
Lily: I would tell current students to never give up or say, "I can't." For me, math and science were my worst subjects, and it was only by getting help from my teachers before and after school that I was able to get good grades. I remember sitting outside Mr. Bunger's classroom at 7 a.m. waiting for him to get to school for the day. There were so many times I wanted to give up and just not put in the work, but I'm so glad I didn't!
BH: Your hard work has definitely paid off. Our last question for you is this: What do you hope for the future of Brook Hill and its students?
Lily: I hope that Brook Hill continues to provide the quality education and life experiences that I received during my time there. I also hope that Brook Hill students will reach for the stars and make big impacts on our world. 
Lily, you certainly already have! Your Brook Hill family is so very proud of you. We pray that YOU continue to "reach for the stars" and impact the world for Jesus.