"Athletes Now. Champions for Life." is the mission of the football program.
"Champions for Life" represents prepared young men as Christian leaders. The football program will be committed to instilling student's core values of Christian development, and performance. The Brook Hill School's Football program has already established the "Champions Now" winning tradition in its short history.  The Guard have won six district championships and is in their third year of competition in TAPPS Division II, District 2.
Guard Football played in three straight state championship games in 2009, 2010 and 2011, winning the program's first football state title in 2011.
Brook Hill features 10 full-time, on-site coaches who work at The Brook Hill School. The Brook Hill Football Team is led by Coach Scott Ryle.
SCHEDULE
2017-2018 ACCOLADES
2018-2019 ACCOLADES
Coaching Staff
Joey Wilson
Teacher - Math (US); Head Track Coach; Offensive Line Coach; Special Team Coordinator
Scott Ryle
Head Football Coach
Malcolm Dotson
Teacher - Computer (US); US Study Hall; Coach
Jacob Agnew
Teacher - Math (US), Head Coach-Boys Basketball, Assist. Coach Football & Track
David Collins
Assistant Athletic Director; Science (MS,US); Head
Kostin Wallace
Assistant Football Coach; Assistant Track Coach
Jereme Hubbard
Equipment and Athletic Facilities Manager; Head JV Baseball Coach and Varsity Assistant; Assistant Football Coach
Austin Reed
Teacher - Bible (Department Chair); Junior Bible Teacher; Assistant Football and Soccer Coach.
news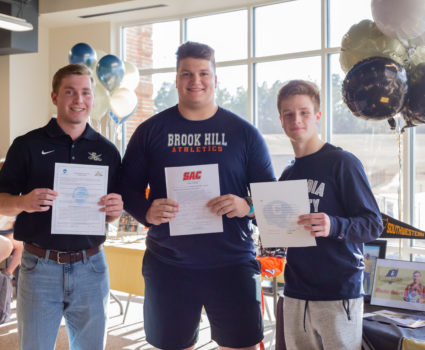 February 07,
This week we celebrated three of our senior athletes as they signed their commitment to play their sport in college! Petr Svoboda signed with Texas Wesleyan for Football. Winston Hebert signed with Southwestern for Soccer. Fisher Bass signed with Concordia-Nebraska for Football. A big congratulations to these athletes for their discipline, attitude, character, and […]