"Athletes Now. Champions for Life." is the mission of the football program.
"Champions for Life" represents prepared young men as Christian leaders. The football program will be committed to instilling student's core values of Christian development, and performance. The Brook Hill School's Football program has already established the "Champions Now" winning tradition in its short history.  The Guard have won six district championships and is in their third year of competition in TAPPS Division II, District 2.
Guard Football played in three straight state championship games in 2009, 2010 and 2011, winning the program's first football state title in 2011.
Brook Hill features 10 full-time, on-site coaches who work at The Brook Hill School. The Brook Hill Football Team is led by Coach Scott Ryle.
GUARD FOOTBALL ACCOLADES
2021-2022
All-District Awards
Alessandro Cairati – 1st Team OL, 1st Team DL
Von Dawson – 1st Team DB
Nick LaRocca – 1st Team RB, 1st Team LB
Noah Langemeier – 1st Team ATH, Honorable Mention DB
Aidan Mason – 1st Team Punter, 2nd Team OL
Felipe Tristan – 1st Team TE, 1st Team LB, District Defensive MVP
John Engelhardt – 2nd Team OL, 2nd Team DL
Josh Collins – 2nd Team DB
Herman Herder Conde – 2nd Team DL
Grayson Murry – 2nd Team WR
Reagan Steele – 2nd Team RB
Ben Varvas – 2nd Team LB, Honorable Mention RB
Jay'lon Warren – 2nd Team WR
Owen Funk – Honorable Mention LB
Sam Hall – Honorable Mention DL
Jack Jordan – Honorable Mention QBAll-State Awards
Alessandro Cairati – 1st Team OL, 2nd Team DL
Felipe Tristan – 1st Team TE, 1st Team LB
Nick LaRocca – 2nd Team LB, Honorable Mention RB
Aidan Mason – 2nd Team PunterAcademic All-State Awards
Josh Collins
Herman Herder Conde
John Engelhardt
Nick LaRocca
2020-2021
All-District Awards
Carson Richards – 1st Team DB, 1st Team WR
Felipe Tristan – 2nd Team ATH, Honorable Mention LB
Lane Barter – 1st Team LB, 2nd Team RB
Nick LaRocca – 1st Team RB, Honorable Mention LB
William Roberts – 1st Team OL, 2nd Team DL
Alessandro Cairati – 2nd Team DL, 2nd Team OL
Derreion Hinton – 1st Team LB
Itaru Fukushima – 2nd Team DB
TyJuan Cannon – 2nd Team WR
Chandler Fletcher – Honorable Mention DB
Aidan Mason – Honorable Mention P
Josh Collins – Honorable Mention K
Jaeger Gowin – Honorable Mention RB
Isaiah Obaseki – Honorable Mention DL
John Engelhardt – Honorable Mention OL
J.T. Hebert – Honorable Mention OL
Grayson Murry – Honorable Mention WRAll-State Awards
William Roberts – 2nd Team OL
Lane Barter – 2nd Team LB
Carson Richards – Honorable Mention DBAcademic All-State Awards
William Roberts
Nick LaRocca
2019-2020
All-District Awards
Seth Moss – 1st Team WR, 2nd Team DB
Petr Svoboda – 1st Team OL, 2nd Team DL
Nico Flores – 1st Team RB, Honorable Mention LB
Lane Barter – 1st Team LB, 2nd Team RB
JaKelyn Morgan – 1st Team DB
Jere Saranpaa – 2nd Team OL
Jake Shaffer – 2nd Team K, Honorable Mention LB, Honorable Mention RB
Valdemar Henriksen – 2nd Team LB
Axel Isaksson – Honorable Mention DL, Honorable Mention OL
Nick LaRocca – Honorable Mention LB
Carson Richards – Honorable Mention WR
William Roberts – Honorable Mention OL
Fisher Bass – Honorable Mention RB
Garrett Esposito – Honorable Mention P, Honorable Mention QBAll-State Awards
Seth Moss – 2nd Team WR
Petr Svoboda – 2nd Team OL
Jere Saranpaa – Honorable Mention OL
Lane Barter – Honorable Mention LBAcademic All-State Awards
Nico Flores
Jake Shaffer
Valdemar Henriksen
Petr Svoboda
Jere Saranpaa
2018-2019
All-District Awards
Peyton Adams – Honorable Mention OL
Kirk Jean-Baptiste – 2nd Team RB
Tobias Braun – 2nd Team OL
Josh Blalock – Honorable Mention DL
Connor Carson – Newcome of the Year
Garrett Davis – Honorable Mention WR
Sam Fetkovich – 2nd Team DL
Tagen Parma – Honorable Mention DB
Fisher Bass – Honorable Mention DB
Khalan Griffin – Honorable Mention ATH
Nico Flores – 2nd Team LB, Honorable Mention RB
Konstantin Krasser – 2nd Team LB
Seth Moss – 1st Team DB
Jake Shaffer – Honorable Mention LB
Jere Saranpaa – 1st Team OL, 2nd Team DL
Carson Richards – Honorable Mention WRAll-State Awards
Jere Saranpaa – Honorable Mention OL
2017-2018
All-District Awards
Andrew Brooks – Honorable Mention DL
Garrett Davis – 2nd Team WR
Campbell Fletcher – 1st Team P, 2nd Team LB
Ian Hathaway – Honorable Mention ATH, Honorable Mention LB
Sam Nechi – 1st Team DB, 2nd Team RB
Greyson Priestner – Honorable Mention TE
Colby White – 2nd Team OL, 2nd Team DL
Seth Moss – Honorable Mention DB
All-State Awards
Campbell Fletcher – 1st Team P
Coaching Staff
news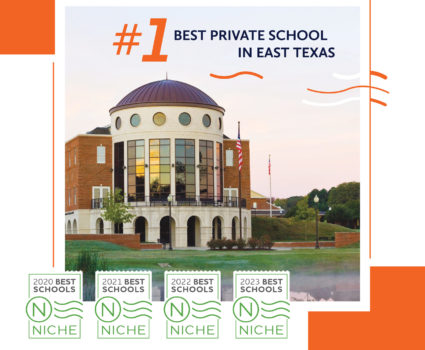 October 19, 2022
We are excited to announce that we have been recognized as a 2023 Best School in Smith County (Tyler, Texas | East Texas) by Niche for the fourth year in […]