Alumni Highlight: Mason Lieberman
We recently had the chance to catch up with Brook Hill alumnus, Mason Lieberman '10 about where he's at, and how Brook Hill's multi-cultural setting (along with playing copious amounts of Super Smash Bros) prepared him for his dream career.
As educators and administrators, we care deeply about our students. We count it an honor to partner with parents during a student's formative years, and we pray along the way that the time, belief, and energy we're investing will take root and produce students who love the Lord, think critically, and pursue learning for the rest of their lives.
It's such a gift to see our Alumni thriving and actively pursuing who the Lord has created them to be. To this end, we love getting to catch up with our alumni and we hope that sharing their stories will not only honor their journey but encourage our current students to keep dreaming about what their post Brook Hill possibilities might look like.
BH: Mason, can you give us a quick snapshot of what you're currently up to?
Mason: I'm 26, live in Los Angeles and work as a senior game audio coordinator for Tencent. Tencent is the largest company in video games!
BH: Congratulations, that sounds like an amazing opportunity! What are you loving about your life right now?
Everything. I've been absurdly fortunate. You don't get to have the kind of career I've had without an incredibly supportive upbringing and parents who believe in your dreams. I am so glad mine cared enough to let me pursue this passion of mine. It has enriched my life immeasurably.
BH: Speaking of your career, can you give us a few highlights from the past few years?
Mason: Some of my favorite professional experiences have included touring the world as a musician, acting as an international ambassador for my industry for the government of Australia, guest-lecturing at Harvard, writing and arranging for pop stars, and of course, working on a ton of creatively-fulfilling games, anime series, TV shows, and movies! Heck, I'm faculty at Stephen F. Austin now. As I write this, I'm actually on my way to Japan to do press related to an upcoming project and to attend a premiere.
BH: That's incredible Mason! We love that you're getting to experience so many different opportunities. You mention that you're faculty at Stephen F. Austin. Is that where you went to college? Can you tell us a little bit about your college experience?
Mason: I initially attended Stephen F. Austin State University in Nacogdoches, before transferring to Berklee College of Music in Boston! In both places, I was a music major with a focus on video game scoring and music technology. I worked my entire way through college as a session-recording artist, performing cello, guitar, bass, and vocals for soundtracks to video games and films. During this time, I received my first professional credits! I graduated in 2015 with magna cum laude honors.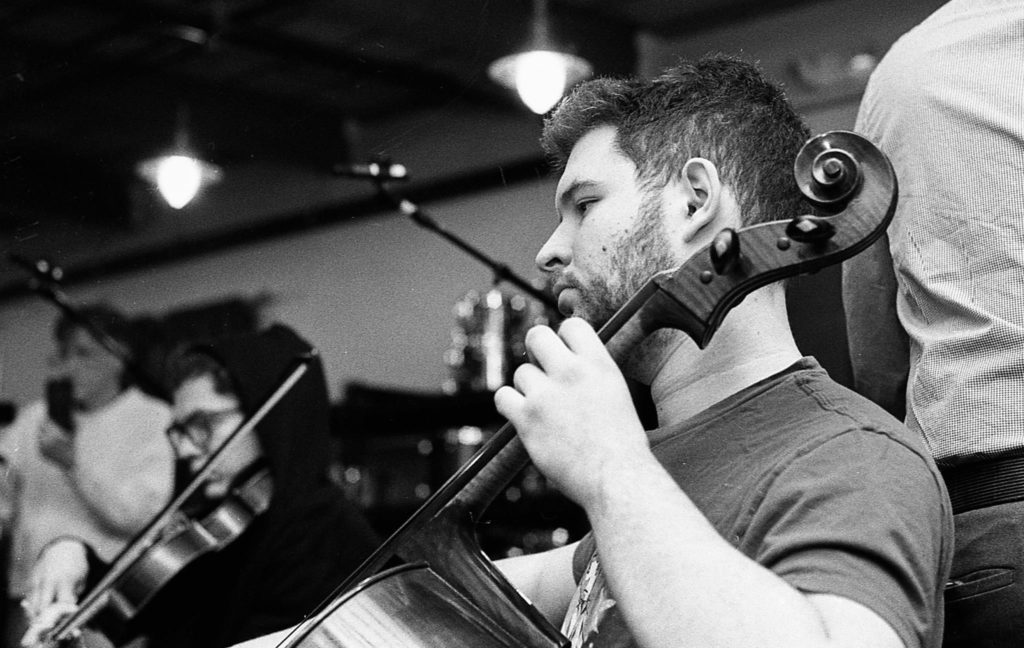 BH: That's impressive that you received your first professional credits in college. Were you involved in the fine arts department at Brook Hill? 
Mason: I was super active in the Fine Arts department, particularly with the orchestra and drama program.
BH: How did Brook Hill prepare you for where you are now?
Mason: As a professional musician, I sometimes joke that I have a thirteenth-grade education. Berklee wasn't exactly famous for providing a strong foundation in the humanities; it taught you about music, and just about nothing else. The wide span of educational opportunities Brook Hill gave me have been tremendously valuable in my life.
"As a musician whose career has involved extensive collaboration with East Asian countries like Japan, China, and South Korea, Brook Hill's multi-cultural setting provided many of my first introductions to mediums and genres I now call home."
BH: We love that. Having such a strong Boarding School program with a multi-cultural setting is something that we want our students to dive into and appreciate as they prepare to work and live in a global market.  Mason, what surprises you about where you are today?
Mason: I don't think that 16-year-old Mason would have thought he'd achieve his literal lifelong goal of working on Super Smash Bros at the age of 20. He'd absolutely be tickled pink by that one. Beyond that, I think I'm mostly surprised by how much better it all gets.
"I loved Brook Hill, period, and yet every period of my life has grown more vibrant, exciting, and adventurous. I think I'm happier now than I've ever been, and I owe that to the strong foundation I got to build in a tiny school in Bullard."
BH: How did Brook Hill shape who you are?
Mason: Brook Hill was a place where I could fail repeatedly, and the faculty would help pick me back up, brush me off, and put me back on the path towards my goals. I wasn't a good student, but Brook Hill helped bring out my potential. There is far more to the world than academic potential. To me, that is where an education like the kind received at Brook Hill really comes into play.
BH: We love that, and are so excited that you're living in your giftings and potential! What wisdom would you share with current students?
Mason: I spend far more time destroying people in Super Smash Bros than I do worrying about the quadratic equation. If you wanna be a video game developer, spending all of your time gaming isn't really slacking off, no matter what anyone else says. You're doing market research!
BH: What are you looking forward to in the future?
Mason: MIDI 2.0! In all seriousness, I'm excited for projects I cannot currently discuss to come out. Within the last year in particular, I have had the indescribable joy of working with just about ALL of my childhood heroes growing up on a wide range of titles. I can't wait to share these with the rest of the world!
BH: What is something you would have told your high school self?
Mason: Rod Fletcher won't always look like Mel Gibson. Savor it while it lasts, it's bizarre and delightful.
Having the opportunity to catch up with Mason has been such a gift. It's a clear reminder of our mission to "affirm the gifts and challenge the potential of each student" and a challenge to keep the big picture, their life after Brook Hill in mind as we instruct, educate, and develop them. We are thrilled to see our alumni thriving, learning, and changing their corner of the world. 
A big thank you to Mason for taking the time to connect with us, we're proud to call you a part of our Brook Hill family and can't wait to see where these next few years take you!