Brook Hill prepares: Trinity Harris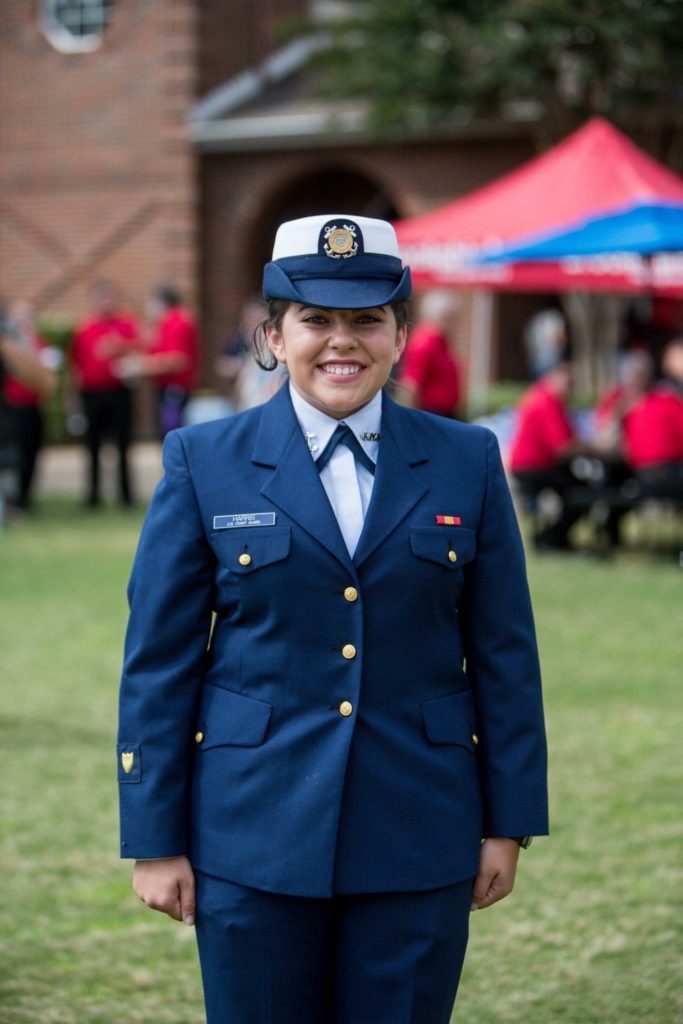 Coast Guard Cadet, Trinity Harris, graduated in May of 2017 and immediately went to the Coast Guard Academy, where her major is Government: Public Policy with Strategic Intelligence Studies.
She is also on the shooting rifle team which competes on the NCAA Division I level. Even with her busy schedule, Trinity has been back on campus several times since graduation and has expressed her appreciation for her time at Brook Hill.
"Being a college prep school, Brook Hill helped me learn how to properly study," Harris said. "I was able to accelerate at the rate that was best for me. By that I mean, Brook Hill allowed me to take the classes I wanted within requirements. At many other schools, they held back their students by not letting them, for example, take two math, two science, two history, an English, Spanish, and an art class all within one school year. That was my freshman year schedule. Most all of my classes were either dual credit or AP. By taking these classes, I learned how to proficiently study. In college, it is extremely important to know how to properly learn. I now go to the United States Coast Guard Academy, where time management is key. So, since I am able to study at a pretty fast pace I am not always on a time crunch."
"Mr. Dement, Mrs. McEuen, Mrs. Tucker, Mrs. Adkins and Mr. Rhoads were most influential during my Brook Hill years," Harris added. "Not all of these people are teachers, but that is the great thing about Brook Hill, it is one big family. Mr. Dement's Government and U.S. History classes are part of the reason why I am majoring in government: public policy. Mrs. McEuen and I have been through a lot, from Algebra 2 to Calculus BC. Many times over she has either come before class or stayed after to answer any of my questions. All the teachers at Brook Hill care about their students, but Mrs. McEuen is one, out of many, that truly cared for me. Mrs. Tucker was one of my biggest advocates to let me skip my junior year of high school. She put together my ridiculous schedules and somehow made them work perfectly. Mrs. Adkins was my second mom at Brook Hill. I enjoyed all of our conversations and we still keep in touch today. Mr. Rhoads was my senior year Bible teacher. If I ever had a problem or a question Mr. Rhoads always had an answer. Mr. Rhoads is a true role model to look up to on how he lives. Thank you to each and every one of them."
As far as advice she would send to current students, Harris stressed that they should take advantage of their time at Brook Hill and to not take it for granted.