Distance Learning Parent Survey Results

Brook Hill Family,
We are so grateful for your patience, flexibility, and support as we've transitioned to Distance Learning. Last week you gave us valuable and helpful feedback regarding your experience with our Distance Learning program through our parent survey.
We are excited to share a summary of the results with you today! 
Over 91% of respondents said they were satisfied or very satisfied with Brook Hill's Distance Learning Program. You have shown your love and appreciation for our teachers and your support has not gone unnoticed. 
We hope this summary is helpful for you. We are eager to hear from you again when we send out our second survey at the end of the week.
Although our method has changed, our mission remains the same. Our goal is to continue providing students with a quality, Christ-centered, college preparatory education. Your feedback will help us continue improving the student learning experience!
Here is a summary of the survey:
PLEASE RATE YOUR OVERALL EXPERIENCE WITH BROOK HILL'S DISTANCE LEARNING PROGRAM.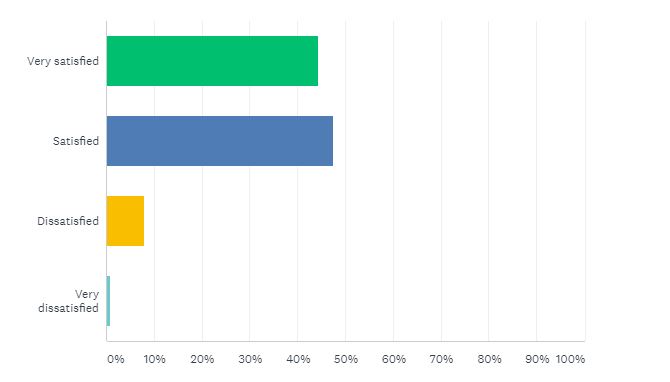 Over 91% of our families said they are satisfied or very satisfied with Brook Hill's Distance Learning Program.
WHAT DO YOU THINK YOUR TEACHERS ARE DOING WELL? 
Parents appreciate how clear, thorough, available, and timely our teachers have been through the Distance Learning environment.
"Teachers are doing a great job at getting information to the students and also being available for questions and concerns."
"Great job of leading us, loving our kids, and teaching what they have been asked. They're doing amazing!"
"All of our teachers are thorough in their lessons. They take time to tap into our children's day and thoughts in those videos…and not just through a lesson plan. Having our teachers available through zoom has been wonderful. My child is so excited for each day."
"So much! In my opinion, they are heros! My child loves morning zoom meetings with his teacher and classmates. Communication has been great."
"They have gone over and beyond. I can't say enough wonderful things."
WHAT HAS BEEN THE HARDEST CHALLENGE?
This has been a difficult transition for everyone. We heard about challenges you're facing, including issues with technology, time zones, workload (too much and too little), schedule, time management, and balancing a busy work schedule with the new normal. 
We're grateful you shared. It gives us an idea of where we can support one another better and reminds us as a community that we're not alone in this transition.
"The unknown of how long this will continue, staying positive and keeping kids engaged in other activities while at home. They miss their friends and teachers. They miss being social."
"Learning how to use the new technology and adapt their curriculum to it. Some classes are easier to do online than others."
"Getting my students up and going in the morning and staying on some type of schedule."
"Just finding our rhythm through the day. We will find it, it just takes time."
"The obvious – not being together."
WHAT ADVICE WOULD YOU GIVE TO OTHER PARENTS?
We're all in this together! You all gave so much good advice that we'll be sharing over the coming week. Here are some encouraging words from your fellow parents.
"We need to be more kind to our teachers and staff than ever. We need to be more kind to our kids than ever. We need to be more kind to ourselves than ever."
"We're all learning together and if something doesn't work right, try again!"
"Do your best. This is hard."
"The process is streamlined, ask questions if confused and do not get frustrated."
"Set a schedule for your student. They will not take this seriously if you do not take it seriously."
"We can do this!!!"
We were so thankful for your support and kind words reading the survey results – if you have a minute, would you consider leaving us an official review? Online reviews are used by prospective families when evaluating their school options, and we would love for them to hear why you love your school!
CLICK HERE TO LEAVE US A POSITIVE REVIEW
IMPROVEMENTS WE'RE MAKING:
LOWER SCHOOL
We purchased the full SeeSaw for schools to combine all classes and streamline the user experience for students and parents.

All activities have been consolidated to three spaces:

Distance Learning Website (our home base for information + links)

SeeSaw (our learning platform)

Zoom (our connecting platform)

We've put all assignments on the Distance Learning site. Some of our families have asked why we aren't sending packets home.

We made the decision to not send packets home because we aren't simply reviewing past materials. Instead of using our resources to put together packets, we're investing those resources into platforms that allow us to introduce new concepts and teach new material.

New assignments are posted in SeeSaw with links available through the Distance Learning website.

We are open to feedback on how we can continue streamlining this process.
MIDDLE & UPPER SCHOOL
Because of Distance Learning, teachers are learning how to teach differently and students are learning how to learn differently. We are making adjustments to improve the student learning experience so that they can be successful in this new environment. 

We're reached out individually to students who have expressed concerns and are working together to find creative solutions that fit each of our students.

For students who need extra help, we have provided our ACE program as well as office hours for students to receive individualized help and instruction from their teachers.

If the office hours do not work for your student, teachers are available to schedule individual times that work with the student's schedule and time zone.
We are continuing to improve and make changes to our Distance Learning program so that we can provide the best learning experience possible during this season. This would not be possible without your honest feedback, so thank you again for taking the time to share with us.
Please be on the lookout for our second parent survey at the end of this week. We value your feedback and look forward to hearing from you!
Blessings,
Rod Fletcher
Head of School
The Brook Hill School