Fifth and 6th grade take a look at BH Middle School Athletics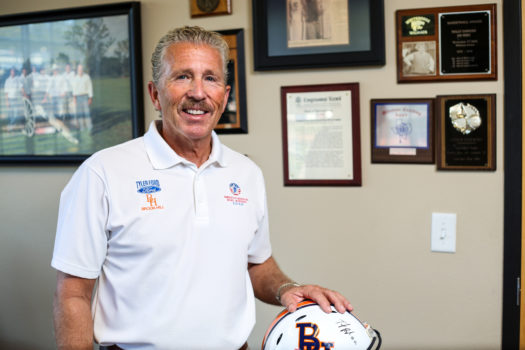 From the desk of Wally Dawkins, Athletic Director:
Friday morning I, along with Head Football Coach Scott Ryle and Cheer Coach Tiffany Hubbard, took athletes from the 6th Grade Class, to meet with current 5th Graders at the Brook Hill Lower School.
The purpose of the visit was to show the 5th grade what it looks like to be an athlete in the Brook Hill Middle School.
Luke McNeel, Carson Richards, Bridger Allen, Chance Davis and David and Drew Sims represented football, basketball, soccer, track & field and baseball, while Caley Fitzgerald, Kayla Powell, Gemma Lake, Drea Tonroy, Landry McNeel, and Gracie Dawson represented volleyball, basketball, soccer, cheerleading and softball.
The 5th grade classes of Paula Bickerstaff and Holly Savage were able to see the 6th graders in the same uniforms they will wear next year.
Each student was presented with a Brook Hill Super Fan T-shirt. We are excited about this fifth grade class. We are looking forward to these kids representing The Brook Hill School next year in the sports they choose to play.
At Brook Hill, 6th grade student athletes compete inter-scholastically, and have the added benefit of being coached by the same high quality coaches who work with the high school varsity teams.