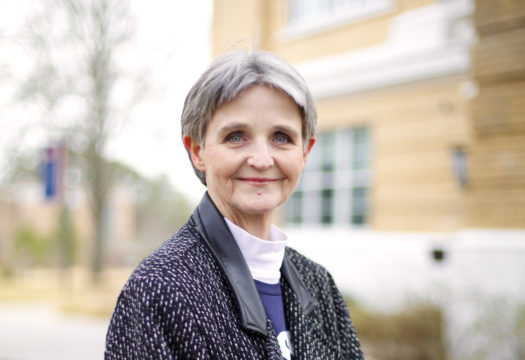 From the desk of Celia Tucker, Academic College Counselor:
There I sat in my wet suit, my wet suit water shoes, my wet suit life jacket, my wet suit crash helmet, and every other item associated with a wet suit.
"Rule #1," the guide said, "Stay in the raft."
"Rule #2," he followed up with, "Pay attention to your guide."
There I sat on my way up the mountain paying very close attention to the safety presentation which included phrases such as, "If you have a heart condition or any weak part on your body—knees, shoulders, legs, arms, ankles, wrists—then white water rafting is not for you."
"If you do fall out of the boat into the 35 degree water, do not stand up as the rocks will cut and mangle your legs and feet. We need to go over some sign language phrases so that we will know that you are either okay or that we need to call an ambulance if you fall out of the boat and get separated from everyone else."
There I sat with counseling colleagues who were half my age ready for team building at its best and the soon to be experience of a lifetime. We arrived, unloaded the bus, chose teams of five, got in the raft, practiced commands on land – "forward one," "forward two," "back one," "back two," "left side right side," – got out of the raft, carried the raft to the water, got in the raft, secured our feet, and we were off.
Throughout the swiftly moving, water saturated journey downstream, we dodged rocks, hit rocks, jumped over rocks, twisted and turned, never let go of our paddles, and basically went wherever the river wanted us to go. The river, and our guide, was pretty much in control of the entire situation. As we traveled, we had close encounters with other rafts but one encounter, in particular, really hit home for me. It wasn't the "within an inch of our lives almost collision part" that had such an impact, it was what our guide said.
Our guide was awesome. With 12 years of experience in helping individuals live through the whitewater rafting experience, we felt comfortable with the fact that he knew what he was doing. He positioned himself in the back of the raft so that he could see exactly what was going on; he used his paddle as a rudder to guide, direct and ground us; he trained us before we left and gave clear instructions along the way; and without a shadow of a doubt we knew that he was ruler and king of the boat.
Throughout the ride he gave commands – "forward one," "forward two," "back one," "back two," "left side right side. We had been trained and were familiar with the commands. When he spoke we executed.
Except this time. This time was different.
As the swift water had us rapidly descending downstream, we rounded the corner and saw two other rafts solidly stalled in the rushing water, firmly planted side by side – right where we were approaching at breakneck speed. Our raft was silent. We were waiting. Then he spoke.
"Remain calm and listen," he said. "Remain calm and listen," he repeated.
Because he had never prefaced directions with those words before, we knew this situation was unlike the others. "Forward one—forward two—paddle hard," and up and over and straight through those two boats we proceeded to sail. What looked like a disaster became a success.
"Remain calm and listen."
How many times in my life journey have I dodged rocks, hit rocks, jumped over rocks, twisted and turned, had uncomfortable close encounters and 'within an inch of my life almost collisions?'
Those words kept coming back to me over and over. I thought to myself – how many times has the Lord said, "Remain calm and listen?" Am I listening to the One who is purposely positioned to see exactly what is going on in my life; the One who is my Guide, my Director, my Ground; the One who has trained me in His Word with very clear instructions; the One who is my Ruler and King; the One who turns potential disasters into success?
As we send our well prepared Class of 2017 off into the world and look forward to welcoming all of our future graduates to a brand new year, I am again SO excited and committed to following the rules:
Rule #1: I am remaining calm.
Rule #2: I am listening to King Jesus.