Five things you should consider when choosing a school for your family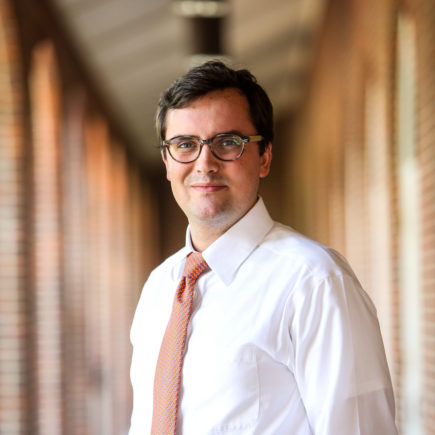 From the desk of Travis Albea, Director of Boarding Admissions:
Choosing the right school for your family is not only one of the most important decisions you will make, but can also be one of the most difficult to navigate. To make matters worse, every family and situation is unique, with its own set of needs and challenges.
There are the standard things everyone thinks about: test scores, academic courses, athletic and artistic opportunities, college acceptances, student-to-teacher ratios, and average class sizes. Numbers and figures, although important, merely scratch the surface of what you should look for in a school. Don't misunderstand us, at Brook Hill we take numbers seriously and consistently deliver some of the best stats, but there is so much more to think about. Here are 5 things you should consider when choosing a school for your family, if you haven't already.
Character
An education is just as much about virtue as it is about multiplication facts, the anatomy of an essay, or the analysis of chemical reactions. Sure, you may go to church and model Christ-like character in the home, but how much greater would it be for your child to also learn from virtuous teachers and coaches the 7 or 8 hours they spend away from you every school day?
At Brook Hill, we have a saying, "People grow into the conversations you have around them". Every day our teachers and coaches speak truth into the lives of our students, whether it be through a class devotion, chapel, or even a personal conversation. The Christian worldview is woven into everything that we do, and we truly believe that even the most mundane mathematical facts teach us something about our creator.
Educational Experience
Lectures, worksheets, textbooks, tests. These words rarely delight a student's ears. Although a necessary part of learning and the educational experience, there is also so much more to the learning process. Some schools focus more on preparing students for tests rather than preparing students for college and life.
At Brook Hill, we take experiential learning seriously because we believe that a holistic education prepares students for life after exams. That's why our teachers integrate hands-on activities, creative projects, and class presentations into their curriculum. In the middle and upper school we cancel regular class for a week every year for SPARC Week, a week of special courses designed to create memorable learning experiences outside of the classroom. When we are learning about WWII or studying the history of our great state, students can see real-life artifacts in the American Freedom Museum, right here on our campus.
Learning isn't just academic either. We believe are students learn just as much on the field or on the stage as they do in the classroom. A well-rounded, holistic education teaches students to persevere, work as a team, and even helps them understand how their decisions in one area of their life affect other areas.
Diversity
We live in an ever shrinking world as technology and globalization are changing our social, political, and economic landscape. Tomorrow's leaders will need to be able to interact with and work alongside people from across the globe
At Brook Hill we have a vision for that future and have worked to create a diverse learning environment for our students. With over 30 countries represented among our student body, our students literally learn and work with the world throughout their experience here.
Diversity, however, is bigger than race, nationality or ethnicity. It also includes economics, geography, and age. We work hard to make a Brook Hill education affordable, helping students from different financial situations receive a quality, Christ-centered, college preparatory education. Brook Hill not only has students from around the world, but also across the nation and East Texas. Students from over 20 different local cities and towns around Tyler attend Brook Hill. Finally, we work hard to have older students work with younger students, whether 5th graders read to our PreK students, lower school boys spend time with an upper school athlete, or our younger girls who are interested in dance or cheer learn from our older cheerleaders and dancers.
Safety
As a parent you likely feel a responsibility to provide your children with the best opportunities, but you also feel the need to protect them from harm. Safety is a huge consideration for families when considering a school.
At Brook Hill we have not only taken innovative steps toward campus safety, but also to the emotional and physical well-being of those students under our care. We have a full-time, armed police officer on our campus every school day and specific plans in place to keep our community safe from a variety of catastrophes.
We also take bullying seriously. We not only educate our students about bullying, but have specific procedures in place for resolving conflicts effectively and efficiently. Teachers work to create an environment where students feel safe to voice their ideas and have healthy discussions.
Community
Finally, when thinking about a school for your family, it is important to think about the kind of community you are joining. In some schools, there is very little sense of belonging. School is something you clock-in and out of, with little interaction or relationships with other families.
At Brook Hill, we not only encourage parental involvement, but want our students, faculty, and parents to feel like one big family. We welcome each other with open arms so that we can celebrate our successes and carry our burdens together.
If any of these ideas stood out to you, I would encourage you to contact us to learn more about how your family can be a part of The Brook Hill School. We would love to talk more with you and even give your family a tour of our school. You can reach us by phone at (903) 894-5000 or by email at [email protected]