welcome to ace
At the Brook Hill School, our educators and support staff are called to challenge and support all of our students, nurture educational achievement, inspire individual accountability and leadership potential within the academic, spiritual and extracurricular domains.


Brook Hill offers a rigorous curriculum along with a plethora of enriching activities, groups, clubs, and teams that help our students realize and pursue who God shaped them to be.

To provide our students with a trajectory and opportunities for lifelong success, Brook Hill has developed an academically challenging and meaningful school experience. As a part of our commitment to developing successful students both academically and in life, we have the Academic Center for Excellence.

Originally started in 2009, the ACE program's mission was to provide our students with a support system for ensuring their progressive accomplishments.

The Academic Center for Excellence is a vital tool for students who seek guidance on time management, balancing academic responsibilities and assistance on daily assignments and obligations. The ACE program offers support for all students to achieve their academic goals, and works to compliment, rather than substitute, the academic support given to students by their teachers.
Learn more about ace:
Mission:
To foster a sense of collective engagement between students and those invested in their growth and provide support as students develop into advocates for their education while learning to effectively fulfill their obligations.
What is the Academic Center:
The Academic Center for Excellence is dedicated on assisting students in developing the skills and habits essential for success in high school, college, and beyond. We are here to teach, advise, provide academic support, and make available an academic atmosphere that motivates students to excel and to use all the opportunities (WIN, break time, study hall, off- blocks) available to them. The A.C.E. space is located in the library and features group study rooms, educational advisement, collaborative learning technology, and laptops/surface tablets for individual checkout, among other resources.
The Academic Center for Excellence will:
Reinforce specific learning skills through workshops and guidance from ACE staff. Workshops include topics such as the following:

Note taking
Study techniques
Effective communications
Habits of successful students
Learning styles
Test taking strategies
Reinforce time management and organization

Reinforce goal setting and accountability
Monitor grades and missing assignments and assessments
Operate the make-up testing center
At times we will ask students to report to the Academic Center during their free blocks and if they do not, we may develop a plan of accountability involving parents.
Facilitate parent and teacher intervention when needed

Middle School

Mrs. Mize and Coach Ryle are available for academic help during the middle school WIN block each day. Also, we do have some peer tutors ready to help in academic subjects. The academic needs represented by our diverse student body make this the next logical and most effective step in helping our students achieve their maximum potential.

The tutors are willing to coach, tutor, help organize materials for effective test prep, and guide your child's academic improvement during these sessions. Since a large number of our tutors are boarding students, we are prohibited from paying them with any kind of currency. Gift cards to show your appreciation for working with your child would be appropriate and acceptable at the end of each semester, but not required.

Here are a few of the types of aid your child might need and/or want to take advantage of in ACE:

Guided help through HW
Re-teaching difficult concepts; help understanding math and science relationships
Practice with math/science facts and/or concepts
Organizing materials for upcoming quiz/test
Help studying for upcoming quiz/test
Staff
news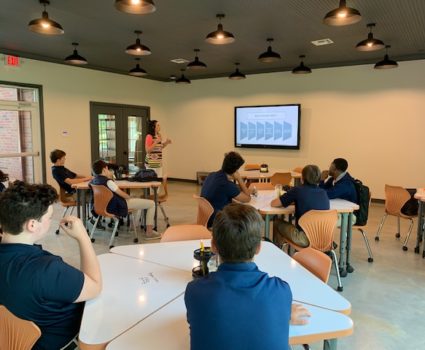 August 30, 2019
"A SHORT PENCIL IS BETTER THAN A LONG MEMORY" – COACH JACK LENGYEL During the first day of Mrs. King's classes, students learned the importance of note-taking and the Cornell […]